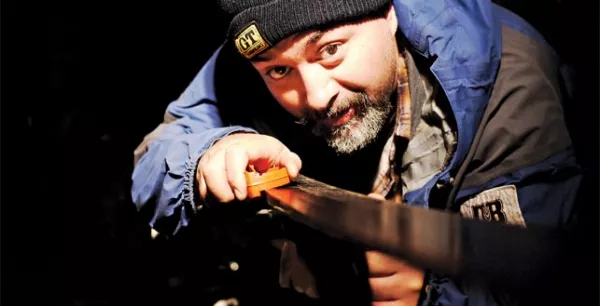 It's time to dust off the shred sticks and give them a little love. Whether you ride on one stick or two, skis and snowboards are expensive, so to keep them riding smooth, tuning should be a regular part of your routine. Self-tuning will save you some cash, and you'll gain a new bond with your most prized possession. If you're a novice tuner, or you need a refresh on the basics, read on for some quick tips.
Wax On, Wax Off
Waxing is indisputably the No. 1 most important aspect of tuning. Without a good wax, your base will dry out, and your speed (and fun) may come to a dead halt. The frequency of your waxings will depend on how often you use your skis or snowboard, but if your base starts to look chalky white or you start to fall behind, it's time for a tune-up.
Tools needed: iron, wax, scraper, buffer or brush
Clean your bases, fix any dings (see below) and tune your edges, if needed.
Once you have clean, dry, room-temperature skis or board, prep your iron to a low-medium heat—warm enough to melt wax, but not smoking.
Note: For snowboards, it's a good idea to loosen the bindings to prevent pressure points and buckling.
Press the wax to the iron to melt it and drip over the base.
Lightly rub the iron on the base to reheat the wax drips and smooth them out so the wax covers the entirety of the base. Let the wax dry for 15 to 20 minutes.
Using a scraper, remove the wax in long strokes lengthwise down the base.
Once most of the wax is gone, take your buffer pad or brush and buff in short, quick motions lengthwise. This will remove any wax traces and smooth out the base for maximum speed.
Rocks Happen
Rocks happen, but luckily, you can fix most dings fairly easily. You'll want to repair any gouges that are deep enough to affect the structure of the base. You can find P-tex, a polyethylene used in the base material of skis and snowboards, at almost any ski and board shop, or outdoor retailer.
Tools needed: P-tex candle, lighter, razor blade
Clean your base. This makes it easier for the P-tex bond to work.
Clean up any jagged edges around the gouge with the razor blade and form a "V" in the bottom of it to hold the P-tex.
In a ventilated room, light the P-tex candle—you want to keep it burning blue—and hold it close to the base while dripping along the gouge until it's filled in.
Let it dry for 30 minutes minimum—the longer the better.
Use the razor blade to slowly scrape off the P-tex in layers until it's flush with the base. If the P-tex has bubbles or isn't flush with the base, repeat the process.
Finish off with a wax and your board or skis should be as good as new.
Don't Catch Your Edge
If you've just scored a new snowboard or pair of skis, a quick de-tune is highly recommended to get them ready to ride. If you leave the edges factory-sharpened, you will have a hard time initiating and coming out of turns, and your edges will hook easily. Prevent the embarrassment of face-diving on the cat track by taking a flat file to those contact points.
Tools needed: flat medium-course file, gummy stone
Smooth out any large burrs or snags with the file first, especially if you're de-tuning a used ski or board.
Find your contact points—typically the widest part of the ski or snowboard, near the tip and tail. If you place your ski or board on its side, the contact point is the part that's touching the ground.
Take your file about an inch from the contact point and round out the edge, moving the file toward the tip or tail. Repeat on all contact points.
You can also give your full edge a light de-tune at this point—nice if you ride the park, but not necessary for everyone. Hold the file at about a 45-degree angle and pass it along the entire edge once or twice.
Clean your edges with a cloth to remove any stray microscopic pieces, and then polish your edges with a gummy stone to smooth them out.
---
WINTER CALENDAR