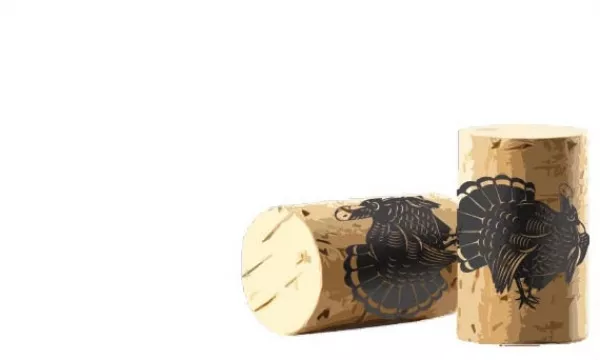 It's that time of year again: a time to ponder which wines to serve at the Thanksgiving dinner table. It's ironic to me that Thanksgiving—a gathering that should be one of the most fun and informal of the year—so often poses problems about proper wine pairings.
I've said it before and I'll say it again: The Thanksgiving dinner table is not the place to strive for perfect food and wine pairings. For most meals, one red wine and one white is usually the most that's required; Thanksgiving is an entirely different beast. It's a shifting palate of smells, flavors and textures, and attempting to find perfect pairings for every dish on the crowded Thanksgiving table is sheer madness. You're just asking for trouble—or, at the very least, palate fatigue.
For my money, there are two ways to go on Thanksgiving when it comes to wine service. The seemingly easiest way out is to settle on two wines—one white and one red—that are versatile enough to carry you and your guests through the many different dishes that constitute Thanksgiving dinner. I say "seemingly easy" because the less-is-more approach poses problems of its own. For example, I'd be tempted to choose French Beaujolais as my go-to red wine for Thanksgiving. Its relatively moderate alcohol level means that it can flow through the entire dinner without causing folks to pass out at the table. And I like the lightness of Beaujolais in contrast to the overall heft of the Thanksgiving meal. But, in truth, Beaujolais can also be boring.
For a white wine, I'd choose either a dry wine from the Loire Valley or a dry Riesling from Germany, the Willamette Valley or the Finger Lakes region of New York. A crisp, dry Riesling is one of the most versatile and food-friendly wines you'll ever find, and can partner well with everything from roasted turkey and mashed spuds to oyster stuffing and haricot verts. Ditto many of the wines from the Loire. A lighter white wine that isn't too cloying is good to drink both prior to dinner while cooking in the kitchen and during dinner. Something like Sauvion Vouvray ($11.99), for example. This Loire Valley Chenin Blanc has just the right amount of sweetness to serve as an aperitif, but it's also dry, acidic and crisp enough to pair with a wide range of foods.
On the other hand, I'm also tempted at Thanksgiving to just throw open the wine cellar and provide guests with a wide range of wine options. Opening a bunch of bottles and allowing the guests to take a DIY approach, trying different wines and pairings, turns Thanksgiving dinner into a wine-tasting event as well. Open a Chardonnay, Viognier or Sauvignon Blanc, along with some Pinot Noir, Cabernet Sauvignon and Syrah and try them all.
And, what could be more appropriate for the iconic American feast than an all- American wine: Zinfandel. I do like Zinfandel at Thanksgiving, although its tendency toward high alcohol can become problematic—it can be overpowering. But hey, Thanksgiving is rarely about subtlety; it's about going big. So, uncork something like Ravenswood Old Vine Vintners Blend Zinfandel, on sale this month in Utah for $9.99.
Or, for something fun and distinctly un-American, how about a fizzy bottle of Tenuta Pederzana Lambrusco Grasparossa di Castelvetro DOC ($18.99). It's light in alcohol at 11.5 percent, but dry and tannic enough to serve as a bridge from pumpkin soup to roast turkey with gravy.
Happy Thanksgiving, everyone!