p.m.Michael Castner remembers setting out one day to test his high school teachers' tolerance of his wardrobe. This was 30 years ago, in Austin, Texas. He went off to school wearing a T-shirt with a picture of a baby on the front. A deeply satisfied smile on his face, the baby had his hand plunged deep inside the front of his diaper. The caption under the photo read: "I found it!"n
Back in the present, radio talk show host Castner leans toward the microphone in the KSL studio, laughs and says: "I was waiting to get kicked out of school, but it never happened. This baby, he had his hand all down in his man junk!"
The astute listener might have paused for a minute to check the numbers on the radio dial, and think, "Did that guy just say, 'man junk?'" Well, yes, he did—and right there on KSL, the timeless, reliable bedrock of Utah's radio broadcasting world. KSL Radio and its sibling KSL 5 Television are the flagship properties of media company Bonneville International, owned and operated by The Church of Jesus Christ of Latter-day Saints.
Since when does a KSL radio personality get to blab about a masturbating baby? Things must be getting all upside-down at "Broadcast House," the Triad Center headquarters for Bonneville in downtown Salt Lake City. Castner and a whole busload of merry pranksters are the personalities behind The Nightside Project, which airs weeknights from 7 p.m. to midnight on 1160 AM and on KSL's relatively new radio presence, 102.7 FM.
On Nightside, the crew has latitude to discuss the D.C. Madam and speculate which high-profile politicians might have taken a little bounce with her. They play with new gadgets like iPhones (sometimes incessantly) and take advantage of oh-so-nifty 21st-century tools like texting and instant messaging to communicate with listeners. They invite the audience to vote online for one of the hour's discussion topics.
It's wacky stuff, all right.
And it's a costly experiment for the 85-year-old, moss-backed KSL. Station sources will not talk specifics about the financial investment in the show and will say only that the initial cash infusion for talent, promotion and capital expenses topped $1 million. Nightside celebrated its first year on the air July 12.
Bonneville owns 25 radio stations across the country, including its news and talk giants WTOP in Washington, D.C., KIRO in Seattle and KTAR in Phoenix. But this "younger" live-talk format at night is new to the chain. For that matter, it's new to the whole national market. For news and talk-show fans, radio after dark is pretty much a wasteland, filled with computer-generated programming.
Gamble that it is, Nightside creators are betting on big success. On July 30, Bonneville will launch a partial syndication of the show on the D.C., Phoenix and Seattle stations—sharing an hour, initially, of film and television reviews, political interviews and other content that adapts neatly to all markets. Jokes about HBO's Big Love, masturbating babies and the "hooker list" could work; rants about Salt Lake City snubbing Real Salt Lake probably would not.
"We've had significant success [with this format] in a very short time," says Chris Redgrave, vice president/general manager of Bonneville's Salt Lake Radio Group. "Talk radio is the most entertaining but also the very hardest format to produce. We're thrilled."
Still, figure this: KSL is home base for local talk-show icon Doug Wright, whose conservative midmorning program competes directly with national showman Rush Limbaugh for ratings in the market's 9-to-noon talk-show slot. Limbaugh resides further down the radio dial, at 570 AM—"Family Values Radio," as KNRS calls itself. Shortly after Wright finishes up his near-daily assault on the oil industry and folks who fail to support the troops, nationally syndicated gabber Sean Hannity takes over for three hours. Beloved in Utah's right-wing talk market, Hannity goes up against fellow dogma-disher Dr. Laura Schlessinger, also on KNRS, for three hours.
With the exception of government-supported public broadcasting stations and community-supported KRCL, Salt Lake City's cup runneth over with commercial radio's conservative talk shows. It's all pro-Bush, anti-Hillary and screeds against global-warming adherents. And it might have gone on that way forever, except that the suits at Bonneville realized they were perilously close to missing a whole, untapped demographic. You know—all those crazy kids who mess around on that MySpace thing and get their news from Jon Stewart?
Yeah, them.
In programming discussions, Bonneville's brain trust calls that 18- to roughly 40-year-old age group "The Millennials." Says Redgrave: "We've been involved in deep millennial research. This is a bigger generation than even the baby boomers. This group is the next pig down the snake. We want that audience."
Tom Barberi, who hosted news and political talk shows on AM radio in Salt Lake City for more than three decades give props to KSL for offering live local talk at night and hopes it signals that kind of programming is healthy enough for other companies to do the same.
"It's a pretty good show, but more than that, it's the only local thing going on right now in a world of syndication. Everyone else out there sounds the same," Barberi says. "KSL can do this because they have very deep pockets. I wish other owners would step up and take the same chance."
Generation What?nOn Jan. 16, 2006, Bonneville International announced its plan to "develop the next generation of radio news content and style." The company would add an FM frequency to its juggernaut AM news-and-talk stations. In tandem, Bonneville launched an "aggressive nationwide search" for on-air talent and staff for a "product that entertains, provides needed depth and provides news through the perspective of Generations X and Y."
They called it The Nightside Project. And, in simple English, the company smelled a market and money.
Rod Arquette, a veteran of Salt Lake City broadcasting and now program director at Seattle's KIRO, was in on the ground floor of Nightside planning at KSL. He says getting the show on the air took considerable political risk for Bonneville. That's understandable, considering that the corporation's board of directors consists of all white, Mormon business icons. Media businessman Bruce Reese is president and CEO; other directors include former Intermountain Health Care CEO Scott Parker, real-estate developer Kem Gardner as well as Kathleen Hinckley Walker, a motivational speaker, Salt Lake LDS Temple Matron and daughter of LDS Church President Gordon B. Hinckley.
"We knew we had to take a totally different approach with this product," Arquette says. "This audience goes to the Internet or tunes in to Stewart or Colbert for their news. The question became 'How do you get them the information but make them laugh, as well?' So we went out and hired some great young people. We've given them quite a bit of leeway, too."
The Nightside format is lively and quick, though some critics complain it is increasingly scripted and losing spontaneity. Castner exchanges text messages with listeners and does instant messaging from a forum called "Backtalk." With a professional radio background built in the cutthroat Los Angeles and Washington, D.C., markets, Castner regularly calls on film, TV and political "gurus" for commentary. There are consumer-interest installments, with an automotive guy and mortgage-lending experts. But the repartee moves much faster than most information shows, and Castner constantly collaborates on air with a staff of mostly under-30-year-olds.
There's a breaking news reporter, Chelsea Hedquist. Sarah Jane Burr does two reports every show—a breezy news feature and a pithy, chick-talk live journal called "Sarah Jane in the City" whose subjects range from the downside of speed-dating to guys who don't appreciate your pet dog or cat. Ethan Millard, a popular blogger, is the show's political analyst, and Alex Kirry rounds up local news and adds commentary. Chase Lauritsen manages the Website.
With five hours to fill, though, the show can sometimes wander into the mundane and downright silly. There are occasional—and turgid—interviews with authors of motivational books and a recent segment where most of the crew fawned on and on over the new iPhone. Yeah, it's a sweet new toy, but it didn't make for great radio.
You won't hear much criticism from the bosses at KSL. "We want to be lighter at night," says KSL program director Kevin LaRue, who replaced Arquette in May. "This age group isn't typically home at night. We don't expect to have a lot of listeners sitting down in front of a radio in the house. They're more interested in interacting. We're after the 20, 30, 40-year-old who gets in their car at night and goes."
And, for that, they went to Castner—a guy who's a wee bit beyond that coveted age group but would be the first person to say you're only as old as you feel.
Fetishize This
Castner's voice sounds a bit like a cement mixer grinding on gravel. But in a good way. He was living in Los Angeles, doing radio at the same FM station where American Idol's Ryan Seacrest hosted a morning show when he heard of KSL's move into Nightside.
"The whole [hiring] process was so L.A.," he says. "I would be on the treadmill with my bottle of water, and I'd be talking to [Rod] Arquette on the phone. We'd go into these riffs about radio and personalities. For six months, we talked. The joke became 'Is this ever going to happen?'"
Arquette says Castner rose to the top of the applicant pool because he has experience in both news and entertainment. He worked for Tribune Broadcasting as a newsman in the Reagan White House and eventually ended up in Southern California, where he wore a ponytail and did a stint with Entertainment Tonight and the E! network. He's a Utah native and knows the rather unique culture and mindset of this pretty, great state.
Castner spent his early childhood in Salt Lake City, then moved to Ogden when his mother married a Hill Air Force Base officer. Shortly after, the family moved to a post on Okinawa, Japan, where Castner says he "percolated" in teenage isolation.
"I was a very angry kid, stuck out on this island away from my friends. The salvation was I became an Explorer Scout and started hanging out at the local TV and radio station. That's where I started learning about the business."
The family moved again when Castner was 16 to Austin, Texas. As a high school junior, Castner says he drove to every radio station in town, looking for work. He ended up at KOKE 1600 AM, a country-music station. He worked Sunday mornings, playing religious music.
"By the time I was a [high school] senior, I was doing drive time news on KOKE," he says. "I knew what I wanted to do for a living and, honestly, I didn't need college." He's been with radio ever since.
Castner spent 16 years in Los Angeles and figures he got out "before it sucked the soul out of me entirely. There really is a Hollywood mentality you don't know until you live it. People I thought were dear friends would do anything to use me and get ahead.
"I always liked what Jerry Seinfeld said about living in Los Angeles: 'It's not a home, it's a very long business trip.'"
When KSL tapped Castner to host Nightside, it felt like stepping into a well-worn pair of blue jeans. "I grew up watching Dick Nourse anchor the news from Broadcast House on Social Hall Avenue. Then I come back, and the dude is still anchoring the news," he says, laughing. "And I totally idolize him. He came on our show a while back, and I was afraid to talk to him. I stumbled around, made a complete ass of myself. I mean, he wears a leather trenchcoat. You wouldn't mess with him."
He also grew up watching Miss Julie on Romper Room and Bernie Calderwood, who hosted KSL's Big Money Movie on Channel 5. Calderwood's job included spinning a basket of viewers' telephone numbers, picking out a card and calling with a trivia question.
The good old days.
But Castner doesn't spend much time in the past. He has to match wits with a team of talent that grew up on a steady diet of ironic humor à la Quentin Tarantino films, The Simpsons and Arrested Development.
"The traditional wisdom is you cannot build [listenership] numbers in news talk by trying to entice younger people. Well, we're doing it," Castner says, pointing to recent ratings that took Nightside from 12th place in its time slot to second place in one year. But that jump is with the traditional KSL audience of 25- to 54-year-olds. Listenership in the younger group is up 32 percent, according to LaRue's Arbitron rating numbers, which he called "proprietary" and wouldn't fully share.
"The audience we're going for is totally into stuff—video games, iPhones, music, all that," Castner says. "You know the Iceberg Drive-in milkshakes? That's an icon here. The Iceberg is a sponsor on the show. One of our goals is to take a product and completely fetishize it."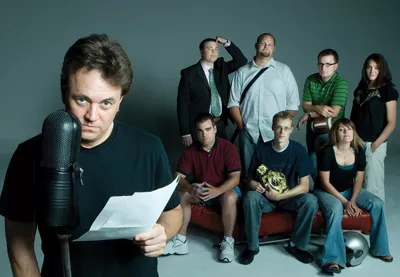 Subversive Farting
Every production day, Castner gathers the staff at 4 p.m. in front of their office cubicles to outline the evening's show. They pull up chairs and form a wide circle. He calls the session—which runs no longer than 20 minutes—"the fishbowl."
On a recent day, fishbowl topics ranged from board operator Paul McHardy's injured back ("I think he pulled his wuss muscle," says executive producer Matt Stubbs) to whether it's possible for a woman to ever really change a man's fundamental behavior.
"You can actually change a guy, but it takes time and patience," says reporter Sarah Jane Burr, who had taped a segment on the subject to air that night.
"No way," shoots back Castner. "We just make you think you've changed us. But farts under the bedcovers are our secret weapon."
Other possible show topics: A rumored reunion of The Spice Girls (it floated around but no one seemed wild for the idea); how skanky supermodel Kate Moss looks without makeup; and Larry H. Miller who, for all the worship he garners as a car-dealing entrepreneur and giant of the sports-business world, strikes the Nightside crew as "a crazy old man who would yell at people to get off his lawn."
They will also give away a Nintendo Wii that night to "one lucky caller."
With the exception of Castner, the crew is relatively green. Reporter Chelsea Hedquist graduated from the Columbia School of Journalism in New York City. Burr spent a year at NPR in Washington, D.C., as a production assistant. A graduate of West High School who grew up in Salt Lake City's Avenues neighborhood, Burr has a deft touch for topics near and dear to 20-something single, straight women, especially. At age 28, she says, "I feel like I can talk to that group of women because I understand them. I'm one of the few people my age here who isn't married."
Ethan Millard is 30, Nightside's project director and the creator of the political blog SLCSpin.com. He sits in with Castner for a regular political discussion.
Millard is a self-described political junkie with an interest in Eastern European politics. He spends the bulk of his day planning the show's content. He's also charged with dispatching staff reporters to breaking news stories (Nightside's Hedquist was one of the first reporters on-site after the Trolley Square shooting rampage in February).
"The guiding rule is 'If it's important to us, it's important for the show,' " Millard says. "It's pretty honest stuff, and we've been given a lot of freedom to say what we want. We might take the same topics that Doug [Wright] or Sean [Hannity] would cover but talk about them in a completely different way."
Back at Bonneville International's corporate perch, executive Chris Redgrave again points to "millennial research" in Nightside's programming. "Studies of this group show again and again how collaborative this age group is," she says. It's the first generation that had abundant and organized co-ed sports, like soccer leagues, at its disposal. This age group learned a lot about working together simply by early exposure to teamwork, Redgrave says. "It comes across in the way they do this show."
Still, it seems more than a little incongruous for the Mormon church's broadcasting arm to mandate all this um, edginess. After all, KSL is home of Music and the Spoken Word and live broadcasts of LDS General Conference sessions. Bonneville's KUTR 820 AM runs 24 hours of automated, "soft inspirational music"—which mostly amounts to treacly Mormon pop songs.
But Redgrave says it's precisely Bonneville's private and closely held church ownership that allows a foray into a whole new broadcasting universe. Bonneville doesn't have the shareholder concerns of say, Clear Channel Broadcasting, which has a well-publicized reputation for yanking the plug on programming or personalities that offend advertisers.
"At the end of the day, [Bonneville CEO] Bruce Reese knows we're going to be very respectful of the product," Redgrave says. "The staff has a lot of leeway, but they make sure the humor doesn't get out of hand."
Castner says Reese has put it to him in a simpler way, and it's what guides him through five hours each night: "He says he's not meant to get it. If he understands what we're doing, then we're definitely not reaching the right audience."
Question: When you work for KSL Radio's Nightside Project, how do you know when you've caused a ripple in town?
Answer: Utah's senior U.S. Sen. Orrin Hatch, age 73, won't do a live interview on the show.
Host Michael Castner and project director Ethan Millard have repeatedly invited Hatch onto the show. "He says he can't because he's in bed at that hour," Castner says, wryly.
It doesn't hurt to break news now and again, either. Especially quirky, crazy Utah kind of news. Last year, Nightside broke the story about Utah's 3rd District Republican Rep. Chris Cannon blaming the "provocative" behavior of teenage pages in the sex scandal that snared ex-Florida Rep. Mark Foley. Cannon blurted the inopportune comments in a brief interview, and they wound up on Millard's blog, and the radio show. The following morning, every major news outlet in Utah, and several around the country, ran with it.
The Nightside Project can be heard Monday through Friday from 7 p.m. to midnight on 102.7 FM and 1160 AM. Nightside.ksl.com