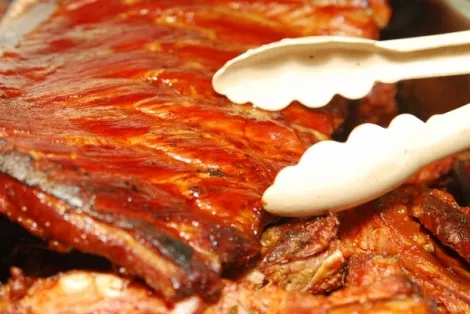 I always try to be a little cautious when throwing the term "barbecue" around, since it means very different things to different people. To most Americans, I suspect, barbecue is synonymous with all outdoor cooking and grilling. As in, "Come on over to our place for a barbecue!" But to hardcore barbecue aficionados like those who compete in, for example, cooking competitions sanctioned by the Kansas City Barbecue Society—of which I am a trained and certified judge—the word barbecue refers to slow (low heat) pit cooking. It's much more than merely a matter of throwing a few burgers or some shrimp on the barbie; it's hours and hours of methodical cooking, rubs, mops and more. So, today we turn our attention to two relatively new barbecue joints: one that is of the Kansas City Barbecue Society would approve of, the other distinctly not.

First up: Terrapin Station Smokin' Co., which is a traditional, low-and-slow barbecue eatery that began as a catering outfit and recently opened as a sit-down restaurant. A friend warned me a few months ago that Terrapin Station was not without glitches, and he was correct. Unfortunately, it's still not without glitches. In fact, there are aspects of this restaurant that are just downright odd.

Walking into the place—which looks like a '70s throwback nostalgia restaurant, full of macramé and hanging plants—we weren't quite sure what to do. It was a Friday night, but the restaurant was nearly empty, and there was no one to greet or seat us. Eventually, a woman—who would turn out to be our "server"—emerged from the back. We were given menus and instructed to find a seat and return to the front counter when we were ready to order, which we did. We paid for our dinner in advance, which I thought was odd. What if we wanted dessert or something else later? I guess we'd just start all over again. Anyway, with food orders in place, we sat down again, and I realized I'd forgotten to ask for one of the available microbrews. But, our server had again vanished. In short, this is what passes for service at Terrapin Station.

If the food were better, the sloppy service would be more tolerable. But, as much as I want to love this barbecue operation, I just don't. For starters, the side dishes we sampled were mediocre at best. I mean, how in the world could anyone screw up something as basic as cornbread? "Creole cornbread" was dry and virtually without flavor. French fries were lukewarm and limp. Barbecued beans were mushy, yet dry, although with a nice, spicy kick. Again, I could probably overlook all that if the meats were mind-blowing, but they weren't.

Advertised as "World-Class Southern-Style Barbecue," there wasn't anything world-class about my barbecue sampler plate ($20 with cornbread and two sides). The beef brisket was tender, but not particularly flavorful, and the pulled pork was one of the weaker versions I've ever tried. A quarter-rack of ribs was tough and chewy, and a dried-out chicken thigh had seen better days. Oddly, some of the sauces are very good, including the Helldorado and honey-chipotle sauces. Terrapin Station sells their bottled sauces and rubs, which I recommend purchasing and applying to your own homemade barbecue.

By contrast, I loved almost everything at Layton's Big Sai's Hawaiian Bar-B-Q except the size. The new eatery is a hole-in-the-wall with a walk-up-and-order counter, five tables and a couple of window seats—seating for 22 people, total. It's always crowded at lunchtime and for early dinners when the folks at nearby Hill AFB get off work. But, you can always get your Hawaiian-style barbecue to take home.

One wall of Big Sai's is an homage to Hawaiian football players, with signed and autographed jerseys and photos from the likes of Troy Polamalu, Lofa Tatupu, Junior Ioane and many more. On the opposite wall is a simple painting of the Hawaiian Islands, with only the town of Laie on Oahu highlighted—where the family that operates Big Sai's comes from. As for Big Sai? Well, he ain't so big. He's actually the 9-year-old son of the owners.

Big Sai's is a small place with big flavors, not to mention big portions for little prices. Menu items include teriyaki beef and chicken, Kalua pork, fried spam & eggs, Laie chicken wings and Japanese-style chicken katsu. Most of the menu items come in a "mini" size ($4.50-$6.50) or "regular" ($5.95-$8.95) and include a side of rice and macaroni salad.

There is nothing mini about the mini portions. The mixed mini plate ($6.50) consists of one grilled short rib; four or five boneless, grilled chicken thigh pieces; and about a quarter-pound of beef, along with a mound of white rice and a hefty portion of macaroni salad, all topped with a slightly sweet teriyaki sauce, mildly spiked with garlic. Both the chicken and beef were very tender, the beef especially. And, I've gotta tell you, the macaroni salad here is bodacious. I took an order home and was so impressed that I called back to find out how the macaroni salad was made. Turns out it's nothing more than al dente macaroni, a little mayonnaise, shredded carrot and black pepper. That's it. I could have sworn there was some sort of mild cheese in it. It tasted like mild mac & cheese, not mac & mayo.

Another great choice is Loco Moco ($4.50), which is two grilled beef patties topped with two fried eggs, smothered in brown gravy. I could feel my arteries hardening as I ate it and loved every bite, but I still couldn't resist ordering the guava cake. As Sai's T-shirts say, this food "broke da mouf." 

TERRAPIN STATION SMOKIN' CO.
2020 E. 3300 South, Salt Lake City
801-466-9246
TerrapinStationSmokinCo.com

BIG SAI'S HAWAIIAN BAR-B-Q
2672 N. Hillfield Road, Layton
801-774-7247