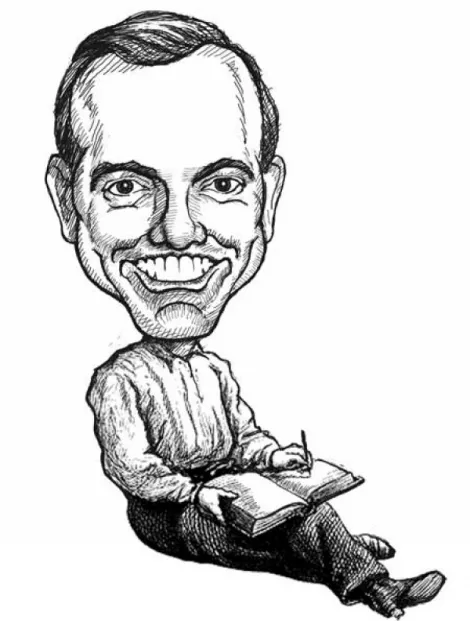 Out of the blue, we got a telephone call from someone calling himself Richard Burwash, under whose name West Valley City mayor Mike Winder was writing all those fake "good news" stories for the Deseret News.

"I was just getting started on a great journalistic career," said an obviously irate Burwash. "I was giving good news. Then, all of a sudden, this Winder fella comes along and cuts me off at the knees, claiming he was the real author of those propaganda pieces about West Valley. Well, you just wait and see. In years to come, my name will ring down the halls of history, and 'Mike Winder' will be left in the dust. Look at all the other famous pseudonyms or pen names or noms de plume or aliases or whatever you want to call them. They all took revenge on the so-called 'real people' who hid behind the pseudonyms.

"Today, we remember Mark Twain, not Samuel Langhorne Clemens; George Eliot, not Mary Ann Evans; Chubby Checker, not Ernest Evans; Boy George, not Alan O'Dowd; Lewis Carroll, not Rev. Charles Dodgson; Alice Cooper, not Vincent Furnier; Snoop Dogg, not Calvin Broadus; Moby, not Richard Hall; Moby Dick, not Wally the Whale."

Mr. Burwash paused to catch his breath. "Anyway, you get the picture. Everyone will remember Richard Burwash; no one will remember Mike Winder."

The Deseret News, formerly a newspaper and now an organ of disruptive innovation, published several of Mr. Burwash's exercises in citizen journalism before Mayor Winder came forward to claim credit. Functionaries at the Deseret News, now a subsidiary of something called Deseret Connect, the brainchild of someone calling himself "Clark Gilbert," have come under criticism for printing Mr. Burwash's puff pieces.

"This is the first issue of this kind that we've had," said someone calling himself "Matt Sanders" and claiming to be the director of Deseret Connect (Deseret News, Nov. 11, 2011). The "editor" of Deseret Connect, who goes by the name of "Jacob Hancock," insisted that all their citizen journalists are vetted to make sure they are who they say they are.

"Everyone who writes for us—and we are proud of each and every one of our 2,000 amateur journalists—is checked out thoroughly. We look at their pictures on Facebook to see if they seem to be alive. Finally, we require each of them to verify who they are by swearing, 'Cross my heart and hope to die, stick a needle in my eye.' So far, all of our illustrious scribblers have proved to be who they say they are, including political stringer Winston Churchill, war correspondent Ernest Hemingway, Middle East specialist Anwar Sadat, society gadfly Eleanor Roosevelt and music critic Tupac Shakur."

Indeed, "journalists" at the Deseret News said they talked to Mr. Burwash on the telephone to confirm that his flattering stories on Mayor Winder and West Valley City were on the up and up. Apparently, they were impressed with his plummy British accent, said to be very similar to international man of mystery Austin Powers. We brought this point up with Mr. Burwash, whose reply was a simple and emphatic, "Hogwash!" He then added, "By the way, I kind of resent the fact that my good buddy Mayor Winder gave me a moniker that sounds halfway between "hogwash" and "bushwah," both of which are commonly euphemisms for bullshit.

"Anyway, do I sound like I'm a bloody Pom?" asked Mr. Burwash, who is proud of his distinctive American Fark accent. "I never talked to a soul at the D-News, Deseret Connect, KSL or the Mormon Times. I did, however, get a nice call from someone calling himself 'Mark Willes,' congratulating me on my story on the new Buddhist dairy in West Valley. At least I thought it was Mark Willes, who is supposed to be a big cheese over there in the church media empire. Now that I think of it, it was probably just my high school friend Morty, who is a real practical jokester."

What's next for Mr. Burwash? "There's no crying over spilt milk, as they say. So, I'm on to my next big adventure, turning that spilt milk into some fine cheese. Right now, I'm huddling with advisors and considering a run against Mike Winder for Salt Lake County mayor. Failing that, I might just toss my hat into the ring to become the next president of the University of Utah. Hey, if Mark Shurtleff can campaign for that job, I don't see why I can't."
D.P. Sorensen writes a satire column for City Weekly.