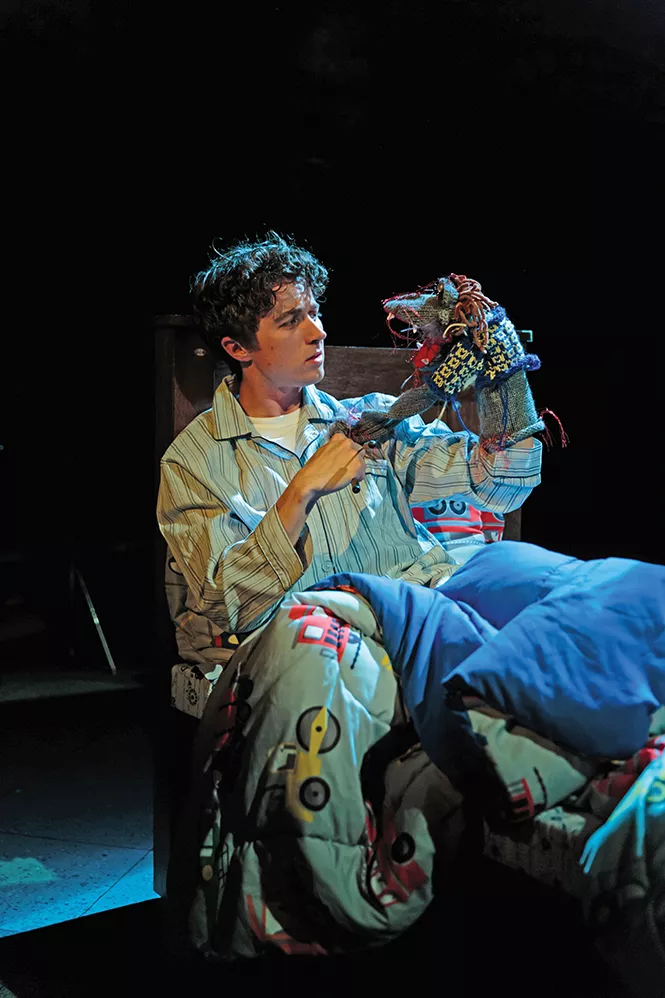 Salt Lake Acting Co.: Hand to God
If you want to experience the most exhilarating acting performance on a Utah stage this year, be forewarned: You're going to have to endure plenty of profanity, more than a hint of blasphemy and a marathon session of puppet sex.
That performance belongs to Riley O'Toole, who technically plays two characters in Salt Lake Acting Co.'s production of Robert Askins' Hand to God. The first is Jason, a teenager participating in a church-sponsored puppet workshop led by his mother (Alexandra Harbold); the second is Tyrone, the foul-mouthed sock marionette who becomes the troubled Jason's alter-ego in a manner that begins to resemble a demonic possession.
The plot swirls around several other confused characters as well, including the church's minister (Daniel Beecher) and two other members of the puppet youth group, Jessica (Amy Ware) and Timothy (Nathan Vaughn), whose actions are colored by the recent death of Jason's father. Askins weaves some tangled psychology into the story, asking fairly boldly whether religion can actually solve people's problems when they're this profoundly messed up.
But if you can stomach the swipes at faith, you're in for a hilariously bizarre ride, anchored by O'Toole's deft physical performance. Tyrone genuinely seems like a separate entity, whether rising ominously beneath bed covers or violently attacking other people. It all builds to Jessica's valiant attempt to distract the evil Tyrone by bringing in her own female hand-puppet—and a sequence of puppeteered pornography that's made all the more uproarious by the humans' unsettled facial expressions. It takes real acting talent to make something so bleak simultaneously so funny. (SR)
Wasatch Theatre Co.: Dinner
A writer, a scientist, an artist and a sexpot are invited to a dinner party. It might sound like the beginning of a joke, but the scheming, wealthy host entertaining these guests has ulterior motives. In Wasatch Theatre Co.'s production of Moira Buffini's pitch-black comedy Dinner, you're invited to more than just a meal.
After the release of Lars' (Nicholas Dunn) new book, his wife Paige (Stacey Jenson) invites an array of guests to dinner—scientist Hal (Daniel McLeod) and his wife Sian (Alyssa Franks), and Wynne (Ali Lente), an artist who has a history with Lars—all served for the evening by a silently brooding waiter (Gordon Dunn). The soirée really gets interesting when Mike (Carlos Nobleza Posas) unexpectedly shows up at the front door. While Mike isn't part of Paige's plan, he does add an interesting twist.
Like many meals, Dinner starts a bit slowly. As the waiter brings out each course, however, and Mike appears, the story gets more intriguing. It's a slow burn as each character discloses a secret of some kind throughout the second act.
Although the set consists almost entirely of a simple dining-room table, there's also a mirror at the back of the room that reflects the audience. It's disconcerting at first, but it makes you feel like you, too, have been invited to Paige's party. Whether you want to be part of this feast or not, you're pulled right up to that table. (MB)
Utah Repertory Theatre: Kiss of the Spider Woman
It's not often that a theatrical musical feels intimate; the nature of the production generally keeps the audience physically removed from the performers. But director Johnny Hebda takes advantage of the tight space of the Sorensen Unity Center Black Box for a staging of Kiss of the Spider Woman that drops viewers into the center of the intense story.
Based on the same novel as the Oscar-winning film, the musical version is set in Argentina during the military dictatorship of Augusto Pinochet, where a political dissident named Valentín (Juan Pereira) is placed in a cell with Molina (Kenneth Wayne), a gay man serving a sentence for "corrupting a minor." Valentín's antagonism toward his flamboyant cellmate is soon complicated by the prison's warden promising to reduce Molina's sentence if he can wrangle information out of Valentín about his fellow activists' intentions.
The music written by Kander and Ebb (Cabaret, Chicago) is a perfect match for this dark material, mixing sardonic humor into a story filled with violence and corruption; Molina's cinema-inspired fantasies generate delicious numbers like the second-act opening, "Russian Movie." Wayne himself provides a sensational centerpiece performance, filling his interpretation of Molina with humor, pathos and a courage even he doesn't realize he has. But the show proves most thrilling by sending the talented dancers within inches of the first row of seats, so that you can practically catch the flying feathers from their colorful boas. For a show about finding glorious emotional escape from a contained area, it proves to be an inspired choice. (SR)