Immigration Judge William L. Nixon was on the verge of tears. A Hispanic single mother convicted of fraud for using a fake social security number she bought 20 years earlier was before him in federal immigration court in the summer of 2006, facing deportation.
She had no money for a lawyer and was representing herself, since people in deportation proceedings do not get public defenders. Behind her in the small, windowless room sat her four children, one of them with Down syndrome and severe heart issues.
Nixon's clerk was first-year law student Aaron Tarin. "It will kill me to leave my babies here, but I will if I have to leave," Tarin recalls the mother saying. Her children, she said, needed a better life. Tarin had to restrain himself from leaping over the bench to represent her.
Nixon and Tarin went to the judge's chambers, where they went over the case law. "It was the first time I understood the perils judges find themselves [facing] in a case where their heart is telling them to allow a person to stay in the country, and the cold, hard hammer of the law requires them to bring down the gavel," Tarin says.
Nixon praised the woman as, Tarin says, "one of the most valiant mothers who had come before the court." While Nixon told her he would have been "greatly pleased" to grant her legal residency in the United States, the law compelled him to deport her.
"To see an unjust result happen—candidly, it was almost like the day I found out Santa Claus wasn't real," Tarin says. No other area of the law, he believes, has such deficiencies and can produce such devastating human tragedy.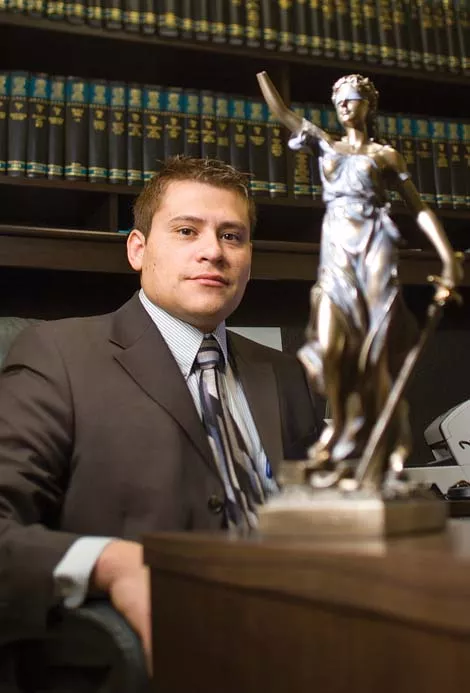 In September 2009, not quite one year into serving as an immigration attorney in private practice, it was Tarin who was fighting back tears in public. He was providing testimony of his faith in The Church of Jesus Christ of Latter-day Saints and its founder, Joseph Smith, at a Hispanic LDS ward in Lehi. Tarin told the congregation, many of whom were undocumented, that he knew the struggles they were going through with immigration. "I know it's part of God's plan. Hang in there, don't get discouraged, continue to live the gospel, obey the commandments, and have faith something will change." As he talked, he remembered how tense it had been as a child "living in the shadows," while his mother struggled, ultimately successfully, for legal residence.
Tarin, now 29, grew up with Hispanic parents in the small farming community of Delta. His father came from El Paso, Texas, his mother from LDS colonies in Mexico. He recalls going into a playground and speaking Spanish to children on a merry-go-round, only for them to stare at him strangely. So, to fit in, he shunned his family's Hispanic heritage and language.
On his LDS mission to Mexico City slum Tepito, the then-19-year-old not only rediscovered his Hispanic roots but also had a religious epiphany. Mexicans constantly asked him if he knew Britney Spears, how tall the Statue of Liberty was or if he had visited Disneyland. Many wanted to come back to the United States with him, an impulse that many attribute to economics, but one Tarin sees differently. "The real motivation is spiritual; they're led here by the hand of God."
He believes that Hispanics crossing the border to come to Utah are following God's plan. In The Book of Mormon it is prophesied that close to the second coming of Jesus Christ, the people of Lamanite descent, whom Tarin interprets as being primarily Hispanics, would experience a spiritual and physical gathering in the Americas. In particular, they would come to the United States and Utah to, he says, "be exposed to the [Mormon] gospel."
In the past four years, according to a recent Immigration Policy Center study, the percentage of Latin American LDS members has climbed 70 percent to 2.5 million, equal to 30 percent of the church's total membership. Latinos, whether in Utah, the United States or in South America, will make up 50 percent of the LDS Church by 2020. All this, Tarin believes, is part of what the LDS faithful call the "Second Coming."Spend time with Tarin, and you end up seeing Utah's immigration debate through the eyes of some of Utah's estimated 110,000 undocumented immigrants, according to the Pew Hispanic Center. Not only does he defend people facing deportation, he also fights to punish anyone who he thinks is guilty of malpractice in immigration law. When he loses in court, when families are ripped apart or law enforcement commits injustices, it's the Lamanite prophecy he falls back on. "It's the principle always in the back of my mind that helps me know what I'm doing," he says. "No one came to this land except by the hand of God." Whether in court, in jail or in his office, when a client walks in, "I definitely have a sense of providence, that it's not entirely a coincidence that we crossed paths."
That sense of providence, however, puts him in opposition to many in his own church who hold strikingly different views about Hispanic immigrants. When Tarin returned from his Mexican mission, he was shocked by the racism he found among the rank and file of Utah's LDS congregations. "On the outside they were very religious and Mormon, yet they espoused views and anti-immigrant positions that, in my opinion, were against the doctrine of the church."
Tarin often receives phone calls from confused LDS bishops and stake presidents. The economic downturn has forced many undocumented and unemployed Hispanic converts to seek financial help from the church. Yet the bishops and stake presidents fear helping them and putting themselves at odds with the law.
Tarin has no doubt that they should help. In the Lamanite prophecy, he says, Lamanites "will be nourished by the gentiles, so literally the prophecy is coming true." Indeed, until the Utah Legislature recently targeted undocumented immigrants—especially with Senate Bill 81, which passed in 2007 and went into effect July 1, 2009—conservative Utah was seen as a welcoming state to those without legal status, with its driving-privilege cards and in-state tuition for undocumented children. Hispanic nonprofit Comunidades Unidas Executive Director Sabrina Morales says, "Immigrants came here because they felt they could live in a less fearful situation and raise their American citizen children in a state that feels more welcoming to them."
Such a welcome, particularly from the LDS Church, makes many conservative LDS members irate. "They believe the church is harboring aliens," Tarin says. "They're aiding and abetting a crime […] by allowing illegal aliens to be baptized and given financial assistance."
Yet he believes The Book of Mormon is written "for our times," he says. "If that's true, I don't see how we can ignore the teaching on an issue as pressing as immigration."
FALLING INTO THE WRONG HANDS
In 14 months of private practice, Tarin has completed 50 cases, 70 percent of which have had favorable outcomes, he says, with 64 cases still open. That still leaves 30 percent of what he says are "heartbreaking, grueling cases of screaming children and crying mothers. Each loss is brutal." He says he's had to come to terms with losing because, in immigration law, "the odds are stacked against the immigrants."
Evidence of those stacked odds is apparent one early December morning outside a nondescript single-story building close to the Salt Lake City International Airport. A van with covered windows pulls up, and a dozen men in jail garb climb out in single file and shuffle, ankles and wrists manacled, into immigration court.
"Within these walls, we get to determine who participates in the American dream and who is cast out," Tarin says.
All that stands between the undocumented prisoners and deportation that day are three pro-bono lawyers, including Tarin. The lawyers sit in a narrow, cramped corridor interviewing detainees to assess their cases. One Anglo lawyer struggling with Spanish asks Tarin to translate an English verb for him, as his detainee-client looks up at the lawyer with large, unblinking eyes.
"%uFFFDComo caiste en las manos de immigracion?" Tarin asks the first of several men and a woman he offers pro-bono advice to. That translates to, "How did you fall into the hands of immigration?" Roofer Jesus Lopez Hernandez says he was charged with a felony but the case was dismissed. "I've been here all my life, since I was 14," he says. "I didn't expect to be rich. Just to be poor and happy." He wants the judge to grant him voluntary deportation, which would allow him a glimmer of hope to return legally, Tarin says.
Judge Nixon isn't so obliging. Hernandez admits to convictions he hasn't told Tarin about but claims they were false arrests. Before denying Hernandez's request for voluntary deportation, Nixon says the detainee's pattern "is it's never his fault, yet he pleads guilty." Hernandez shuffles off with a half-smile to deportation and a 10-year ban on legal re-entry. That half-smile, however, suggests Hernandez may attempt to cross the Mexican-U.S. border, something that Tarin says demonstrates how broken the immigration system is.
THE FEAR FACTOR
After court, Tarin meets with Comunidades Unidas' Morales, who wants attorney to join the nonprofit's board.
Over lunch in a nearby food hall, they discuss SB81, a bill sponsored by former Sen. Bill Hickman, R-St. George, that sought to make it harder for undocumented immigrants to work and live in Utah. Rep. Mike Noel, R-Kanab, the House sponsor of SB81, says even after the bill became law, he remained concerned about a number of lingering issues. Those include the cost of treating undocumented workers in hospitals and identity theft. But he also worries about the undocumented workers being unable to report employers who treat them unfairly. He doesn't want to be the "poster child" for the anti-immigration groups.
Sen. Luz Robles, D-Salt Lake City, condemns SB81 as sending a message that Utah is not a welcoming state. If the intent was to create fear in the undocumented community, she says, "then it was fulfilled."
Tarin agrees. "The biggest damage SB81 has done is it's sent out a message: Don't trust anyone in law enforcement." He cites a Hispanic woman and her daughter asking for advice on breaking their contract with a landlord.
The mother suspected he was sexually abusing one of her other daughters, so Tarin told her to report him to the police. She refused. "They'll deport me," she said. "I just want him to let us leave."
Tarin and Morales agree that for those who hold antiimmigrant views, SB81 gives them a license to put them into practice. "People feel justified in indulging their xenophobic tendencies," Tarin says.
He accepts Morales' invitation to join her board, while warning her he is controversial. "I go after notarios [notary publics] and attorneys who do shady stuff." Some notarios, Tarin says, work as quasi-lawyers, filling out immigration forms for undocumented clients, the result of which is often that immigration officials become aware of the individuals and deport them.
He first started hearing stories of malpractice when he volunteered at the Guadalupe School Pro Se Legal Clinic as a law student. He heard horror stories from immigrants "of unscrupulous notarios and attorneys charging them for doing nothing, filing cases that end up in deportations, gross abuses of attorney relationships."
Tarin is not the only immigration attorney who has tried to tackle malpractice. But in a community of lawyers that arguably prefers to wash its dirty laundry in-house, he sees the media as "a necessary evil" to push for change.
At the end of 2008, 15 Hispanic LDS families who were facing deportation proceedings came to Tarin. They claimed a notary called Leticia Avila, herself LDS, had conned them out of thousands of dollars with false promises of legal status. An Anglo missionary couple convinced them to denounce her to the authorities. But after several years, Avila remained free and her alleged victims faced deportation.
Tarin was infuriated. "Taking advantage of those people's religious beliefs to defraud them made it so I couldn't stay quiet any longer. I couldn't believe no one was doing anything about it."
In April 2009, City Weekly broke the story in "Money for Nothing." Avila admitted in an interview to taking money from undocumented Hispanics, supposedly to help them get their papers. Subsequently, the Utah State Bar sued Avila.
Avila, in turn, countersued Tarin and numerous undocumented Hispanics who alleged she scammed them, although Tarin says that, as of yet, nobody has been served. Avila's attorney, Steven Paul, declined to comment on either lawsuit.
"It's a typical effort to intimidate victims and use their fear of being deported against them," Tarin says.
One victim, 60-year-old Tomas Flores, recently testified against Avila on behalf of the Utah State Bar. Flores says he and four family members paid her several thousand dollars to resolve their undocumented status. All they got in return were empty promises. Attorney Paul says, "we are aware of his accusations, and deny them emphatically."
Only one of Flores' four children still remains in Utah, the other three and their families already deported to Uruguay. "It's going very badly for them there," he says.
Avila, Flores says, with her claims to be inspired by heavenly visions and her LDS connections, tricked them. "Who comes into your house as a thief and offers you everything you want?"
QUEEN OF THE AMERICAS
On July 29, 2009, federal prosecutors indicted immigration attorney James Alcala over allegedly arranging thousands of fraudulent visas for undocumented Hispanics to work for Utah companies. Earlier this year, attorneys Lance Starr, who worked for Alcala for nine months, and Sean Foster, both friends of Tarin, persuaded numerous clients who claimed Alcala had cheated them to testify against Alcala to the U.S. Attorney. Alcala says Starr "betrayed me." The case is currently in federal court, and a hearing was scheduled for Jan. 7.
Some of those clients desperately need help salvaging what are often cases beyond repair. One alleged victim, Silvia Alfaro, Tarin says, "is a classic example of a family ripped apart by unscrupulous notarios and attorneys."
Alfaro lives in a Glendale house with her two young sons.
The mantelpiece is a shrine to the Virgin of Guadalupe. "She is the mother of God, the queen of America," Alfaro says in Spanish. "She has been a source of hope to keep me going."
Legal resident Alfaro married undocumented roofer Leonel Medina on Dec. 17, 1999. In September 2007, Medina went to Alcala's firm for help becoming legal. Alcala told Medina to come to the federal immigration offices in Salt Lake City on April 30, 2008, and bring his family. He went in with Medina while Alfaro and the boys waited outside. Alcala, who describes the Medina case as "an albatross around my neck," says immigration officials pressured Medina to admit he had been caught entering the United States with fake documents. It was only then, Alcala claims, that he learned Medina had been deported previously. Medina was arrested and deported to Mexico the following day.
Alfaro, however, says her husband told Alcala he had been deported once, only to illegally return to the United States, and gave the lawyer copies of his deportation papers. At that point, Tarin says, Alcala should have known there was nothing to be done. Having been deported three years before and illegally returned, if Medina went to immigration, he would be immediately removed from U.S. soil.
The case didn't end with Medina's deportation. Alfaro denounced Alcala on a Utah Hispanic TV news show, accusing him of asking for an additional $5,000 to bring Medina back, and she wrote in a 2008 complaint to the Utah State Bar that Alcala knows "this is impossible."
Alcala, however, says he told Alfaro he might be able to get her husband back for $5,000, but she went to another lawyer before he could investigate further.
Tarin says that such offers of help were "clearly frivolous. It was a ploy to get more money out of a suffering victim."
After a meeting with the Utah State Bar over Alfaro's complaint, Alcala gave her back $2,800 in fees and, in April of this year, successfully secured her citizenship. Alcala continues to practice law, albeit with an ankle monitor, and says that despite the federal allegations, clients continue to seek his help because they know he will fight for them.
But the citizenship and refunded fees bring little comfort to Alfaro, who is constantly struggling to make ends meet and particularly since her children have struggled with the loss of their father. "If I kill myself, will immigration bring papi back?" one of her sons asked her.
BEER WITH A METH CHASER
For about 50 percent of Tarin's potential clients, he says, "the best advice is do nothing." But when Tarin says he can't help, he knows many will go to lawyers or notaries who will take their money, give them empty promises, or at worst, get them deported.
That leaves the bulk of Tarin's practice defending aliens in deportation proceedings, such as Efren Robles (no relation to Luz Robles), transferred in August from a California court. The West Coast is overwhelmed by deportation proceedings, Tarin says. Clients like Efren Robles, with a considerable criminal background, inevitably test his faith. "It's frustrating to see immigrants who have been at the gates of opportunity, had the American dream for their taking, and to a certain degree squander that opportunity."
Chained and manacled, Efren Robles shuffles into courtroom two and sits next to Tarin before prosecutorturned-immigration judge, Dustin Pead.
Tarin goes through Efren Robles' lengthy rap sheet of 11 Californian convictions, including four DUIs and one for meth possession, in 2003. While Efren Robles, speaking through a court translator, offers sometimes confusing testimony, he constantly repeats his regret over the crimes he had committed.
Following an August 2006 DUI conviction, Efren Robles went to a rehabilitation home called Victory Outreach in San Francisco. He left 18 months later and, he tells Pead, has not drunk alcohol or done drugs since. In October 2008, however, he was sentenced to 90 days for a probation violation, after being picked up by police with a man in possession of a crack pipe. Efren Robles hired a lawyer who got drug possession charges against him dropped. Efren Robles denies to Pead having consumed alcohol or drugs since Victory Outreach, although a urine analysis report showed positive.
Tarin's first character witness, Victory Outreach's Pastor Richard Prieto, says in a telephone call from San Francisco that Efren Robles underwent genuine change in rehabilitation. Pead abruptly summons Tarin and the prosecutor to his chambers. He tells Tarin that Efren Robles' fate comes down to whether in 2008 he relapsed into drug use or not. He will schedule more time for the case in February so the lawyer can gather more evidence.
"You can put him in a better position," Pead tells Tarin. "I am uniquely obligated to make the best judgment I can." The case is continued to Feb. 10.
HIDE AND SEEK
Inevitably, it's at an LDS ward house that Tarin's vocation and his religious beliefs come together.
"As an LDS attorney, the Lamanite prophecy that says if you follow the commandments you will never be held captive, has great significance to me," he says.
One icy Sunday morning in late November, he arrives with his wife, Amber, and their two children at a Lehi ward house just off Interstate 15.
"If you think Mormons are fertile, Hispanic Mormons are even more fertile," he jokes as he takes a seat at the back of the rapidly filling Hispanic ward. Indeed, it's hard to hear the service at times for the crying of infants.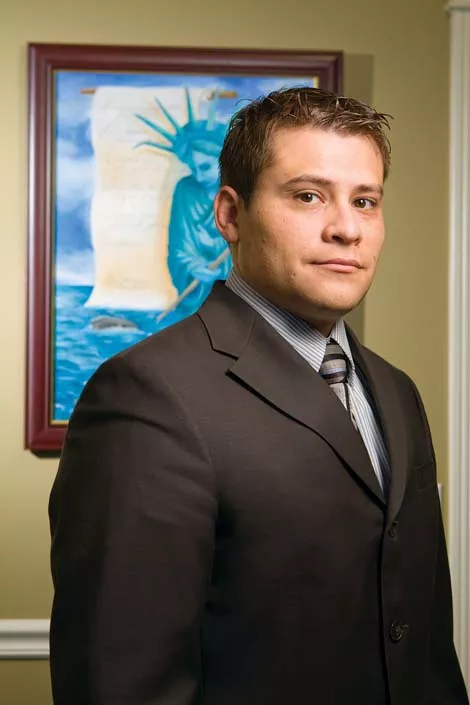 Deportation for family-committed Hispanics "is like death, or worse, for some of these people," Tarin says. He is providing pro-bono advice to 10 clients in the congregation. That day, in a ward hallway teeming with children, he advises a man and his wife with four U.S. citizen children.
The couple fell victim to bad advice from a notary, Tarin says. The notary filled in, on their behalf, notoriously complex immigration forms and handed them to immigration authorities. The notary charged $750 for a case, Tarin says, that should never have been filed in the first place and, more than likely, put the family on immigration's radar.
The mother tells Tarin she has faith immigration will not come. "Cross your fingers," Tarin says in Spanish. "Cross my fingers, toes and everything," the woman replies. He tells the couple, "If you follow the commandments, your liberties will not be taken away." That's something, he adds later, "I truly believe."

UNEXPECTED MIRACLES
Part of the hope that Tarin offers his fellow worshippers is inevitably linked to the expectation that President Obama will introduce an amnesty for undocumented residents. Sen. Luz Robles, who, like Tarin, describes herself as Mormon Democrat, is optimistic, following a recent conference call with officials in President Barack Obama's administration, that immigration reform is going to happen. "I'd bet my house," lawyer Alcala says about the prospects for amnesty in 2010, acknowledging such a move would prove a "huge boon" for firms such as his.
Rep. Chris Herrod, R-Provo, however, says amnesty doesn't work. "It reinforces to people all you have to do is come here, lay low, and you'll be forgiven."
For Tarin clients like Silvia Alfaro, however, amnesty will come too late. The miracle she so longed for has not materialized.
As the months pass, her husband slips farther away from her. "It's hard for him," she says. "But it's harder for me."
Miracles, though, sometimes come from unexpected places.
On Dec. 12, five days before her 10th wedding anniversary, Alfaro was fretting over being unable to afford presents for her two boys. At 10 p.m., someone pounded on her door and left a white plastic bag with 12 presents. Instructions in Spanish said to open one present each day. Each present had a note in English. The first began, "On the first day of Christmas, Santa's elves brought to me."
It's a similar generosity that Tarin yearns for from those in his church, particularly Republican legislators whose Christian charity does not extend to the undocumented immigrants who share their faith.
Tarin stands in the lobby of the ward house, an Anglo service going on yards away. "Within these walls, we're all brothers and sisters, sons and daughters of the same god. Outside these walls, it becomes, 'Are you legal or are you illegal?'" That's a shift he struggles to understand, particularly when the Lamanite prophecy isso fundamental a concept to LDS doctrine, it's taught as a Sunday nursery song to generations of LDS children.
Luz Robles, a self-described "Tijuana border girl," says she believes that, in a way, "the prophecy ties it together." Attorney General and LDS Church member Mark Shurtleff won't comment on the Lamanite prophecy in his official capacity, except to say that, statistically, the majority of Latinos who live in Utah "are here because of the church. Clearly, there is a connection. A lot of Latino Mormons come here to Zion, and many are undocumented."
Reps. Noel and Herrod, both LDS, don't necessarily see that connection. Noel says while The Book of Mormon talks about the Lamanite population, "I'm not sure it's about immigration." The LDS Church's position, Noel says, "is everybody is entitled to hear the word of the Lord," but it's also about "sustaining and obeying the rules of law." With 6 percent unemployment in Utah, "there's a lot of resentment out there for people who are here illegally."
Herrod says immigration comes down to an issue of fairness. "God loves all his children equally. He wouldn't want to discriminate against somebody waiting in lines for years," only to be turned down for a legal visa to the United States. "Nobody stands up for them. They are the forgotten voices."
For Tarin, however, the forgotten voices are the men, women and children in the Hispanic ward he attends who live in the perpetual twilight between being God's chosen and man's illegal aliens.
It's in Utah's ward houses, Tarin says, he hopes to "make my small contribution. If I can cause one LDS member to think twice and reflect on Mormon doctrine before they judge immigrants, then I think my efforts will have been a success."