Page 3 of 3
HIDE AND SEEK
Inevitably, it's at an LDS ward house that Tarin's vocation and his religious beliefs come together.
"As an LDS attorney, the Lamanite prophecy that says if you follow the commandments you will never be held captive, has great significance to me," he says.
One icy Sunday morning in late November, he arrives with his wife, Amber, and their two children at a Lehi ward house just off Interstate 15.
"If you think Mormons are fertile, Hispanic Mormons are even more fertile," he jokes as he takes a seat at the back of the rapidly filling Hispanic ward. Indeed, it's hard to hear the service at times for the crying of infants.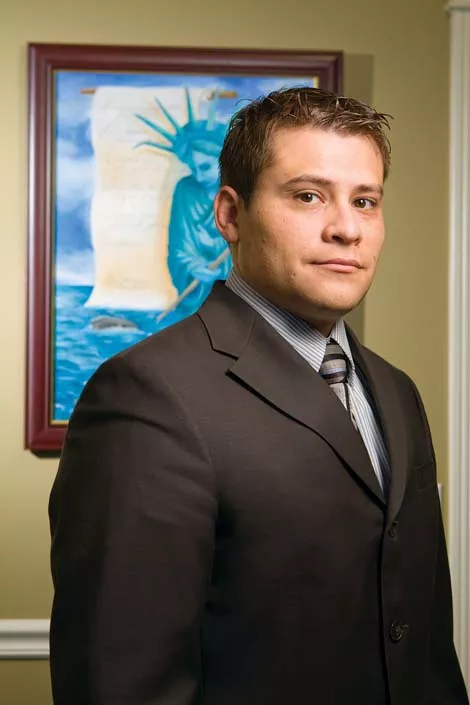 Deportation for family-committed Hispanics "is like death, or worse, for some of these people," Tarin says. He is providing pro-bono advice to 10 clients in the congregation. That day, in a ward hallway teeming with children, he advises a man and his wife with four U.S. citizen children.
The couple fell victim to bad advice from a notary, Tarin says. The notary filled in, on their behalf, notoriously complex immigration forms and handed them to immigration authorities. The notary charged $750 for a case, Tarin says, that should never have been filed in the first place and, more than likely, put the family on immigration's radar.
The mother tells Tarin she has faith immigration will not come. "Cross your fingers," Tarin says in Spanish. "Cross my fingers, toes and everything," the woman replies. He tells the couple, "If you follow the commandments, your liberties will not be taken away." That's something, he adds later, "I truly believe."

UNEXPECTED MIRACLES
Part of the hope that Tarin offers his fellow worshippers is inevitably linked to the expectation that President Obama will introduce an amnesty for undocumented residents. Sen. Luz Robles, who, like Tarin, describes herself as Mormon Democrat, is optimistic, following a recent conference call with officials in President Barack Obama's administration, that immigration reform is going to happen. "I'd bet my house," lawyer Alcala says about the prospects for amnesty in 2010, acknowledging such a move would prove a "huge boon" for firms such as his.
Rep. Chris Herrod, R-Provo, however, says amnesty doesn't work. "It reinforces to people all you have to do is come here, lay low, and you'll be forgiven."
For Tarin clients like Silvia Alfaro, however, amnesty will come too late. The miracle she so longed for has not materialized.
As the months pass, her husband slips farther away from her. "It's hard for him," she says. "But it's harder for me."
Miracles, though, sometimes come from unexpected places.
On Dec. 12, five days before her 10th wedding anniversary, Alfaro was fretting over being unable to afford presents for her two boys. At 10 p.m., someone pounded on her door and left a white plastic bag with 12 presents. Instructions in Spanish said to open one present each day. Each present had a note in English. The first began, "On the first day of Christmas, Santa's elves brought to me."
It's a similar generosity that Tarin yearns for from those in his church, particularly Republican legislators whose Christian charity does not extend to the undocumented immigrants who share their faith.
Tarin stands in the lobby of the ward house, an Anglo service going on yards away. "Within these walls, we're all brothers and sisters, sons and daughters of the same god. Outside these walls, it becomes, 'Are you legal or are you illegal?'" That's a shift he struggles to understand, particularly when the Lamanite prophecy isso fundamental a concept to LDS doctrine, it's taught as a Sunday nursery song to generations of LDS children.
Luz Robles, a self-described "Tijuana border girl," says she believes that, in a way, "the prophecy ties it together." Attorney General and LDS Church member Mark Shurtleff won't comment on the Lamanite prophecy in his official capacity, except to say that, statistically, the majority of Latinos who live in Utah "are here because of the church. Clearly, there is a connection. A lot of Latino Mormons come here to Zion, and many are undocumented."
Reps. Noel and Herrod, both LDS, don't necessarily see that connection. Noel says while The Book of Mormon talks about the Lamanite population, "I'm not sure it's about immigration." The LDS Church's position, Noel says, "is everybody is entitled to hear the word of the Lord," but it's also about "sustaining and obeying the rules of law." With 6 percent unemployment in Utah, "there's a lot of resentment out there for people who are here illegally."
Herrod says immigration comes down to an issue of fairness. "God loves all his children equally. He wouldn't want to discriminate against somebody waiting in lines for years," only to be turned down for a legal visa to the United States. "Nobody stands up for them. They are the forgotten voices."
For Tarin, however, the forgotten voices are the men, women and children in the Hispanic ward he attends who live in the perpetual twilight between being God's chosen and man's illegal aliens.
It's in Utah's ward houses, Tarin says, he hopes to "make my small contribution. If I can cause one LDS member to think twice and reflect on Mormon doctrine before they judge immigrants, then I think my efforts will have been a success."