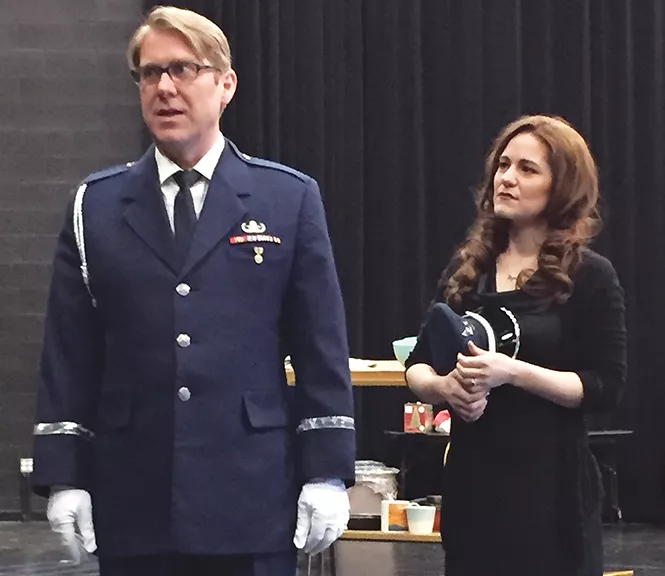 In 2015, Brian Castner wrote for the online magazine Literary Hub about the experience of having his memoir, The Long Walk, commissioned as an opera by New York's American Lyric Theater: "It was like winning a vacation to a country you've never thought of visiting, like Uruguay or Botswana."
Much about the origin of The Long Walk as an opera seems improbable, even as Utah Opera gives it its second-ever production. It's the kind of contemporary story that isn't usually associated with opera, chronicling Castner's experience leading an Air Force Explosive Ordinance Disposal team in Iraq, and his subsequent challenges adjusting to civilian life back home with his wife, Jessie, and three sons while dealing with what was eventually diagnosed as a blast-induced traumatic brain injury. The score by Jeremy Howard Beck employs a variety of musical styles and contemporary instruments (including guitar), while librettist Stephanie Fleischmann crafts a story that often slips into and out of flashbacks.
"We actually see things happen," says mezzo-soprano Megan Marino, who plays Jessie, "which is different from a lot of classic opera, where some guy comes on and tells you about what just happened: 'She just killed him, she's covered in blood!' and then she comes on and sings about it. As opposed to, we actually see them driving up to that bomb that they're going to take care of, and it's happening while we are having dinner. That's not how classic opera works."
While Marino is new to the show, the production team for the local staging includes several individuals who were part of developing the original 2015 New York production, including director David Schweizer, conductor Steven Osgood and baritone Daniel Belcher, who originated and here reprises the role of Brian. And despite their belief in the material, and in Beck and Fleischmann's commitment to telling it respectfully, there was still the uncertainty of knowing how audiences would receive it—especially since it was premiering during the summer opera season that usually focuses on lighter fare.
"A challenging, brand-new contemporary opera, driven by contemporary music, about a crazed Iraq War vet coming home to his family?" Schweizer, channeling a hypothetical attendee, says. "Is that what I'm going to hire a babysitter and go out [to see] for a summer evening?
"What happened is, there was this extraordinarily warm, powerful response to the piece ... The emotional center of this family's struggle for survival, and the moments of both joy and heartbreak along the way, just got to people."
Castner himself was among those whom the 2015 production "got to." In a phone interview, he describes being overwhelmed by watching his experience dramatized on stage. "I've been able to 'professionalize' the story for myself," he says. "I've spent enough time talking about my book that it's less of an emotional experience. What's amazing about opera is, there can't be any distance, because it's not my vague memories of this book I wrote; it's this thing that's happening right in front of you. I was not able to professionalize it the first time, and I can't imagine it's going to happen this time.
"I should also say," he continues, "the opera is better than the book, and not by a little bit. I think it's a lot better, and I think that's the nature of opera. [It] can pick a few key moments, and just focus in on this feeling."
There's also a particular connection between Belcher and Castner that both feel has contributed to the success of the collaboration. That connection wasn't a given, under the circumstances; Castner describes himself as initially "starstruck" by working with theater professionals, while Belcher was worried about doing justice to Castner's life.
"You play a lot of roles as an actor," Belcher says, "but it's rare that you play someone who's sitting in front of you, and who's gone through an experience that I can't remotely fathom. ... What I found was this kind of open page of dialogue that we started. We've become very good friends; his boys call me 'Opera Dad.'"
As for Castner, he hasn't yet been able to consider future incarnations of the production where Belcher won't be performing as Brian. "I do feel bonded to Danny," he says. "He's a friend of the family, whether he's singing the part or not. It's a little weird having someone sing your life the first time, and so then to have multiple people do it ... The whole thing has been a roller coaster, and that's a bend in the track I haven't gotten to yet."
Utah Opera's creative team, however, is confident in the show's staying power beyond any of their individual involvement, inspired by the unique dynamic they already see Marino bringing to the show. "It's indicative of a piece with real depth," David Schweizer says. "You don't even question with Chekhov [for example]; of course it's not going to be dull to do it again. The test of the depth of a piece is, when you go back to it, you're literally compelled not to put the same clothes on it. There's no way you can't think freshly about it."
Castner himself is also thinking freshly about the process of having his life become an opera, since contemplating that hypothetical vacation in Botswana. He wrote his LitHub piece before he had a chance to see the production in its final form, and now says, "The answer I [gave then] is different than the one I give you now: I feel grateful that my children have an opera made of their childhood. Who gets that?"