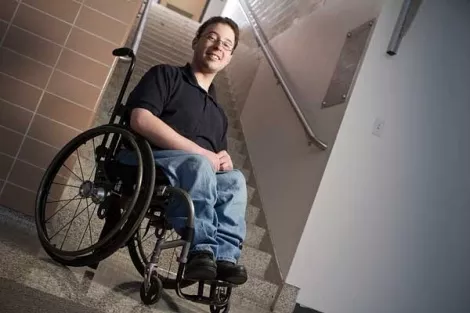 Ryan McDonald, a 22-year-old junior at the University of Utah, is glad, like any other student, to be done with finals. As a journalism student, McDonald is naturally nervous about his long-term prospects in the field, but is excited about his short-term opportunities, as next semester he will begin covering the University of Utah women's gymnastics team full time for The Daily Utah Chronicle, the school's student paper.

But it could be the case that his newspaper colleagues will see his byline more than his face in the office, since his movement is restricted to a wheelchair and the Chronicle office is located on the third floor of the student union building, which has no elevator or chairlift access.

The Americans with Disabilities Act of 1990 officially made it a federal civil-rights violation to discriminate against people with disabilities by not allowing building access. Buildings constructed before the act's implementation in 1992—like the A. Ray Olpin Union building, opened in 1957—are allowed to remain inaccessible until building renovations occur.

Whit Hollis, director of the Union, says there were some renovations that occurred on campus as recently as 2008, but describes them as minor.

"We didn't have to make it accessible, nor did we have funding at the time to make it accessible," Hollis says.

Such a claim, however, is the kind scoffed at by Aaron Kinikini of the Disability Law Center. While not versed on the specifics of the Union's access, he says exceptions to ADA because of cost burdens wouldn't likely apply to a large, well-funded public university.

"I don't think the undue financial-burden [argument] would probably fly when we're talking about the University of Utah," Kinikini says. "They spend a boatload of money up there building stuff all the time." In speaking with City Weekly, Hollis says he is optimistic that he's found money to install some kind of chairlift in the building, but will have to discuss the issue further at the beginning of next semester.

McDonald doesn't see access to the office being a major issue in the coming semester. He says he did occasional coverage for The Chronicle during the fall semester and submitted all of his stories via e-mail. For the spring semester, he will again submit his stories online, but Chronicle staff will have to hold staff meetings in the Union lounge on the second floor so that McDonald can participate.

While McDonald doesn't need to be in the office to complete his work, he says "it does take away my ability to be up there and get to know people." Not being in the office could also affect McDonald's ability to advance at the paper, and if he were to rise to a sports-editor position, for example, he would need access to the office.

Prior to 2008, The Chronicle's office was located on the second floor of the Union building, which was ADA-accessible. Hollis says it was decided in 2008 that Chronicle staff had more office space than they needed, and the staff of the Center for Ethnic Student Affairs (CESA), located on the third floor, had outgrown their space, so a "swap" would need to occur. Hollis says that previous estimates for installing an elevator exceeded $1 million and that making accessibility accommodations wasn't necessary.
But that statement seems to clash with a 2008 Chronicle article in which Hollis lists a number of building renovations, including bathroom and sprinkler-system upgrades. He also says in the article that the hallway that houses the Associated Students of the University of Utah offices and CESA (The Chronicle's former space) would be turned into a "student organization space."

"We're spending $950,000 to renovate space in the sections," the article quoted Hollis as saying. "Every time we do any renovation, we have to bring it up to code."

Such renovations apparently did not bring the building into total ADA compliance. Tami Cleveland, a campus planner at the school, says that the Union building has previously made several ADA improvements in excess of what is required by law, including restroom remodels and a southwest exit ramp. Hollis says creating access to the third floor was not required and that providing accessibility as a discretionary decision was a tough juggling act.

"As the Union director, I have to look at accessibility needs versus the needs of all of the rest of the building and the facility," Hollis says, arguing that a $3 million elevator might mean he can't fix broken pipes or provide electricity, and he has to consider the entire building.

"Everybody wants everywhere to be accessible," Hollis says, "but there's not an unlimited pool of money."

Attorney Kinikini says that some cost exceptions exist but are usually reserved for small businesses that would be made bankrupt by adding an elevator—not large state universities. If money is an issue, the Legislature can appropriate additional funds to keep the institution compliant with federal law, Kinikini says.

Kinikini, who says he hasn't inspected the Union building, says there are exceptions against building elevators that are just structurally impractical because of building design. But that doesn't exclude buildings from installing less-expensive automated wheelchair lifts.

"If it's readily achievable, then they are obligated to make accessibility modifications" during a renovation, Kinikini says.

Hollis says that for a few years, a wheelchair lift did operate to the third floor, but that it frequently jammed while students were on it, forcing him to call the fire department to rescue the individuals.

"Since that was worse than having the chairlift and saying we were accessible, we removed that," Hollis says.

For Kinikini, however, chairlift technology has been reliable for the past decade. He also says lack of access doesn't just affect a Chrony writer, but anyone who needs to go to that office or the classrooms on that floor.

"People with disabilities have an equal access to buildings and services," Kinikini says. "If someone is in a wheelchair and they need to get to the Chrony office, they should be able to get there."

In a statement, Cleveland writes that renovation isn't always necessary to provide accessibility. "In some instances, we may move programs, classes or meeting locations in order to ensure people with disabilities can participate."

McDonald says he is excited to hear that the university might explore putting in a chairlift, but says his intention never was to go on a crusade against his university.

"Whether it ends up benefiting me is kind of secondary," McDonald says. "It's the principle of the thing—it should be accessible."%uFFFD