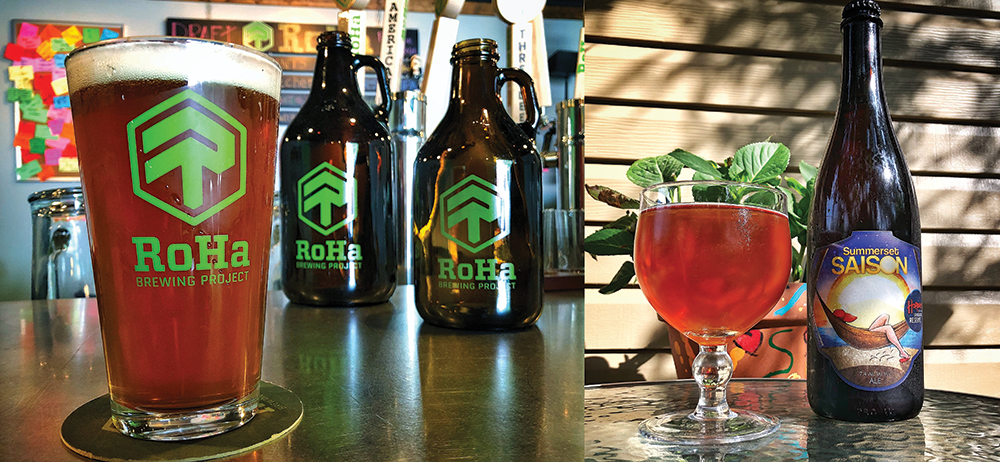 One of the things I love about seasonal beers is that they only come around once, maybe twice, a year. The downside to those same seasonal beers is that they only come around once, maybe twice, a year. Sometime when you find yourself in a great beer groove, you want that magic all year-round. These are some personal favorites I'm glad are back in my life; unfortunately, they won't be around long.
Hoppers Summerset Saison: Pouring a translucent golden-yellow hue, it produces three fingers of fluffy, white foam. Head retention is quite good; the head sticks around for quite some time, dissipating slowly. There's a whiff of doughy malt sweetness that's noticeable from an arm's length. Grassy hay and various hints of fruit—including apple, pear and some vinous white grape—mingle with malt as the aroma wraps up with spicy coriander and clove. At first sip, you're met with orchard fruits—lots of apple and pear with lesser hints of grape, lemon and stone fruit. Mild hop bitterness begins to emerge where the malt fruitiness leaves off. There's plenty of grass and citrus peel coming in next, which is a nice way to transition you into the smack of spicy, phenolic Belgian yeast that eventually rounds out the palate. The finish is semi-dry, partly from the yeast and hops, but also from the aggressive carbonation that rigorously agitates the palate.
Overall: Summerset Saison isn't a new offering from Hoppers, but it has been on a sabbatical for quite a few years. It's one of a handful of high-point beers engineered by Hoppers' long-time brewmaster, Donovan Steele. This exceedingly drinkable saison is very true to its Belgian roots, and has a drinkability that rivals any saison in any market. It goes down almost as effortlessly as your run-of-the-mill pale lager would, despite the sturdy 7.4 percent ABV. You'll definitely be rewarded for making the special trip to Midvale for this one.
RoHa's Grapefruit Pale Ale: The orange-amber color immediately catches your eye as this ale shoots from the stainless nozzle in RoHa's taproom. The clarity is moderate, as CO2 bubbles swirl around the wide brim of the shaker-style glass. On top is a dirty white, but densely creamy, head that has the size and stamina of an over-the-counter performance-enhancing supplement. All this foam provides the perfect platform for the aroma. Floral orange and grapefruit are first up—soft and perfumey, backed by a smack of malt sweetness. Accents of fresh lime add a little citrus kick to the aroma, creating a welcome lasting impression. Upon first swig, tropical fruit, spicy pineapple and light tangerine tang overwhelm the palate. Round pale malts with hints of melon and lime follow. These flavors are all wrapped up with a powerful dose of bitter grapefruit and pulp, finishing with some chewy pith.
Overall: This 4 percent pale ale is more than adequately hopped. The semi-dry tropical notes bring a refreshingly crisp feel without being overly drying and obnoxious. The grapefruit peel addition adds a nice freshness that's very clean and sharp. Fruit additions can sometimes scare me—you never know if you're getting a sweet or dry interpretation. This seasonal delivers what the name promises, and is unapologetic.
Hoppers' Summerset Saison is offered in a handsome 750 milliliter Euro-style bottle for a very limited release. RoHa's Grapefruit beast is exclusive to their taproom, and is in limited supply. Don't hesitate, because next time is never soon enough. As always, cheers!