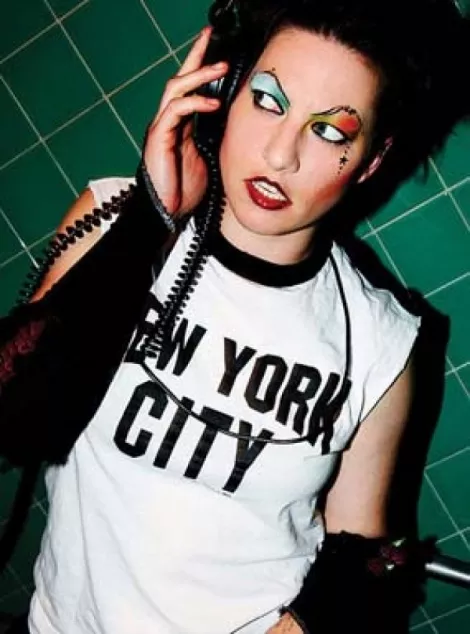 Amanda Palmer
isn't keen on discussing her involvement with The Dresden Dolls, a project whose fate is very much up in the air. Whatever you do, don't ask about her days working with drummer Brian Viglione—or how all that holds up to her current solo gig. n
"If I have to answer that question one more time, I might just have to slit my wrists and die," she says.
n
Got it.
n
Palmer actually started out as a solo artist, working as a street performer throughout college. Viglione heard her performing at a house party in 2000 and asked her to form a band. The Dresden Dolls were born. With their over-the-top "punk cabaret" performances, the funky duo quickly became the "it" band of the Boston music scene.
n
Things went sour, though, and Amanda is back on her own, touring the world and converting Dolls followers to a slightly different groove—one that, in part, Ben Folds helped her to achieve. Folds produced her debut album Who Killed Amanda Palmer? and in the process, encouraged Palmer to explore new collaborations. The result helped expand her sound and creativity to a degree she never thought possible with Viglione. It's a big change, and about the only one she plays down.
n
Never one to shy away from anything controversial, Palmer's audiences could always count on her to give forceful opinions about politics, and she has no intention of stopping with her solo tour. A bisexual, she's got plenty of things to say about Proposition 8. "We have to look at the fundamental substructure underneath what we're talking about. As a child of four divorces, I think we need to admit that we're dealing with an antiquated system. If a gay couple wants to get married, then, yeah, go for it. But if they want to get married in order to get tax breaks, why should any couple, gay or straight, need to get married in order to get tax breaks?" Note to Thomas S. Monson: Avoid eye contact with Amanda Palmer at all costs.
n
Palmer's tour includes a visual element characteristic of her Dresden Doll days. Right down to traveling with a performing arts group called The Danger Ensemble.
n
"I found them years ago in Australia. All of the performers are working for free, because I don't have a budget to pay them," she says. "Donations have been collected at my performances that, so far, have allowed them to stay on the tour. The audiences have been insanely generous."
n
So pony up, Utah. They're worth it. Palmer also plans to stay after the performance to sign autographs and take pictures.
n
n
AMANDA PALMER
nAvalon, 3605 S. State, Monday Dec. 8, 7:30 p.m. 24Tix.com
n