Page 2 of 2
Just what do those 88 men and 16 women do up on that hill all winter? Here are the bills—failures and successes—that didn't dominate headlines, but might just give you heartburn.
Concurrent Resolution Regarding the Creation of National Monuments: SCR 4—A very official statement from the Legislature, on behalf of all Utahns, that urges Congress to craft a public process for the creation of national monuments, such as the Grand Staircase Escalante National Monument. A provision in this resolution, sponsored by Sen. Stephen Urquhart, R-St. George, initially stated that the "highest and best" use for large tracts of land in the San Rafael Swell and Cedar Mesa is for livestock grazing and energy development. However, this language was reined in to state that these endeavors can continue on these lands in-step with recreation and conservation.
Water Infrastructure Funding: SB 281—This bill creates a bank account into which the Legislature will make a $5 million deposit in 2016—the first step toward paying for billions of dollars in water projects. Chief among these projects are the Lake Powell and Bear River pipelines, which state leaders insist are necessary to keep the lawns green for the millions of new Utahns expected to arrive here in the next half century or so. Water conservationists said the bill was little more than an effort to jump in front of an audit that is expected to show that state water managers have inflated water-use numbers in order to justify construction of these pipelines. Sen. Stuart Adams, R-Layton, who sponsored the bill, said it was an effort to be prepared.
Analyses of Colorado River Management Strategies: HJR 25—On the topic of water, there is some debate as to whether or not the Colorado River can be everything to everyone. It already is everything to around 40 million Southwestern souls. In order to get a better handle on the load the river bears, Rep. Joel Briscoe, D-Salt Lake City, put forth this resolution that would have directed the National Resource Council to conduct a comprehensive study on the way the Colorado River is managed. The bill met a tough crowd in the form of the House Natural Resources, Agriculture and Environment Committee (some like to note that environment comes last in this list), where it failed badly on a 3-11 vote.
Prohibition on Tattooing of Minors: HB 143—Fifteen years ago, the late LDS Prophet Gordon B. Hinckley gave a popular speech to the Latter-day Saints about the evils of piercings and tattoos. That spirit lived on in this year's Legislature, if only briefly, when Rep. LaVar Christensen, R-Draper, put forth a law that would have banned the tattooing and piercing of people under the age of 14. Anyone between the ages of 14 and 18 could still get inked and pierced with a note from a parent. It cleared the House on a 54-21 vote, but stalled in the Senate.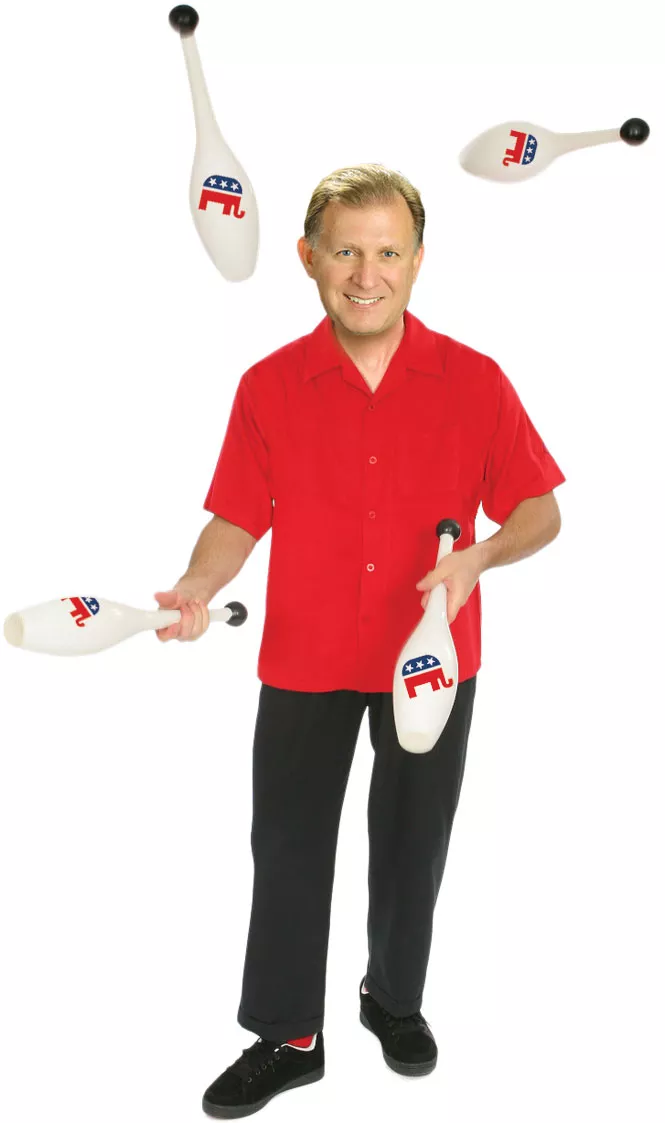 Sen. Curtis Bramble, R-Provo:28 out of 32 pieces of legislation passed; 88 percent success rate
Environmental Quality Boards Amendment: SB 200—Sen. Margaret Dayton, R-Orem, is renowned for her efforts to shake up the compositions of various state boards. This year's session was no different, and one of the boards Dayton targeted was the state's Water Quality Board. High on the list of rules for the board was language that required it to have one member who "is not connected with industry." With its passage, Dayton's bill put a fat black line through these words.
Department of Environmental Quality, Amendments: SB 244—On strict partisan votes, Sen. Margaret Dayton, R-Orem, combined two different divisions of Utah's Department of Environmental Quality. What was once the Division of Radiation and the Division of Solid and Hazardous Waste is now the Division of Waste Management and Radiation Control. Critics of the merger worry that pending decisions about how to deal with depleted uranium in Utah could be stripped from those familiar with the issue.
Air Quality Amendments: SB 208—This bill would have increased the penalties levied upon polluters and extended the statute of limitations under which polluters can be punished. Put forth by Sen. Luz (Robles) Escamilla, D-Salt Lake City, the bill would have, in some cases, raised the fine for polluters who violate Utah's air-quality regulations from $25,000 to $45,000. The bill died in the Senate on a 12-14 vote.
Quality Revisions: HB 226—The Utah Department of Environmental Quality has said in the past that one barrier it faces in fighting the Wasatch Front's lung-clogging air is that it can't enact regulations more stringent than those required by the federal government. In 2014, an effort to change this failed. And in 2015, it might have failed had the words "more stringent" not been replaced by "different." Now, Utah will be able to enact air-quality laws that are "different" from those required by the federal government. Time will tell where this leads, but on the surface, the law represents a small victory for air-quality advocates.
A Utah Call for a Balanced Budget Amendment to the U.S. Constitution: HJR 7—By narrow margins (40-30 in the House and 15-13 in the Senate), Rep. Kraig Powell, R-Heber City, was able to get Utah to ask Congress to convene a convention, at which states would presumably demand that the U.S. Constitution be amended to include a provision requiring that it have a balanced budget. Don't hold your breath while waiting for this to go down. Two-thirds of all states must achieve the same notoriety as Utah before a convention could take place.
Death Penalty Procedure
Sen. Karen Mayne, D-West Valley City:9 out of 12 pieces of legislation passed; 75 percent success rate
Amendments: HB 11—2015 was the year that Utah brought back the firing squad. Now, because of the bill from Rep Paul Ray, R-Clearfield, every single time an inmate is killed in any state, Utah will be mentioned as that Wild West place that still shoots its prisoners. Of course, it will use bullets only if a suitable chemical cocktail isn't available to inject into the veins of said prisoner. It's hard to imagine, though, that death-penalty advocates around the country aren't frowning, while those opposed to killing prisoners are secretly smiling. Utah's use of the firing squad does much more to ignite the flames of debate about whether state-sponsored killing should be allowed than it does for humanely killing bad guys. And, as evidenced in the narrow votes in both the House and Senate, many lawmakers understand that Utah looks oh-so-stupid in the eyes of the world for resuscitating this avenue to death.
State Domestic Animal: SB 53—To the relief of cat lovers across the Beehive State, an effort to crown the Golden Retriever the state's official domestic house animal, failed on the final day of the session. The House voted 27-43, dashing the hopes of a fourth-grade class that had petitioned Sen. Aaron Osmond, R-South Jordan, for the bill, along with dog lovers everywhere. Had things gone differently, the Golden Retriever would have taken a place right in between Utah's cooking pot, the Dutch oven, and its state symbol, the beehive.
Cockfighting: SB 134—After years of bickering over Utah's soft laws pertaining to cockfighting, the Legislature, with just over two hours remaining in its session, at last took action. Anyone caught participating in cockfighting will now be slapped with a third-degree felony on their third offense. The bill from Sen. Gene Davis, D-Salt Lake City, passed the House on a 41-33 vote.
Zion Wall
A favorite target for Utahns and non-Utahns alike when it comes to the state's lampooned liquor laws is the Zion Wall, those partitions that shield the public from the cocktail-concocting process. And with the passing of each year, hopes rise that the Legislature will do as President Ronald Reagan did, and demand that a wall, any wall, be torn down.
This year was not the year. Lawmakers in 2015 did very little about anything having to do with alcohol laws. Perhaps the highest-profile matter regarding booze came from Rep. Curtis Oda, R-Clearfield, who endeavored to clarify the rules regarding the issuance of special permits. The law apparently stemmed from a kerfuffle in 2014 regarding Snowbird Resort and its efforts to obtain a special alcohol permit for its months-long Oktoberfest celebration. But even this bill foundered and failed to be heard by the Senate.
Rep. Kraig Powell, R-Heber City, started 2014 and 2015 off with his sights set on destroying Zion Walls—or at the very least, making them a little more agreeable for restaurant and bar owners. But in 2014, the effort was torpedoed, at least in part by a strong public statement from The Church of Jesus Christ of Latter-day Saints—an impact that may well have carried over into this year's effort, which crashed before it ever really got off the ground.

Public Lands
Rare is a day that passes during the legislative session when Rep. Mike Noel, R-Kanab, misses a chance to take a jab at the federal government and the job it does managing around 31 million acres of public land in the Beehive State.
Noel commands a large stage as a member of the House Natural Resources, Agriculture and Environment Committee, where he trumpets the charge to seize large swathes of the public's land in Utah. But when a couple-hundred people showed up on March 5 in the Capitol Rotunda to urge lawmakers to give up their costly efforts, Noel wanted that stage, too.
During much of the hour-and-a-half-long rally, called The Great Public Lands Gamble, Noel stood at the front row, appearing to listen intently as speaker after speaker declared his or her love for Utah's natural treasures, and the need to protect them. When the rally's lone musical act, The Slick Rock Stranger, strummed a version of Woody Guthrie's "This Land is Your Land," Noel sang along.
But when the last speaker had spoken, Noel marched up the steps and asked for the microphone. He uttered only a few sentences, saying he represented much of the land in question, and that he felt the speakers were spewing "misinformation." The crowd booed, the microphone cut out, or was cut off, and Noel made his way into the crowd, where he met his foes face to face.