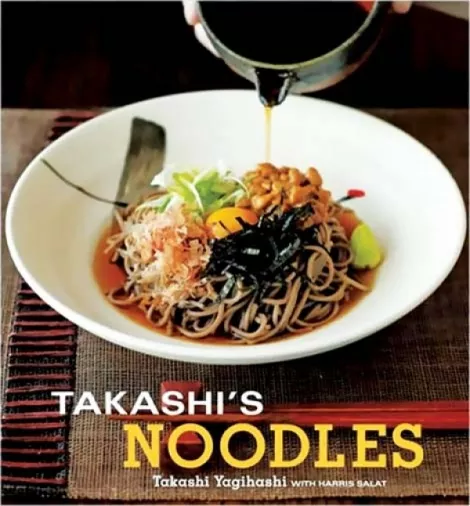 I've never met a noodle I didn't like. I was raised on my grandmother's thick, German-style egg noodles before eventually finding my way to Italian papparedelle, Japanese ramen, Chinese dandan noodles, pad Thai, stroganoff and others. Noodles are inexpensive to buy or make from scratch, and are so versatile as to work with an infinite number of seasonings, sauces and preparation styles.
A great resource for noodle lovers is Takashi's Noodles (Ten Speed Press, $24.95), a new cookbook by Chicagobased Takashi Yagihashi, a James Beard award-w inner and one of Food & Wine magazine's 10 Best New Chefs.
Yagihashi calls noodles "my country's comfort food," referring to his homeland of Japan, and writes, "When you finish my book, you'll understand why we Japanese so crave our noodles." Indeed. The beautiful photography by Tyllie Barbosa had me salivating.
In the introduction to Takashi's Noodles, the author provides clear, valuable advice on buying noodles, cooking noodles, cooling noodles down and even on eating noodles Japanese-style (it's OK to slurp).
For ramen addicts like me, the first chapter of this cookbook is worth the price alone. The ramen chapter includes recipes and techniques for making ramen chicken stock, shio and shoyu bases, and an assortment of ramen recipes ranging from miso ramen and braised ramen with pork to yakisoba and tsukemen. Ramen is followed by chapters devoted to soba, udon, somen, Asian noodles, and pasta and appetizers, the latter including braised pork belly, gyoza and grilled squid.
Interestingly, some of the most intriguing recipes in Takashi's Noodles aren't Asian—such as potato gnocchi in lemon-butter sauce with scallops and sea urchin, or the excellent recipe for spaghetti Bolognese. Still, the recipes for pho, curry udon, fresh soba noodles and shoyu ramen will help make you into a noodle pro.