Show Me Island
This six-member ska/reggae outfit, led by singer Lauren Hoyt, just released a self-titled album in May, and the nine songs are catchy examples of ska's continual strong presence in Utah. Show Me Island's sound is full of fluid vocal harmonies and sexy saxophone and trombone, and features a variety of danceable tempos; there are plenty of energetic songs that rude boys and girls can skank to, but also some slowed-down numbers if you prefer to just sway with a drink in hand.
Thursday, June 20, Park Stage, 8 p.m.
Big Blue Ox
The ingredients for one Big Blue Ox milkshake? Equal parts acid-jazz, R&B, funk, soul and hip-hop, blended until smooth and tasty—best enjoyed in the sultry heat of a summer's day. The four-piece's feel-good music is perfect for those who love to shake their thang to sizzling horns, spaced-out guitar, mellow vocals and groovy beats.
Friday, June 21, Park Stage, 6:15 p.m.
Otter Creek
Award-winning folk duo Otter Creek, made up of Peter and Mary Danzig, combine bluegrass- and Irish-inspired fiddle, intricate mandolin and, of course, their own crystal-clear voices to create a sound that's pure, soulful Americana. Their emotional latest album, Shiver Into Spark, features original compositions and covers of traditional tunes about love, living in the present and reveling in the freedom of starting over.
Saturday, June 22, Earth Garden Café Stage, 6 p.m.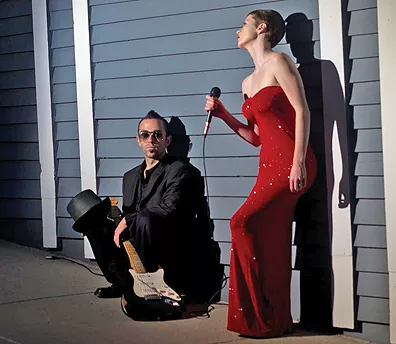 MiNX
Indie-pop/electronic project MiNX is the latest incarnation of the alluring Ischa Bee (vocals) and Raffi Shahinian (guitar); their previous band, Uncle Scam, was retired over a year ago. These two musicians describe their genre as "mixtape" and meld moody synths, come-hither vocals, a thirst for experimentation and plenty of attitude to craft their unique sound, as heard on their recently released album, Golden.
Sunday, June 23, Park Stage, 5 p.m.
Twitter: @VonStonehocker