No. 9: Judson Jennings, Forked-Up Art
Like many 35-year-olds, the Utah Arts Festival is considerably larger than its younger self. And—again, like most 35-year-olds—it's far more interesting than the younger version, having lived a little and ultimately benefited from some growing pains.
When the festival started in 1977, evolving out of the Salt Lake City Festival of the Arts, it was a three-day gathering on three blocks of Main Street, boasting 55 visual artists, 43 performing groups and eight food stands. It cost about $38,000. Now, it's a four-day, $1.6 million monster drawing more than 80,000 to Washington Square and Library Square, showcasing more than 140 artists, 100 live performances and 20 culinary visionaries. It takes more than 1,000 volunteers to pull off, plus four full-time staffers, 60 program coordinators and a production staff of 30.
In between its Main Street start and current location, the festival bounced through a site on West Temple near the Salt Lake Art Center, the Triad Center area, the Utah State Fairpark (aka "the lost years") and the Gallivan Center.
The festival's executive director, Lisa Sewell, remembers visiting the Utah Arts Fest for the first time in 1983, having recently moved home to Utah after college in Oregon.
"I was trying to find a job, figure out what I was going to do, and I distinctly remember sitting on that slope (outside the Salt Lake Art Center) with hair down to my ass, and I was wearing this long white dress with embroidery on it," Sewell says. "And I remember thinking what a great thing it was. Who'da thunk 15 years later I'd be the director of it?"
My own first memories of the fest start as a college student at the U in the early '90s, when I had no time for visual arts but loved seeing concerts by the likes of Laurie Anderson (1991), Jimmie Dale Gilmore (1994) and Mahlathini & the Mahotella Queens (1992), a South African group that inspired my house full of college dudes to start greeting each other for the rest of the summer with an African howdy: "Ya-bo!"
In the years since, my tastes have grown more eclectic, as have the offerings of the festival. Art, music, food, film—I like to sample as much as possible during those four days each June. Here's a look at 35 aspects of the 2011 festival on my to-do list.
35 on My Must-Check-Out List:
1. Big Sam's Funky Nation: Many-splendored funk
Led by trombonist Sammie "Big Sam" Williams, a one-time member of the Dirty Dozen Brass Band, Big Sam's Funky Nation is a funk and rock machine that incorporates plenty of the divergent jazz styles that fill the clubs in Big Sam's hometown of New Orleans. Sunday, June 26, 8:30 p.m., Amphitheater Stage
2. 35: Marking the years
To help celebrate its 35th anniversary, the fest called on local artist Sean Rossiter, editor of online art mag 15bytes, to curate a show called 35, featuring six Utah artists—all born the year of the first festival, 35 years ago—working in painting, printmaking, sculptural mixed-media, photography, sound and video. The show features Ashley Knudsen Baker of Orem, Spanish Fork's Namon Bills, Ephraim's Jared Latimer and Salt Lakers Chadwick Tolley, Rosi Hayes and Michael Ryan Handley. June 24-Aug. 5, The Gallery at Library Square, 4th Floor, Main Library
3. Brent Haddock: Remembering awakening
Heber City printmaker Brent Haddock's prints (above) often invoke his interests in Renaissance life and the desert canyons of Utah, sometimes in one work. The seemingly odd juxtapositions between them struck me as some of the coolest visual arts of the festival. GoldenKoiStudio.com

4. Maraca: Toot Sweet
Know how often I go to hear a flautist on purpose? Try never. I can't even stomach Jethro Tull. But the arts fest seems a perfect location to sample a musician like Orlando "Maraca" Valle, a Havana-born flautist revered in Afro-Cuban jazz circles. Expect the dance floor in front of the stage to fill quickly when Maraca gets going. Saturday, June 25, 9:45 p.m., Amphitheater Stage
5. Dorothee Kocks & The Glass Harmonica: Sensual song
Looking for a little sex appeal in your arts-fest experience? Hey, who isn't? The glass harmonica, invented by Benjamin Franklin in the 1790s, was once believed to drive women into states of ecstatic abandon. Is it true? Author and performance artist Dorothee Kocks will show what the instrument can do and share tales from her book The Glass Harmonica, A Sensualist's Tale. Men and women can probably agree: Let's hope the rumors are true. Saturday, June 25, 4 p.m., Big Mouth Café
6. Ballet West: Fleet feet
Ballet West's dancers return to the Utah Arts Fest for the first time in a decade, thanks to a National Endowment for the Arts grant and three years of wheeling and dealing between the fest and Ballet West Artistic Director Adam Sklute to make sure the stage was ballet-ready. For anyone who can't imagine sitting through a full ballet performance—my people!—the festival offers brief takes from larger works every night. Try it—ballet goes down pretty smooth in small doses. June 23-26, 6:30 p.m., Festival Stage
7. Salt Lake Electric Ensemble: Music of the machine
It's hard to think of a better setting for the Salt Lake Electric Ensemble to perform its interpretation of Terry Riley's "In C," delivering the minimalist masterwork of repetition via laptops and instruments, along with some vivid visuals. Friday, June 24, 8:30 p.m., The Round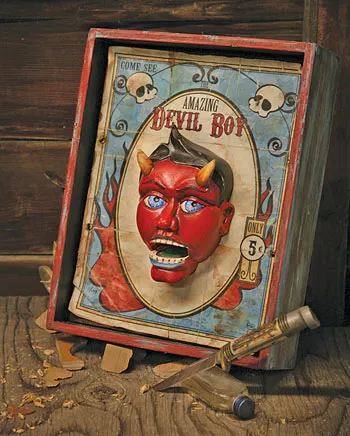 8. Dave Borba: Divine devils
The self-educated Dave Borba creates "instant folk art" via an intricate process of hand-carving wood, making molds, casting in silicone, painting and, ultimately, putting all the parts together. The end results are distinctive pieces that often feature devils or skeletons—very rock & roll. DaveBorba.com
9. Judson Jennings: All forked up
Remember the Seinfeld episode when George's dad made a "Fusilli Jerry"? North Salt Lake artist Judson Jennings will be at the Utah Arts Festival for the first time this year, and he'll be introducing the "Fork-o-pelli," a kokopelli made from, yes, forks.
Jennings was inspired to create what he dubs "forked-up art" when he was going to business school at the U and having a hard time finding a job. Having trained as a welder before college, he started playing with kitchen utensils, bending, shaping and welding them into characters like fishermen, skiers and ballerinas.
"The sky's the limit when it comes to silverware," Jennings says of his medium of choice.
The forked-up characters have taken Jennings from a job seeker to an independent businessman able to make a living off his art just 18 months later, all thanks to a buzz created by craft blogs when Jennings put his creations on craft Website Etsy.com.
He wasn't accepted to the Utah Arts Festival in 2010, and he's excited to get into the "pretty prestigious show" this summer. He expects to get the same reactions here as he does at other festivals.
"It's hilarious," Jennings says. "Anywhere you go, you have people double over laughing. Lots of smiles and lots of people pointing. It's fun to see people react to something fresh, something new, something most of them have never seen before." ForkedUpArt.com