Page 3 of 3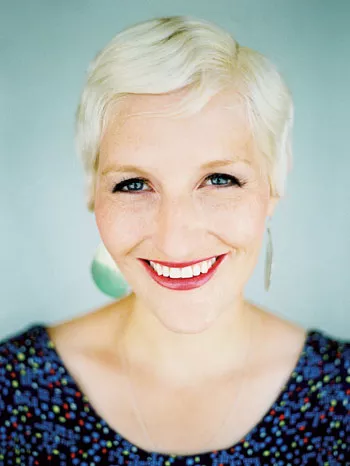 21. Sarah Sample: Traveling troubadour
One-time Utah resident Sarah Sample is no stranger to the state. Her career as a touring musician essentially started when she was a Utah State University student, and she's made regular tour stops here in the years since moving away.
This will be the first time she's played the Utah Arts Festival, though, and it comes on the heels of months of touring to support her latest album, Someday, Someday, an excellent set ranging from folk to country to a little rock & roll—think of a blend of Emmylou Harris, Jolie Holland or Tift Merritt and you have some idea of what Sample brings to the table.
The Utah Arts Fest gig will be a homecoming of sorts for Sample, in a couple of ways.
While many of her gigs on the road take place in coffee shops and at house concerts—just Sample and her guitar or ukulele—this show allows her to play with a slew of the musicians populating Someday, Someday, making this performance a rare, full-band treat. Among those joining her will be Ryan Tanner, Pat Campbell and Dylan Schorer—all familiar faces for local roots-music fans.
The show is also an unofficial "welcome back" gig; in July, Sample will be moving to Salt Lake City for at least the next three years, while her husband does his medical residency at the U.
"Any festival that is celebrating art—not just the music form, but dance and other arts—I think it's fantastic," Sample says. "When you go to an arts fest, there are a lot of people there just because it's a city event. You have a chance to expose your music to people who might not otherwise hear it." Friday, June 24, 5:15 p.m., Park Stage
22. Melissa Bond: That's what she said
Salt Lake City poet Melissa Bond has turned her attentive eye and talented pen in many directions through the years, but perhaps nothing has begged for her creative appraisal more than motherhood. The winner of a 2006 City Weekly Best of Utah award for "Best Poet in Motion" pauses to ruminate on her new role in a show that premiered just last month and performs Afterbirth. Sunday, June 26, 5 p.m., Big Mouth Café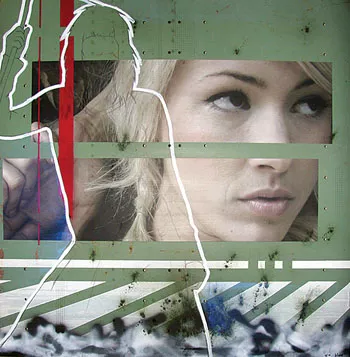 23. Cat Palmer: Mixing it up
One of the pieces adorning the walls of my home is a killer shot of some L.A. gutter-punks taken by Ogden photographer and artist Cat Palmer, winner of a Best In Show prize at the Utah Arts Fest in 2009 and City Weekly Arty awards for best photographer in 2007 and 2008. Her work is always worth checking out, whether she's doing a politically charged themed show or simple, often-stunning portraiture. This show features her 2-D mixed media. CatPalmer.com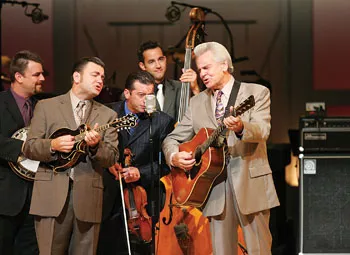 24. Del McCoury Band: Old-timey magic
Simply put, there's not a bluegrass band in the country that can compare to the Del McCoury Band. Led by the 72-year-old singer/guitarist Del McCoury, one-time member of Bill Monroe's Bluegrass Boys, the band also includes his sons Ronnie (mandolin) and Robbie (banjo). Each of the McCourys has been voted the best at his instrument at least once by the International Bluegrass Music Association, and when the band gathers around one old-time microphone and get to harmonizing, the audience is transported to a simpler time. Sunday, June 26, 9:45 p.m., Festival Stage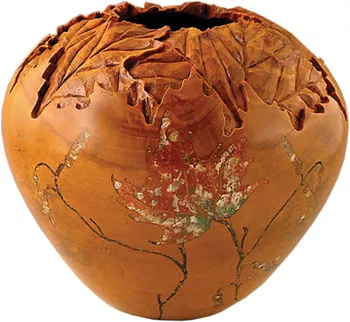 25. Melody Bullock: Good wood
Melody Bullock, with her husband, Kurt, started out as an artist when she realized many native Utah hardwood trees that died were simply being sent to the trash heap by their owners. Volunteering to adopt the wood, the Bullocks starting carving the logs into beautiful bowls, vases and sculptures. SpiritAndSoulOfTheTree.com
26. Thomas Holdman: A touch of glass
Lehi glass artist Thomas Holdman turned to art as a kid as a means of dealing with a life-long speech impediment.
"I've always had a struggle with speaking, so I had to look to other ways to communicate with people," Holdman says. "I turned to the language of art so I could express myself.
"What I love about glass, and why I have committed myself to that medium, is that you let the glass speak to you as you are creating it, telling you where it wants to go. And when it's done and you let the light take hold of it, it is a glorious experience."
Holdman has been working glass in his Lehi studio since 1988, with his brother and other glass artists, and they've done large works in churches, on college campuses and in civic buildings throughout the country. They've done major installations in all 50 states and internationally, yet it took a few tries before Holdman was accepted into the Utah Arts Festival. His booth will "focus more on glass sculptures, on more intimate, small-scale pieces." HoldmanStudios.com
27. Joshua Flicker: Industrial clay
Joshua Flicker's ceramics are a blend of industrial creations made from organic substances. All his works are done with stoneware clay fired in an electric kiln, and when you see pieces with what appear to be steel pipes, nuts, bolts and gas caps, they are actually hand-crafted replicas of those objects made from clay. JoshuaFlicker.com
28. Fictionist: So close to the cover of Rolling Stone
After all the hullabaloo with the band's run at landing on the cover of Rolling Stone, you probably haven't seen Fictionist, or heard how the Provo band evolved through that strange, high-stress process. Here's your chance. Saturday, June 25, 9 p.m., Park Stage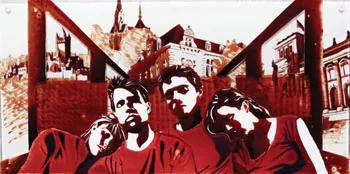 29. Trevin Prince: Bloodshed
Logan artist Trevin Prince puts more of himself into his artwork than any anyone at the Utah Arts Festival—literally. Prince uses his own blood in his paintings, applying it in multiple coats and thin washes to elicit a wide range of hues. Those colors change as his artworks age, and the white surface and clear resin he paints on allow light to shine through his blood, illuminating it a la stained glass. It's kinda creepy, but kinda cool, too. TrevinPrince.com
30. Teresa Jordan: Western tales
A fourth-generation cattle rancher, author and visual artist (among other pursuits), Teresa Jordan has experienced the American West like few others, and she shares tales from her life on the range with enthralling storytelling performances. I've seen her in action, and you'll leave wanting to run away and live on a ranch somewhere. Sunday, June 26, 4:30 p.m., Big Mouth Café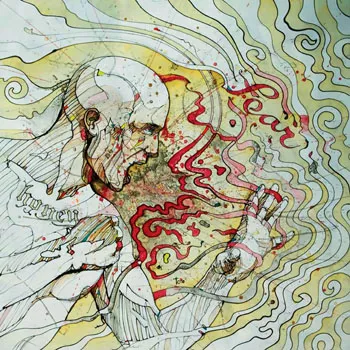 31. Jimmi Toro: Pencil me in
Fest-goers who come across Jimmi Toro's paintings will undoubtedly be drawn in by the anatomical studies presented via pencil, charcoal and paint (above). The multitalented artist also delves into music and fashion in his day-to-day artistic life, but it's his eye-catching paintings that got him selected for this year's festival, and they are like nothing else you'll see on the festival grounds. JimmiToro.com
32. Numbs: Utah rappers
There is a fair share of hip-hop among the music acts this year, including Kiliona and Pigpen & Pat Maine, and I'm particularly stoked on the return of the Numbs, who just finished recording a new album, Soulburn, with Linus Stubbs providing the beats. While the album won't get its "official" release until August, the Numbs boys are planning to have it on hand at the Utah Arts Fest for an unofficial sneak peek. Sunday, June 26, 6:30 p.m., The Round
33. Mayor's Arts Awards: Scenemakers
The public rarely gets to thank the people who make the artistic life of Salt Lake City so rich. The Salt Lake City Mayor's Office uses the Utah Arts Festival each year to honor some of those people and organizations, and if you're at the festival on Friday, June 24, you can take part in letting these folks know what they do touched your life in some way. This year's honorees certainly fit the bill: artist Trent Alvey, Charles Lynn Frost, better known to many as Sister Dottie S. Dixon, folklorist Carol Edison (see p. 8), Art Access Executive Director Ruth Lubbers and the Book Arts Program at the U's Marriott Library (above). Friday, June 24, 8:15 p.m., Festival Stage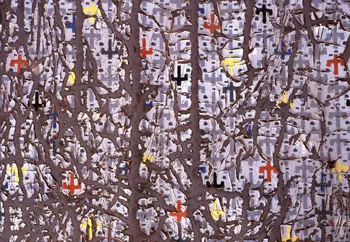 34. Rick Pieros: Snapshots from the road
Park City photographer Rick Pieros's travels around the West made him realize there was more to document than nature, from ghost towns to abandoned cars. Sure, you can take pictures of those things yourself, if you have the time to travel, the eye for detail and the right equipment. And your shots still won't end up looking as good as Pieros's. RickPieros.com
35. Alex Caldiero: The Sonosopher
Never seen the poet, writer and performance artist Alex Caldiero do his thing live and in-person? It's something to behold, and the idea of his incendiary performance style erupting at the arts fest while unwitting attendees stroll by is just delicious. He's the kind of guy who makes poetry come alive in the best way. Saturday, June 25, 6 p.m., Big Mouth Café