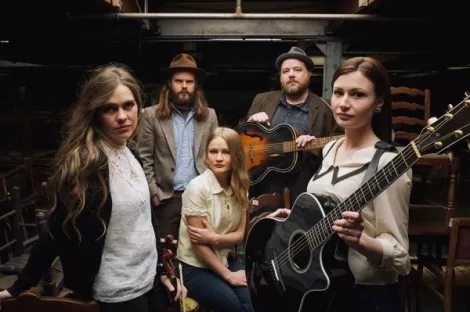 Cody Bell
The Hollering Pines
With its vast array of visual art, the Utah Arts Festival is one of the most sumptuous treats your eyes will experience this summer—but don't forget to treat your ears, too. This year's live-music lineup is as varied as the artistic media that will be displayed in the many booths at Library Square, with genres as diverse as blues, folk, rock & roll, jazz, bluegrass and country all represented. And with more than 75 local and national acts appearing on eight stages, you're sure to find something to suit your unique tastes. Here are the highlights of the music at the 2014 Utah Arts Festival, broken down by day. For a complete schedule, visit UAF.org.
Thursday, June 26
Headlining the Amphitheater Stage on Thursday evening will be blues/roots-rock singer Cee Cee James (8:30 p.m.) and blues artist Ana Popovic (9:55 p.m). Can't-miss local acts will include rootsy bands like country-rock outfit Candy's River House (Park Stage, 5:15 p.m.), blues-funk band Tony Holiday & the Velvetones (Park Stage, 7:15 p.m.) and blues group Christian Coleman & the Blue Zen Band (The Leo Stage, 8:30 p.m.).
Friday, June 27
Headlining on Friday will be jazz band Blair Crimmins & the Hookers (Amphitheater Stage, 8:30 p.m.), Beninoise singer Angelique Kidjo (Festival Stage, 9:45 p.m.) and psychedelic/blues-rockers the Chris Robinson Brotherhood (Amphitheater Stage, 9:45 p.m.). Be sure to catch these locals: avant-garde psych-funk band Float the Boat (Park Stage, 5 p.m.), folk duo and harmony experts Hope & Tim Glenn (The Leo Stage, 7:30 p.m.) and classic-country songsters The Hollering Pines (Park Stage, 9:05 p.m.).
Saturday, June 28
On Saturday night at The Round/Crescent Wall, headlining act MarchFourth Marching Band (7:30 p.m.; also on the Amphitheater Stage on June 29, 9:45 p.m.) will put on a show combining entertaining visual elements—stilt-walkers and colorful costumes—with instrumental gypsy-influenced funk and jazz music. The local lineup is eclectic indeed, with stand-outs including ska/punk band Bombshell Academy (1:15 p.m.), alternative/indie-rock outfit Great Interstate (2:30 p.m.) and songstress Sarah Sample (5 p.m.) on the Park Stage, as well as gypsy-punk group Juana Ghani (City & County Stairs, 7:45 p.m.) and City Weekly's Rap Group of the Year, Better Taste Bureau (The Round/Crescent Wall, 9:45 p.m.).
Sunday, June 29
There isn't much as far as national headlining acts on the final day of the festival, but there are a few solid locals to check out, including pop-rock band Zodiac Empire (Park Stage, 2:30 p.m.), singer-songwriter David Williams (Garden Stage, 4 p.m.), soul revivalists The Soulistics (Amphitheater Stage, 8:30 p.m.) and singer-songwriter Daniel Weldon (Garden Stage, 9 p.m.).
UTAH ARTS FESTIVAL
Library Square
200 E. 400 South
Thursday-Sunday, June 26-29
$10 Thursday; $12 Friday-Sunday; four-day pass $35