Artists Marketplace
Much of the fun at the Utah Arts Festival is derived from just walking around checking everything out—particularly the booths in the Artists' Marketplace. More than 140 artists in every medium—from ceramics to fiber arts, and even digital media and toys—are featured. Not just anyone can get a booth; these spots are selected by a jury for the best local and national artists from hundreds of submissions. It's like a smorgasbord for the eyes. The casual atmosphere of the festival is a great opportunity to chat, ask the artists about their methods and creative inspirations and even watch some of them in the process of making new pieces.
Several local artists are also invited to be a part of the marketplace. This year, see the eclectic assemblages in boxes by Marcee Blackerby, the mixed-media collages of Justin Wheatley, the panoramic landscape photography of Howie Garber and the fanciful paintings containing animals and other childlike characters by Leia Bell, the artist also chosen to provide the "look" for the entire festival, designing all the promotional material. She has set the tone for a fun, very "Utah" event with mountain and city backdrops.
It is a marketplace, so there's a great chance to pick up a piece or two for your own collection and set off the atmosphere of your home. Some art is surprisingly affordable, and you can practice the art of the haggle. (Brian Staker)
Artists Marketplace @ Utah Arts Festival, Library Square, 210 E. 400 South, 801-322- 2428, June 24-27, noon-11 p.m. UAF.org
Fear No Film Festival

The Fear No Film Festival, a co-production of the Utah Arts Festival and the SLC Film Center, strives to expose Salt Lake City residents to award-winning short films. It also hands out awards of its own to local filmmakers through its Utah Short Film of the Year competition.

The featured shorts have been selected from prominent festivals like Sundance and TriBeCa, with a little Comi-Con thrown in for variety— dramas, documentaries and comedies. Some are animated, too.

What they have in common is their scale. Short films are a crucible of visual storytelling. They are the purview of student and veteran filmmakers alike, with vision and talent but limited resources. These limitations serve to test the skill and creativity of the filmmakers, producing entertaining and original results borne of pressure and hardship. (A still from Devi Snively's Death in Charge is pictured). You don't see a lot of that at the multiplex.

True to its mission to showcase and support local art in its endless variety, the Utah Arts Festival has included area filmmakers competing for the Utah Short Film of the Year. This year's entrants are as diverse in background and approach as we've come to expect from our unique community.

Screenings for the competition will be held 8 p.m. on Thursday, Friday and Saturday. The featured shorts have been arranged into seven individual hourlong programs throughout the festival schedule. You're free to come and go as you like, but you're urged to stick around. Who knows what you'll see if you do? (Rob Tennant)
Fear No Film Festival @ Utah Arts Festival, Main Library Auditorium, 210 E. 400 South, 801-322-2428, June 24-27, various times, UAF.org

Wasatch IronPen Competition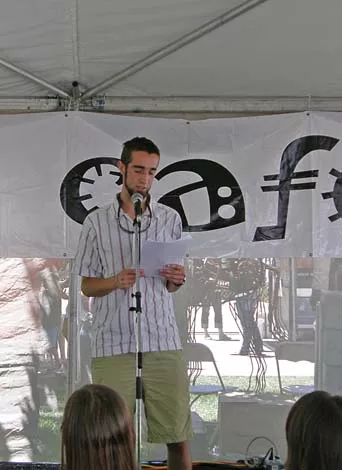 Fancy yourself a burgeoning literary bard or master of the written word? Now's your chance to take the pen by the fist and let your latent creative muse loose. The Community Writing Center (CWC) at Salt Lake Community College is sponsoring the Wasatch IronPen Literary Marathon and Ultra Marathon writing contests as part of the 2010 Utah Arts Festival.

Why are the competitions labeled with the daunting term "marathon," you ask? Writers are given exactly 24 hours from the time they get the visual writing cue, which will be posted at the CWC and on the CWC Website at 6 p.m. on Friday, June 25, to the time they turn in their masterpiece at 6 p.m. on Saturday, June 26. Take note that writers must submit a paper copy to the CWC; no electronic submissions will be accepted.

Categories for the writing contests include fiction, nonfiction, and poetry. Participants in the IronPen Marathon pick one category, while gluttons for punishment in the Ultra Marathon participate in all three categories. Winners of the competitions will be contacted on the morning of Sunday, June 27, and the creme de la creme will be invited to read their work that day at the Big Mouth stage.

Both amateurs and professional artists of the written word are invited to write till their fingers bleed. IronPen signup is taking place at the CWC or online at the CWC Website. (Aimee Larsen Stoddarrd)
Wasatch IronPen Competition @ Utah Arts Festival, SLCC Community Writing Center, Library Square, 210 E. 400 South, Suite 8, 801-957-4992, June 25-26. SLCC.edu/CWC

Team Poetry Slam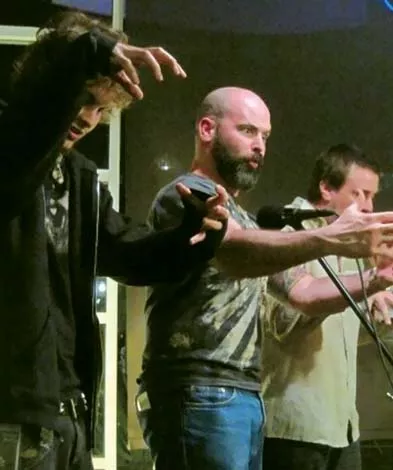 As ubiquitous as they seem to be these days, poetry slams have a relatively short history—we're talking 25 years or so. In the United States, they have generally been linked to urban spots like Chicago, New York City and San Francisco, yet oddly enough their origins lie squarely with the Irish. It's the nature of the slam, focusing as it does on highly politicized issues, that has made it a friendly forum for giving voice to injustices or inequalities that concern you.

Just as people like to complain in company, so has slamming slowly evolved into a team format, which allows for groups to gather and create their own styles of spoken word. Utah Arts Festival literary arts coordinator Melissa Bond knows this facet of the form well, so she put the call out to the slam community to see if there were enough interest, hoping that teams would step up and travel to Utah to deliver their own brand of word magic. Five teams rose to the surface: two native to Utah (Salt City Slam and Team Salt Poetelyptic), two that survive in the furnace that is Arizona (Mesa Poetry Slam and Black Pearl Poetry Slam) and one that roams free on the front range of Colorado (SlamNUBA). (Jacob Stringer)


These teams are all hoping to leave their own indelible mark on the Utah Arts Festival as they gear up for August's National Poetry Slam, the largest team performance poetry event in the world.
Team Poetry Slam @ Utah Arts Festival Big Mouth Café Stage, Library Square, 210 E. 400 South, June 26, 8:30-10 p.m. UAF. org.