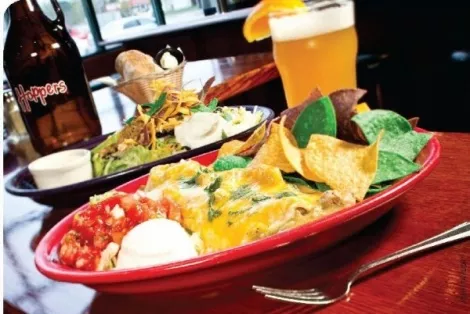 You'd think that a state so … you know … alcohol unfriendly would be devoid of decent brewpubs and microbreweries. But, you'd be wrong. There are 10 good ones in the Ogden/ Salt Lake City/Tooele/Park City vortex. Normally, I tend to think in terms of food and wine pairings. But lately, I've been paying more attention to matching wellmade beers with brewpub dishes. At any brewpub worth its suds, you can get expert advice about beer and food pairings from servers and brewers. Here are some good places to start.
At Bohemian Brewery—host of last month's Club Fed beer- and food-pairing dinner— the options are plentiful, thanks to an abundance of food-friendly lagers. A nice place to start is with an appetizer of whole roasted Gilroy garlic bulbs, served with toast points and a tomato-basil tapenade, paired with Bohemian Pilsener. This marriage is all about subtlety. The mellow flavor of roasted garlic, brightened slightly with the gently acidic tapenade, is lovely with this well-balanced Czech-style pils. A more obvious choice might be Bohemian's Cherny Bock ice cream paired with—you guessed it—Cherny Bock beer.
Desert Edge Brewery in Trolley Square hosts a monthly beer- and food-pairing class and brewery tour ("B is for Beer," May 6, City Weekly). At Desert Edge's Beer School, you might encounter Red Butte Bitter alongside seared ahi with cucumber-jalapeño relish. My favorite Desert Edge smackdown, however, is the seasonal Summertime Kristalweizen—a light, crisp, Bavarian-style, filtered wheat beer—paired with a black-bean and goat-cheese quesadilla, which comes adorned with fresh avocado and tomatillo relish. Tomatillos and wheat beer is a match made in brew heaven. For City Weekly managing editor and beer aficionado Josh Loftin, it's the Latter-Day Stout and French onion soup that rocks his world.
On a warm spring or summer day, it's hard to beat a pint of Hoppers Orange Honey Wheat beer. In Mexico, pork carnitas are typically cooked with orange juice (along with copious amounts of lard). At Hoppers, a nifty partner for their Orange Honey Wheat is the carnitas salad. It's a twist on traditional carnitas: made with turkey, and served with crunchy corn tortillas, black beans, avocado and crisp, cool lettuce. You'll swear you're on the beach in Cabo.
According to Red Rock Brewing Company's Eric Dunlap, one of the most popular pairings at his brewpub is the Oatmeal Stout served with cheesecake. Many people are initially taken aback at the suggestion, says Dunlap. But, once they try it … ooh la la! The roasted, dark, coffee nuances of this silky stout works wonders with rich, sweet, decadent cheesecake. As for me, I also love Red Rock's IPA Junior with a wood-fired sausage pizza; the tangy, hoppy, acidic IPA cuts through the cheese and sausage fat like a samurai sword.
At Roosters, in Ogden and Layton, owners Kym and Pete Buttschardt have always been as serious about food as they are about beer. So, it should come as no surprise that there are a multitude of bodacious beer-and-food matches at Roosters. Shrimp and cheese might sound like an unholy combination. But, trust me, like Kym and Pete, this is a partnership that works. I've encountered very few brewpub dishes any more enjoyable than Roosters' large shrimp baked with a zippy Pepper Jack cheese sauce and crumbled bacon, served with baguette slices and spritzed with Louisiana hot sauce for an additional fiery kick. Forget the shrimp; I could easily just drown myself in that spectacular sauce. Well, with the heat from the hot sauce and both heat and fat from the Pepper Jack cheese, you'd be wise to turn to Roosters' Heavenly Cream Ale (available only at the Layton location), a full-bodied blond ale, lightly hopped with Willamette hops. This partnership will have you crowing about Roosters.
There's an overlap in the beers at Hoppers and those at Ruby River Steakhouse, since they're owned by the same corporation and share beers. For the freshest of the fresh, make your way to Ruby River's Riverdale location, where beers are brewed in-house. Try to ignore the annoying MOR country pop and dive into a rack of juicy, tender baby-back ribs. The dark reddishamber color of the ribs' barbecue sauce is nearly identical to the hue of Ruby River's seasonal Spring Steamer Amber Ale. It's a fairly rich amber ale, with tendencies toward a brown ale, making it a beautiful foil for those slightly sweet and slightly spicy baby-backs.
At Squatters, brewmaster Jenny Talley is fond of this pairing: the bourbon burger—made from all-natural Niman Ranch ground chuck—and Emigration Amber Ale. Why? Well, she says, "Grilled meats deserve a bold beer to stand up to the intensity of flavor, and Emigration provides that. The caramel malts work perfectly with the caramelized onions and the hop bitterness can handle the intensity of flavors while complimenting the cheddar perfectly. Remember, when pairing food with beer that as the intensity in the kitchen goes up, so must the flavor of the beer."
At Tracks Brewing Company in Tooele, I enjoy the hand-cut, beautifully marbled rib-eye steak, grilled to perfection, with maybe a handful of "piston poppers" (breaded jalapeño and cream cheese morsels) alongside. Now, with all of that rich flavor—and a fair amount of fat—you need something sturdy like Tracks' Tooele Tar. It's a full-flavored stout, made with Black Crystal malt, and hopped with Saaz and Munich hops. Tooele Tar is a complex, hair-on-your-chest beer that can go toe-to-toe with a robust rib-eye.
Uinta Brewing Company's Brewhouse Pub offers many opportunities for sandwich and beer pairings. However, my favorite Uinta match must be done at home, since their Anniversary Barley Wine is only available in DABC liquor and wine stores. Sip it like you would Port, after dinner while nibbling on dried figs, nuts and a stinky blue cheese.
This last pairing is, truly, a no-brainer: Wasatch Belgian White Ale with mussels steamed in, yes, Belgian White ale. 'Nuff said. Just do it.
Now, how about sharing a few of your favorite pairings?