Page 2 of 3
Local criminal-defense attorney Neal Hamilton says while it's not unusual for defendants to complain about police conduct, complaints about Steed focus on "her inability to follow UHP rules, devised to protect officers, preserve evidence against the accused and protect citizens' rights." Other UHP troopers "follow these rules with great success," he says. "Why can't she?" While Hamilton acknowledges "most of the troopers whose cases I review do an excellent job, very fair and thorough," for some reason, "Steed is always in court testifying and explaining her actions."
Defense attorneys complain she routinely has drivers perform field sobriety tests off-camera so there's no record of how they did, sometimes fails to have her shoulder microphone switched on while initially questioning drivers in their cars, conducts difficult balancing tests on unlevel ground—even having one woman in high heels do them bare-footed in the snow in a blizzard—and often fails to record the results of the Intoxilyzer, a court-accepted record of blood-alcohol content in the breath (not to be confused with the inadmissable portable breath test (PBT) device). UHP's Rapich, however, says that issues such as occasionally forgetting to move the dashboard camera to record tests can happen to any trooper, not just Steed. "The trooper has to keep control of the situation, and they can lose track of the camera." To say she deliberately does it, "is, quite frankly, absurd—not a very good argument."
When defense lawyers see Steed's name as the arresting officer on a DUI arrest, it's also a red flag, some say, for possible civil-rights violations. Lt. Winward routinely reviews Steed's traffic-stop videos. "Everything I've seen as far as videos has never had issues of civil-rights violations." Nevertheless, her Terminator-like approach to DUIs, where, says DUI lawyer Jason Schatz, "she does not accept 'no' as an answer," can lead to troubling results. In one traffic-stop video, Steed's cruiser is idling by the roadside, her front lights flashing but apparently not her overheads. Two cars pass by in the next lane. In a smoothly executed move, she flanks both cars and orders them to pull over, informing the first driver that she failed to move to the next lane while passing a trooper's car, known as the "move over" law.
Don't tase me, ma'am
Defense attorney Jason Schatz gives five quick tips for when you're suspected of driving under the influence.


1. Be polite to the officer but don't try to talk your way out of a DUI because it will not happen.

2. Do not consent to a search of your person or your vehicle if asked. Be polite but say NO! and don't succumb to pressure from the officer; same goes for passengers.

3. Keep your mouth shut! Do not answer any questions other than providing your personal identifying information: name date of birth, driver license, address, etc. You do not have a 5th Amendment Right to withhold nonincriminating identifying information; same goes for passengers.

4. Be aware that everything you say or do may be videotaped so don't do or say anything you would not want a judge or jury to see or hear.

5. Contact a good DUI defense attorney immediately following your arrest before any important deadlines are missed.
She instructs the first driver to blow into a PBT device, a violation of UHP policy. The PBT is too unreliable for court and, Rapich says, it can prejudice the trooper's view of the field sobriety tests. So, "we instruct them to use that last." By having a driver blow at the beginning of a traffic stop, defense attorneys argue, Steed immediately knows if she has caught someone who has been drinking or not, which may help explain her phenomenal arrest rate.
For this driver, the PBT turns up negative for alcohol consumption. Steed also checks the driver's license and the passengers' IDs for outstanding arrest warrants—a violation of the passengers' constitutional rights, argue several defense attorneys who are shown the video. "In Utah, there's a legal bubble around passengers," Hamilton says. "Unless you have reasonable articulable suspicion that passengers are involved in some sort of criminal activity, you don't talk to them."
With the second vehicle, which she pulled over for the same minor traffic violation, she gets lucky: The driver has been drinking. Thus, she collects another DUI scalp.
The UHP declined City Weekly's request to have a reporter ride along with Steed or interview her, although she answered a number of e-mailed questions in writing (but not all). Steed, who, in several of her traffic-stop videos, sings along to country songs in her car while running driver and passengers' identities for arrest warrants, says her high-powered work ethic stems from how she was raised. "In any job I have had, I have always given 100 percent and do an honest day's work for the pay. This contributes to my self-motivation."
While Steed's supervisor Lt. Winward credits her extraordinary arrest record in part to "typing skills" that allow her to process DUI reports more quickly than other troopers, her critics in the legal community fear that corners are being cut and people's rights are being trampled in the name of more arrests. They also express fear about her aggressiveness, in sharp contrast to Rapich, who describes her as "very compassionate and likeable."
For some judges, argues Schatz, pulling a drunken driver off the road justifies a constitutional violation. For others, though, such legal concerns can put not only the innocent, but also the drunken drivers Steed catches in her high-volume trawling, back on the street.
Whatever the result, Schatz says, Steed and Utah's war against "drugs, drinking and driving is being carried too far, eroding people's rights to drive down the road."
Public Humiliation
According to a Nov. 12, 2007, story by Sam Cooper in the Ogden Standard Examiner, Steed joined the UHP after graduating from Weber State University with a criminal justice degree in 2002, and started patrolling Davis and Weber counties. One man who encountered her during her first years as a trooper was Callis Sturgill. Five years later, he has yet to get over what he sees as the injustices he suffered at her hand. Born in rural Kentucky, the 62-year-old still speaks with a slow, Kentucky drawl. In her report, Steed construed that drawl as "slurred." Sturgill says the arrest has ruined him financially.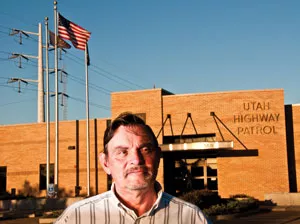 Sturgill works for the Department of Alcoholic Beverage Control and, at that time, delivered alcohol to DABC stores. At midnight on Saturday, June 26, 2005, he was returning from his second job at a Holladay 7-Eleven, where he had just completed an exhausting nine-hour shift. A few blocks from his Clearfield house, Steed pulled him over for weaving across several lanes, although the traffic stop video shows only "some drifting side to side, just like a person does when they are tired," Ogden-based DUI lawyer Glen Neeley
noted on his Website
.
Steed took Sturgill off-camera to perform field sobriety tests "so no one can see what she did or what Sturgill did," Neeley argued in a blog. In her report, she noted Sturgill's poor balance and droopy eyes and that he "seemed tired."
Steed arrested Sturgill for DUI and took him to jail, where a phlebotomist drew his blood. (According to UHP, Steed is now a licensed phlebotomist and drug-recognition expert, which means she can draw blood in the back of her cruiser). Sturgill's subsequent toxicology report revealed no alcohol, illegal drugs or prescription drugs. Nevertheless, he had to hire a lawyer to represent him at a Department of Public Safety hearing that determined the fate of his commercial driver's license. The subsequent dismissal of charges did not spare the LDS Church member the public humiliation of a DABC colleague approaching him with a copy of the Davis County Clipper, which had printed his DUI arrest.
Between legal fees, paying to get his car out of the impound lot and lost wages from time off work for his justice-court hearing—he pleaded guilty, but only to an improper lane-change violation—Sturgill fell behind on his car and mortgage payments and lost both his vehicle and his house. All this "because of a cop who was trying to make a name for herself and stoop to whatever means she possesses to get a DUI arrest," he says. Steed did not respond to a request for comment regarding Sturgill's arrest.