Page 3 of 3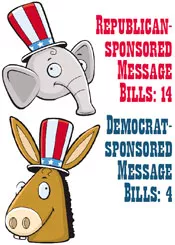 Hot Air
It's often the practice of the Legislature to write resolutions known as "message" bills. This session, 18 such bills were debated, discussed and sent off to the federal government urging Congress to get its act together. Once these bills have passed the Utah Legislature, they're shot out of a cannon into Washington, D.C., bombarding the beltway fat cats with stern demands to respect our state sovereignty. Some message bills come across louder than others, but for the most part, they're "meaningless," to quote Rep. Dave Clark, R-Santa Clara. But that doesn't stop them from being discussed and debated, however—at taxpayer expense. Case in point: Clark made that comment while discussing a message bill urging the federal government to call a constitutional convention. 
Total time spent this session debating "message bills" to the federal government: 13 hours, 34 minutes
Most Prolific Legislators
The legislators from each party who proved the most capable turning the wheel on the sausage grinder include:
Republican
Sen. Curtis Bramble, R-Provo
21 bills and 2 resolutions passed out of 37 proposed pieces of legislation for a 56.76 percentage

Democrat
Sen. Ben McAdams, D-Salt Lake City
11 bills passed out of 19 proposed for a 57.89 percentage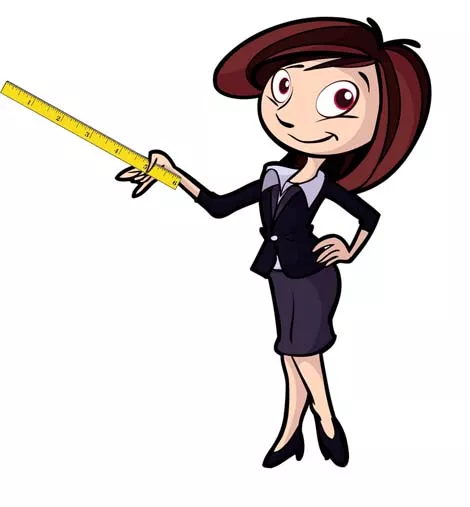 Ruled Out
In the Legislative process, a bill has to fight its way through the system. Ideally, it's a process of debate and discussion where bills are given a fair shot before a committee and then the entire Legislative body to be scrutinized, haggled over, and voted on. But the first step in passing any bill is getting it through the dreaded Rules Committee.
The Rules Committee in either house decides if a bill is even ready to be heard at a committee. It's like the bouncer at the club who decides if you're pretty enough to come and party with the other bills.
Here's a breakdown on the number of bills never allowed into the club.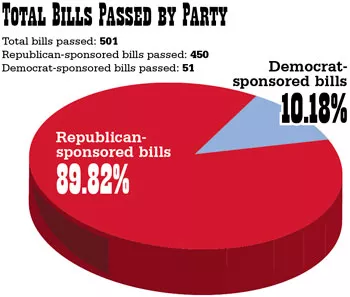 • Total Bills Stuck in Rules:
50
Republican-sponsored Bills Stuck: 37
5.53 percent of total Republican-sponsored bills
Democrat-Sponsored Bills Stuck: 13
12.38 percent of total Democrat Sponsored Bills
Sunshiney Legislative Days
LOBBYIST HOMEWORK
The Legislature did fix up government ops in some notable ways. Sen. President Michael Waddoups, R-Taylorsville, passed Senate Bill 251, which penalizes lobbyists who do not complete annual ethics-training exercises. Penalties range from a $1,000 fine to suspension of their lobbyist license.
NOTING PERFORMANCE
Sen. Wayne Niederhauser, R-Sandy, passed a bill creating a "performance note" for future legislation. This bill would require bill sponsors seeking to create new programs to make note of expected goals and milestones the program should accomplish. That way, legislators and the public can refer back to the note after a program is established to see if it's performing as expected.
PAC-MEN (AND WOMEN)
One passed bill clarified that any elected official is allowed to serve on political action committees, commonly the biggest spenders in elections. The bill added, however, a dash of sunshine to the practice by requiring elected officials to disclose on public documents if they serve in leadership positions in PACs. 
Additional reporting by Shelly Guillory