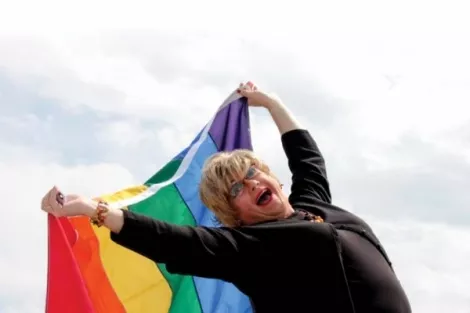 Thirty years ago, the idea of a celebration of gay, lesbian, bisexual, queer and transgender pride in Utah seemed absurd. Now, locally, approximately 20,000 attendees annually will take part in events with just such a focus. The times, they are still a-changin'.
Three days of fun and fabulousness actually kick off Friday, with a reception for this year's honorary parade grand marshal (and City Weekly Utahn of the Year) Sister Dottie S. Dixon. The parade itself, on Sunday morning at 10 a.m. downtown, will once again be a celebration of the Utah gay community and its allies (ideally with a bit better weather than what dampened 2009's parade).
Then there's the action on the festival grounds at the Washington Square City & County Building, where vendors and other organizations set up to show their stuff and their support. And while the musical entertainment is lively all day both days, you won't want to miss the headliners. Saturday night brings us the comic stylings of the ferocious miss Sandra Bernhard, while Sunday night's dance party features the legendary voice of Martha Wash (The Weather Girls' "It's Raining Men," C C Music Factory's "Everybody Dance Now"). Bring your dancing shoes, or forever regret the decision.
If you want to get the festivities started even earlier, join City Weekly for the Miss City Weekly drag queen pageant at Circle Lounge on Thursday at 9 p.m. Maybe by next year, we'll be able to kick this party up to a full week.

Utah Pride Festival @ Washington Square, 400 S. 200 East, 801-539-8800, June 4-6, $10 daily or $15 two-day pass. Grand Marshal reception @ Jewish Community Center, 2 N. Medical Drive, University of Utah, June 4, 7 p.m. Miss City Weekly Drag Queen Pageant, Circle Lounge, 328 S. State, June 3, 9 p.m. UtahPride.org