Too many locals—and visitors—acquire a set of limited and boring snowriding habits. Every year, they buy their passes at the same resorts, where they ride the same trails they always ride.
If that describes you, why not expand your snowriding? Try some change—a different resort, different trails. Familiarity may be a good thing for snowriders—Wasatch resorts certainly breed no contempt—but why not push the variety envelope a little? The fact is that every area, whether it's in the Cottonwoods, Park City or around Ogden, has a different ambiance, mood and charm. If you're always on the same terrain, you'll miss learning how to choose a resort that exactly matches your mood of the moment—whether it's macho, romantic or contemplative, whether you want to be pampered, or would rather feel like you're only person on the mountain. Picking the right resort can make a snow day one of those perfect experiences that stay in your memory forever.
Here's a rundown of each of the Wasatch Front resorts, along with secrets even locals may not know about—such as the inexpensive pass you can buy at one resort that allows you into the lodge for a full day and evening of unlimited hot-tubbing, high above it all on a roof top. Also included: each resort's direct phone number, which a human will answer.
Alta
Biggest beginner area in America
If you've ever looked up the mountain from the parking lot, you've seen a near-vertical, very moguled, extremely long run on the left. This is the bare face of High Rustler, the classic Alta challenge run. It's enough to make even experts shiver in their boots. So, it's surprising that a resort with so many super-steep runs on the upper mountain is the best place in Utah for never-evers to learn to ski.
The terrain on the lower mountain is Albion Basin, gentle and nonthreatening, with undulating trails that can help a beginner learn to ski quickly. The wide runs also offer sections of short intermediate hills on the sides of the trails or in the trees that will let a beginner challenge themselves and get confident.
You don't even need to purchase a ticket to start out. There's a long rope tow just a short way up from the main parking lot that goes all the way up to Albion to the green-level Sunnyside lift. The rope tow is free. By being pulled along while holding onto the rope, a skier quickly learns balance and how to glide over snow. Falling is no problem; the rope droops enough so a skier can stand up and grab it again. The loose rope also allows beginners to hang on while learning to turn. Once they've learned the basics on the rope tow, beginners are well ready for the lift. But first, watch and learn how to use a rope tow. For "don't do this" instructions, search online for "Alta rope tow wedgie" and watch viral video that will leave you in tears of laughter.
The Little Cottonwood Canyon resort is classic old-school skiing with a hard-core backcountry attitude. In fact, even to get to High Rustler, you have to take an off-piste trail. But it's also extremely relaxed and laid-back, perhaps because it's one of the oldest ski areas in America, established in 1939.
News to You: Snowboarders are allowed at Alta! They can use the snow, they just can't use the lifts. Marketing director Connie Marshall says, "There are points of access where they can come in and ride down to the base and they won't be bothered at all. But they aren't allowed to come in from the access gate at Snowbird, though they can come in from anywhere on our boundaries." Another news tidbit: after 3 p.m., the lifts are free
Lift ticket: $69. Save $5 by keeping your Alta "card" (the pass) and reloading it the next time you ski there.
Open 9 a.m.-4 p.m.
Phone: 801-359-1078
Highway 210, Little Cottonwood Canyon
Alta.com
Brighton
Just plain fun
There's something so playful about Brighton that it's been described as "a good time just waiting." The lifties laugh a lot, and so do the customers. It may be due to the fun terrain, where the trees have been thinned enough to allow easy snowriding through them. There are always plenty of mystery trails to follow through the woods. There are also two mountains: Brighton, and the more challenging Milly (Millicent). You can easily ride from one to the other without having to walk across the huge parking lot. Molly Greens, the bar/restaurant at the Brighton base, is such an enjoyable hangout that it has regulars who don't even snowride.
But one of Brighton's biggest attractions is night skiing. It has the largest amount of lit-up terrain in Utah, if not the entire nation—200 acres, available Tuesday through Saturday night. Most of the Brighton day runs are lit up at night, including the small halfpipe and two of the three terrain parks. "If you start skiing or snowboarding at Brighton, you become part of a community, which you might not realize if you only go a few times," says marketing director Jared Winkler. "But if you go a lot, you'll find it's like having a bunch of friends who are all focused around snowriding."
News to You: The Big Cottonwood Canyon resort has created a "value added" season pass, where pass holders get a 10 percent discount at the Milly Chalet restaurant and the Brighton retail store.
Lift ticket: $62, $34 for night skiing, 4-9 p.m.
Open 9 a.m.-9 p.m. when night skiing is in effect.
Phone: 801-532-4731
12601 E. Big Cottonwood Canyon Road
BrightonResort.com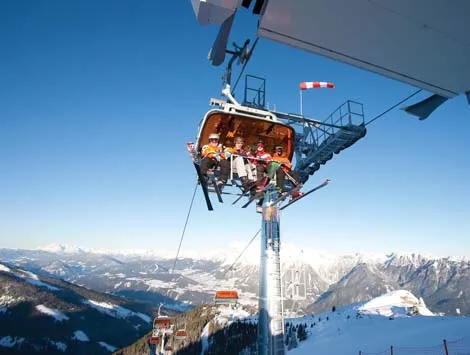 Canyons
The new "it" resort
It's dropped the "The." But Canyons has added so many new and amazing innovations that checking it out is a must for local snowriders this season.
Ride the Orange Bubble Express, a new high-speed quad with heated seats and a no-glare plastic dome that lowers down over passengers, enclosing them in cozy warmth. Common in Europe, this is the first one in the United States (Take that, Vail!). Check out the radically changed terrain park, now more than one mile long, divided into three trails of features for different abilities.
"It would take you at least a week to ski all the runs. We have 176 total (named) runs, plus others that don't have names. We have four new restaurants. There's something for everyone," says communications coordinator Hannah Hanley.
In February, for the first time, Canyons will host an international event: a Grand Prix snowboardcross. U.S. Olympic medalists Seth Wescott and Lindsey Jacobellis will be among the champions fighting their way down a course that, as always in 'cross, will be carnage on a snowboard. It will be an annual stop.
News to You: There are 300 new acres of glade (tree) skiing—terrain that now makes Canyons the fourth-largest resort in America, and the biggest in Utah.
Lift ticket: $89
Open 9 a.m.-4 p.m.
Phone: 435-649-5400
4000 The Canyons Resort Drive, Park City
TheCanyons.com
Deer Valley Resort
Feel wealthy, even if you're not
Despite its great amenities, Deer Valley's terrain is ... matronly. There are few challengers. But, skiers don't care because they want to buy into Deer Valley's reputation—which is that they're getting the best of everything. It's now the only resort in Utah that excludes snowboarding.
It is true that the service is truly phenomenal, and the staff's good manners and personal concern make guests feel pampered. There's licensed child care. Another secret: Even mellow terrain can be great. "Our glade skiing is amazing. It holds powder for days after a storm," says PR honcho Erin Grady. Locals actually do hit the resort days after a storm to ski the still-plentiful powder in the easy glades—something the tourists still don't know about.
News to You: The new Deer Valley Grocery Cafe offers well-known items like the turkey chili, which you can take home or devour in the restaurant section.
Lift ticket: $90
Open Monday-Friday, 8 a.m.-5 p.m.; Saturday & Sunday, 8 a.m.-4:30 p.m.
Phone: 435-649-1000
2250 Deer Valley Drive South, Park City
DeerValley.com
Park City Mountain Resort
Action and adventure for all ages
PCMR is a nicely confusing contrast. It caters to both families and daredevils. For instance, you can take your 3-year-old to run gates on the easy Nastar course—or you can pay to spend a day training with the Park City Masters on the Olympic hill, getting personal instruction from top coaches plus a video to take home of you running World Cup style GS gates. You can try the 2002 Olympic halfpipe, with its towering vertical walls, or ski down the flat center of the pipe and gradually work up your courage to hit some vert before turning around.
If you're new to terrain parks, try "Ridge," off the King Con lift, with smaller features that even beginners can handle. And now there's a night park. "Pick and Shovel" has been totally redesigned and set up with lights. Now called "Three Kings" (for the lift that serves it), the park is twice its previous size. The Three Kings park and the giant halfpipe stay open until the resort closes each night.
The resort has a great offer for local beginners who want to learn to snowride. "The 'Start Now' program is our commitment to growing the sport of snowriding)," says communications manager Meisha Lawson. "For $25, people get a lift ticket, gear rental and a lesson. Each lesson is limited to five people. You can come back four more times and get another ticket, lesson and rental for that same price. You must be 6 or over, and sign up in advance online [StartNow. ParkCityMountain.com]."
News to You: The PCMR Website has a new family-oriented feature called "Snowmamas" that offers tips and suggestions from parents who know about snowriding. They'll share their knowledge on everything from how to get a crying kid down a run to where to find a family-affordable place to eat.
Lift Ticket: $89-$91, depending on time of year
Open 9 a.m.-4 p.m.; night skiing till 7:30 p.m.
Phone: 435-649-8111
1310 Lowell Ave., Park City
ParkCityMountain.com
Powder Mountain
An endless mountain, and you're the only one there
If Powder Mountain weren't such a long drive, if it were dressed up a bit more, it would be the most popular resort in Utah. Though only 55 miles from the airport, the slow trip up the winding canyon to Eden makes it a 90-minute trek. But when you get there—toss the trail map. Take any lift. Start snowriding. You can go for half an hour or more before you hit another lift or see another person. It's also a truly named mountain—a powder paradise. It doesn't even have snowmaking; the way the peaks poke into the clouds makes artificial snow unnecessary.
There are other ways to get around this resort besides lifts. The popular "Snowcat Powder Safari," essentially a portable tram with seats, takes snowriders to a variety of terrain outside the resort boundaries. Take some snow-kiting lessons (see the video on the resort's Website), learn enough to qualify to rent a snow kite, and you can fly up the slopes and then ride down them.
There is night skiing with a terrain park, a 10-foot walled halfpipe and enough powder that you can always find a stash to add to the perfection. Yes, the lodge is primitive, the lone restaurant is of the burgers-and-chili variety, but if it's all about snow and slopes for you, this is your place.
News to You: The Snowcat Powder Safari has added 1,000 acres of expert terrain to the existing 2,000 acres. The resort will also offer guided backcountry tours of Wolf Canyon, with adventurous terrain consisting of glades, bowls and even chutes.
Lift Ticket: $59
Open 9 a.m.-9 p.m.
Phone: 801-745-3772
Utah Highway 158, Eden
PowderMountain.com