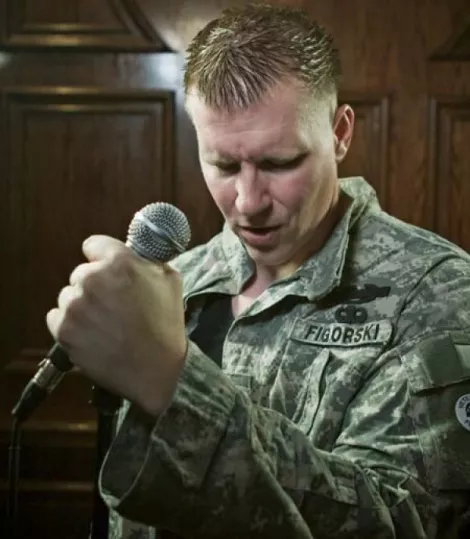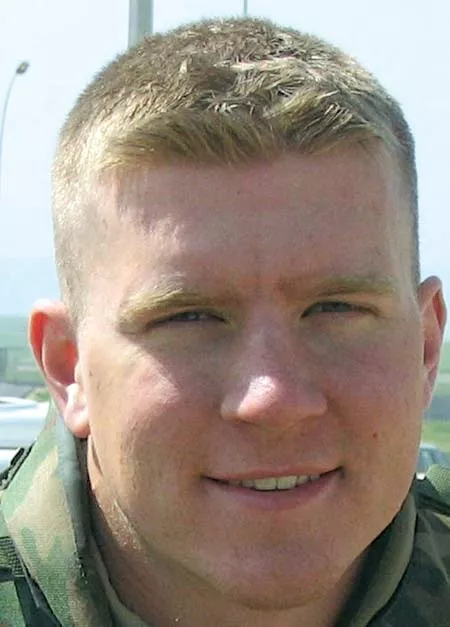 The man unloaded a box, the typical size for a bomb, from the trunk of his car at the side of the road. He looked around, but didn't see Sgt. Andy Figorski and three other soldiers dug in on the desert hill behind him. The soldiers were close to Tikrit in north-central Iraq on Dec. 2, 2006, laying in wait for Iraqi insurgents.
Figorski radioed command about the Iraqi, even as he placed a second box beside the first. Command gave Figorski the go ahead. The Iraqi looked around once more, then put his hand in his pocket. Figorski tapped the gunner's shoulder and the soldier opened fire. The rounds cut through the Iraqi´s body, four blood red puffs erupting from his back. He fell to the ground, his head hitting one of the boxes.
The killing was textbook, officers told Figorski. Except an hour later, a second car arrived, carrying a man and his two sons.
They had come to pick up two crates of oranges.

Of the people Figorski killed in Iraq—"Not too many," he says softly—the one that haunts him most is the Iraqi known from then on as the "Orange Man" in 3rd Platoon, Bravo Company, 2nd Battalion, 505th Infantry. "Orange Man," who was a schoolteacher and married with children, was the war's only casualty on that day. He was also the first life Figorski felt responsible for taking, even if he didn't actually pull the trigger.
He saw photographs of the man's head on the crate, his black eyes staring into the camera lens. Almost three years later those eyes still force Figorski, bathed in sweat, to bolt up in bed from nightmares. "Operational guidelines justified what we did, but you can't justify it to yourself," he says.
In Iraq, he and his troops buried feelings of guilt and trauma beneath machismo and laughter. They ran around singing, "Have you seen the orange man, the orange man, the orange man?" They left oranges on each other's doorstep in the military compound. During the day their laughter kept death at bay, but at night, Figorski could only fall asleep while watching episodes of Comedy Central's South Park.
Figorski, 28, was discharged from the military on May 6, 2008, after a year of medical treatment for combat-related brain injuries. He married Utahn Cara Miller in 2006, and after his discharge, he found work in Salt Lake City at the George E. Wahlen Department of Veterans Affairs Medical Center, where he helps vets get to doctors' appointments. Because of his brain injuries, he has a distracting series of tics and jerks. He'll wrinkle his nose as if he's a pantomime rabbit, then jerk his head sideways. "It's like an electrical storm goes off in his body," peace activist, playwright and friend Jeff Key says.
Along with brain injuries and post-traumatic stress disorder, Figorski also brought back to his adopted home of Salt Lake City bitterness about the war in Iraq. He wanted Americans to know about the brutality their soldiers inflict upon Iraqi civilians and how information sharing between the U.S. and Iraqi forces is getting American troops killed, so he joined Utah's peace movement.
Former founding member of Utah's chapter of Vietnam Veterans Against the War, Larry Chadwick, says that Figorski's objective "is to find peace. He's trying to right a wrong on a very noble level," by standing witness to the human impact of war.
But Figorski found Utah's anti-war movement too splintered by groups pursuing individual agendas to allow him to be heard. His message, he says, must not fall by the wayside. "We're chasing something that isn't there," Figorski says about the purpose of the war. "It's all one big fucking joke."
Matt Roberts served as a private with Figorski in Iraq. "Probably the only reason [Andy] isn't crazy as hell now is his ability to laugh things off and make jokes," he says. So perhaps it's not surprising Figorski turned to jokes to get his message across. He has made a series of appearances as a novice stand-up comic at downtown Salt Lake City's Wiseguys Comedy Club's open-mic night. But horsing around with fellow soldiers is one thing. Getting onstage to make people laugh is another.
Whether Figorski succeeds or fails as a comic or an activist, his friend Key believes he will be fine "if he doesn't retreat into a hole like so many other veterans do. I do believe there's something in him that if he starts crying he'll never stop." What frightens him about Figorski is that his smiles and optimism "mask a very deep sadness and a very frightening rage."
Figorski agrees. He hates it, he says, when "people say, 'Thank you for our freedom.' If only they knew what we had to do because of the situations we were in, they would get our troops out of there."

SIGN AWAY YOUR LIFE
Figorski was born April 14, 1981, in Philadelphia. His grandmother, who raised him, died five days before he turned 21. He was working two jobs and attending school to become a social worker. "I always liked helping people," he says. His grandmother's death left him feeling burned-out and broke, so on Dec. 23, 2002, he signed up with the Army Reserves. He had a somber Christmas. The military, he recalls, "was my alternative. This is what I'd been reduced to. This fucking sucks."
Since he didn't want combat, Figorski trained as a civil-affairs officer, supposedly to provide humanitarian assistance to civilians in Iraq and Afghanistan. Five months after signing up, he shipped out to Iraq.
Mosul, where he was stationed from January to October 2004, reminded him of Broad Street, a rundown part of Philadelphia with "the same dismal streets and dirty buildings." At night, the eerie silence was broken by red waves of bullets criss-crossing the sky.
Despite his humanitarian remit, "our team provided nothing for these people," he says. They had to ask their families to mail gum and teddy bears for children.
On a night two months before the end of his first deployment, insurgents mortared his base while he was urinating against a wall. The explosion knocked him unconscious, and after that, he started sweating and shaking every time he went out at night.
At the end of his first deployment, he wanted out of the military, but he had six to eight years left on his Army commitment—unless he joined the infantry, which would get him out in three years. So in November 2004, he joined the 82nd Airborne, based at Fort Bragg, N.C.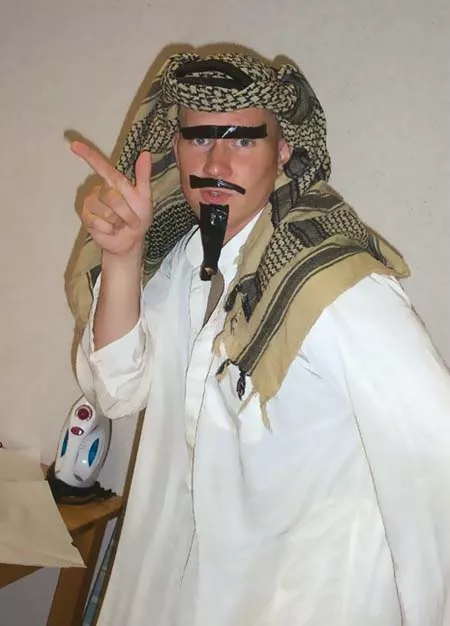 MY HUSBAND, THE GHOST
On June 23, 2006, just before Figorski returned to Iraq, he married Cara Miller in Salt Lake City. They had first met when he came to Utah to ski after his first deployment, two years earlier. The only sign of the war's impact on Figorski was an eye twitch. "He was very down to earth, very caring and understanding," she says. They went on a honeymoon to Disneyland—her choice—where the specter of the war hovered over their four days of lines and rides.
When Cara saw him off at the airport, "We tried very hard to not say goodbye, but rather, see you later," she says.
The Iraq in 2006 contrasted sharply with his first deployment. People looked at the soldiers with anger and hate. Their vehicles now had hard-shell armor because of the threat of improvised explosive devices (IEDs). Potshots had escalated to firefights.
On Jan. 24, 2007, Figorski and his platoon walked an intelligence officer through a village. As Figorski waved at children, a shot rang out and the officer fell to the ground. Figorski dragged him behind a humvee, only for a round to sledgehammer the front of his helmet, knocking him out.
Two weeks later on Feb. 15, Figorski was in a humvee with a contractor when the driver sensed something was wrong with the road and jerked the wheel round. A huge explosion from an IED buried in the tarmac engulfed the vehicle. Figorski came to in a cloud of dirt and asphalt.
After the IED explosion, Figorski had trouble functioning. He would get dressed for a mission, only to find himself lacing up his boots in his underwear. He went on leave and visited Cara in Salt Lake City, but during the trip, he had attacks of dizziness, got angry for no reason and his twitches became much worse. His mood swings drained her. "It made me very sad," she says. "I knew how bad he'd been hurt. I got the feeling nobody cared about him." When she saw him off at the airport, she thought he was a ghost.
SELLING SECRETS

Trip tickets, Figorski says, are the most sensitive part of any infantry operation. They detail troop numbers, armaments, passengers and convoy routes—in short, everything you don't want the enemy to know.
One afternoon in March 2007, Figorski learned the real value of these tickets. He and his platoon were in the small northern Iraq town of Mujama to conduct breaches, which involves holding people at gunpoint while their homes are searched for weapons. A captured insurgent-turned-informant identified homes he thought belonged to Baathist sympathizers. Figorski started to ask their informant how the insurgent attacks had recently become more precise.
The informant told his translator that he recognized Figorski as a soldier who had taken a bullet to his helmet while rescuing another soldier. Figorski went momentarily ice cold, then finished his question.
"You know trip tickets?" the informant, who was wearing a black ski mask, said. "After you submit them to your commander, he submits them to the police," and the Iraqi police, the former-insurgent said, sell them to the fighters.
Figorski was in a state of shock. "Is this how I am going to die?" he thought.
When he asked superior officers why they would not prepare false trip tickets, he says they told him that it was "too much work."
The final blow to his crumbling will came on a breach led by Iraqi soldiers of a suspected Baathist supporter's house. Figorski found a clip-on badge that showed the man was a Saddam sympathizer. The man was on his knees, handcuffed, along with his two teenage sons. The wife and daughters stared at Figorski as if the soldier were a savage animal.
A little girl who had been napping appeared out of a room the Iraqi army had failed to search. She smiled sleepily at Figorski in a way that reminded him intensely of his best friend's daughter, Andriana, who was named after him. He took off his helmet, held out a finger for her to take and led her to her family, then went into the bathroom and wept.
Although he knew his superiors wanted the man arrested, he released the man and his sons. He told the father if he went back to politics, he would kill him.
The weeping mother and daughters kneeled before Figorski and kissed his bloodstained boots. He started crying again. "The minute I encountered something loving out there, it broke me in half," he says.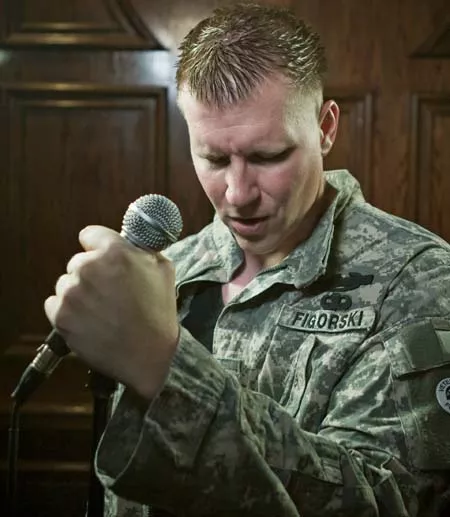 BRING US HOME
After an MRI revealed bruising to the front and back of his brain, Figorski was medevaced out of Iraq on April 24, 2007. He took a year to recover from his brain injuries, which have left him partially disabled. He was honorably discharged on May 6, 2008.
Once settled in Salt Lake City, he contacted then- Veterans for Peace Utah chapter leader and bus driver Aaron Davis, who informed the veteran community another infantryman was in town. Vietnam veterans inundated him with calls, telling him to get involved with the Veterans Affairs office and warning him that no one outside the military cared about him. He had to stay close to guys who understood what he'd survived or "I'd get left in the dust," Figorski says.
Davis also introduced Figorski to Wasatch Coalition for Peace and Justice's [WCPJ] Dayne Goodwin, a longtime peace activist who had left college in the late 1960s, where he was majoring in international relations, to pursue antiwar activism. For the past 33 years, the bachelor has worked as a janitor at the University of Utah to pay his bills so he could fight for peace.
Goodwin asked Figorski to speak on a panel at the Salt Lake City Main Library. His war stories riveted the 100-strong audience, although some were displeased by his activism. One naysayer wrote on the window of his Nissan SUV, "Keep doing what you're doing, you'll pay with your life."
If Figorski's activism was growing, his employment prospects were not. He applied unsuccessfully for almost 40 vacancies. His attempts to get a loan to start a bakery or a cheesesteak restaurant went nowhere because without collateral, even being a veteran didn't help him.
"I felt so alone, so helpless, so abandoned," he says.

Battling depression, he hiked up a winding path above Silver Lake in Big Cottonwood Canyon. Mountain pines climbed adjacent hills like green sentinels. In the last place he expected, he found the mountain peaks cradling a stretch of shimmering, dark blue water called Twin Lake. "It was like being in the womb," he says.
He sat on a stone outcrop, trying to pull the pieces of his life together. He was struggling with memory loss, anxiety over his unemployment and his lack of marketable skills. "I kept looking to see if rage, temper and anger were marketable," he says. "They weren't."
He could almost feel the dirt and the stench of war-torn Iraq, with its mix of gasoline, body odor and trash, being flushed out of him by the lake's tranquil beauty.
His peace didn't last long. Struggling financially, he and Cara went to Costco on the market's sample days. "I'm a fucking veteran, and we're trying to fill ourselves up on Costco samples," Figorski fumes.
Just when he thought he'd hit rock bottom, a helping hand appeared. The VA offered him a clerical position in a mental-health clinic on Sept. 29, 2008. His voice still chokes when he talks about how much the VA helped him.
BREACHED
The antiwar movement, WCPJ's Goodwin says, "has never been at a lower ebb than it is now." As if to prove Goodwin's point, one Saturday morning in late July, Figorski ran up and down different levels of the Main Library searching for their meeting room. "That's the trouble with the antiwar movement," Figorski laughs, "you can't find it."
The WCPJ has 17 groups affiliated to it, including the Mormon Worker and the Veterans Peace Coalition. But when Figorski found the meeting, there was only Goodwin and fellow activist Warren Brodhead passing a series of resolutions. When the two men reviewed the coalition's bank account, Brodhead pulled a $20 bill out of his pocket and tossed it to Goodwin, boosting the group's balance to $466.
Diana Lee Hirschi, a longtime Utah activist, says Figorski's innocence and vulnerability moved her to tears when she moderated a panel that included him. She understands Figorski's frustrations with groups, which often "haven't been able to focus on organizing" because of personal conflicts and in-fighting.
Usually, activist organizations, Vietnam vet Chadwick says, "want [veterans] to get up and speak but want us to be short so they can get to the people who m a t t e r," especially politicians.
Figorski was also increasingly frustrated by dwindling numbers at peace rallies. When Key and Figorski talked to peace supporters in a University of Utah classroom in May 2009, some of that frustration spilled over.
Figorski wanted to demonstrate a breach to a group Key describes as "elderly women and flower girls." Upset with Figorski for wanting to do it, Key left the room instead of witnessing the mock breach.
Figorski put on his fatigues, psyched himself up and stormed into the classroom. "Shut up, get on the fucking floor!" he bellowed in people's faces. "Don't move!" He held his hands as if pointing a rifle at them, moving through the classroom, terrifying some of the activists to the point of tears.
It was around then, he recalls, that he made another trip up to Twin Lake. He decided to "write about the shit that was keeping me awake." He wrote about the little girl who broke his will to fight, how abandoned he felt by the people who sent him to war. Then he wrote about things he did in Iraq he can't bring himself to say out loud. He wedged the sheaf of papers between some rocks. Since then, he says, his sleep has improved. But still, those memories "never leave, they never go away."
BURIED PAST
On June 10, 2009, veteran activist Aaron Davis e-mailed other activists. "Just got a call from [Rocky Anderson] wanting $1,000 sponsor fee and wants us to show up in force." He was referring to former Salt Lake City Mayor Anderson's plan to stage a rally against torture on June 25 through his organization, High Roads for Human Rights. Figorski was furious. He´d heard of getting paid to speak, but having to pay to speak? Could peace really have a price tag?
Anderson says that Davis' e-mail is a "mischaracterization" of the sponsor fee. While they were looking for co-sponsors, the most they received was $500. "Nobody told anybody they had to pay $1,000 to speak," Anderson says. And the speaking slots "were not for sale."
In a June 16 e-mail to other antiwar activists, Figorski wrote, "I'm kind of fucking sick and tired of other movements requesting our presence, then putting our necessity on the back burner or not even on the stove."
Nevertheless, he believed several peace activists were negotiating with High Road for a speaking slot for Veterans for Peace. He volunteered to give a speech, and he attended the rally of about 200 people. But when Figorski got there, his name wasn't on the line-up.
Bitter and confused, the Saturday after High Road's rally he hiked the serpentine path through the wafts of peppermint and sage to the glimmering dark-blue waters of Twin Lake.
The lake shone brighter than he'd ever seen it. Figorski reflected on his successes as an activist, such as the waiter who told him he had decided against joining the Army after hearing Figorski and others speak. It was a victory, Figorski says. "One to us, millions more to go."
Then he thought about Anderson, how much he admired him and supported his causes. And yet every time he and other vets tried to get Anderson to attend a rally, he was busy.
When Figorski came down the mountain, he had changed. He would put the people he loved first. He would go to school to be a social worker and work steadfastly on behalf of veterans. No more screaming until his vocal cords gave out. He would pace himself.
THE WEREWOLF OF SALT LAKE CITY
Figorski signed up for open-mic night at Wiseguys in Trolley Square on the first Wednesday in August 2009. During the weekly event, aspiring comedians have three minutes to make their peers laugh.
Figorski came on at 10 p.m., two hours into the program. He did an improvised skit about how peace activists struggle to raise money. It included a mimed blowjob by an activist to earn a few dollars. But when he did prepared material about his search for work as a veteran, his voice and confidence faltered.
Wiseguys' Rodney Norman, who hosts Trolley Square´s open mic, says political humor is "a hard row to hoe. Audiences tune you out." Especially, he adds, in a town like Salt Lake City, where liberals and conservatives are typically entrenched in their positions, leaving little, if any, middle ground.
Undaunted, Figorski returned a week later. The first time might have been a train wreck, he thought, but the second time he'd work out his jitters. He launched into a curious take on sexual repression in Utah by exploring his reaction to an American Apparel poster in a changing room. The image of a woman teasingly pulling down her underwear, he told the audience, made him want to rape, then, werewolf-like, tear the woman in half. In an almost surreal shift, he then impersonated Utah Republican Sen. Orrin Hatch.
Wiseguy's Norman found the juxtaposition of rape and Figorski's progressive politics "weird." Like many beginner comics, Figorski gave "more musings and observations than actual jokes," he says. Comedy, he adds, is like magic, it's about the art of misdirection. But if Figorski stuck with it, Norman says, he could do well. "He looks like someone who'd be your buddy, someone you'd go out with for a beer."
On August 26, Figorski tried again. When it came his turn, he admitted he'd had a few drinks. Jokingly, he described himself as a "rage-aholic mongoloid." Why then, he ranted, did his doctors treat his brain injuries with speed? "This is group therapy," he concluded, before leaving the stage.
The comic who followed Figorski noted it was the first time he'd seen "someone turn 'roid-rage into stand-up comedy."
Figorski took a different tack on Sept. 2, imitating the voice of a vaudeville announcer to comment on current events. "It was a vast improvement," Norman says. "He just did jokes."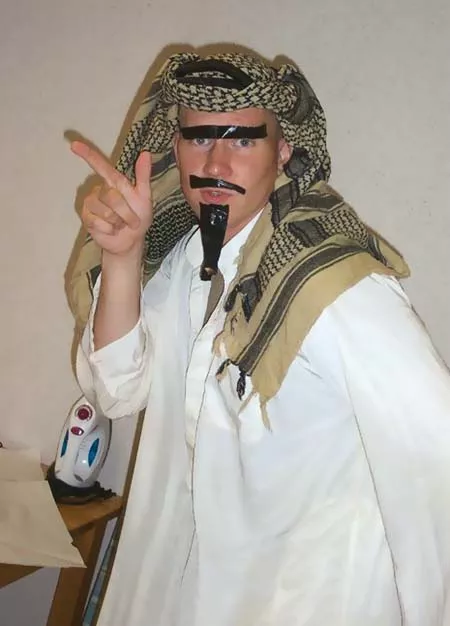 GIVE PEACE A CHANCE
Activist Larry Chadwick likens Figorski to an intensely burning light. Indeed, at times, it seems as if Figorski is flailing in different directions, consumed by a ferocious need to end the war, yet unable to find a path to do so. When he needs what he calls "internal fuel," he takes homemade cheese and bologna sandwiches to the homeless, veterans or not.
One Monday evening, he found a veteran named Jimmy standing on the corner of 300 West and 1300 South, holding a cardboard sign asking for help. Jimmy took a few sandwiches. The VA gives him $300 a month, he says, but it's not enough to live on. Jimmy adds he's quit drugs, before tearing hungrily into one of the sandwiches. "You're doing it, man," Figorski encourages him. He deals with people like Jimmy every day at the VA. "It's not that they get lost in the cracks. It's that they don't want to be found."
That evening, he recognized a VA patient nodding off in a wheelchair around the corner from The Road Home.
"You've got to be fucking kidding me," Figorski said under his breath. He gave sandwiches to the toothless, middle-age man whose dog tags hang outside his dirty shirt.
"10-4," the veteran said in gratitude, tucking the sandwiches down the sides of his wheelchair.
Such veterans, Figorski says, drive him to take his message to politicians, in particular Hatch. Figorski called Hatch´s office three times to provide the senator a veteran´s perspective on what is failing with the Iraq War, and its human cost. But Hatch never called him back, so Figorski decided to go to his office in the Utah State Capitol building.
The problem is that Hatch does not have an office in the state Capitol. Still, Figorski went with fliers listing the numbers of the American soldiers who have died in Iraq and Afghanistan, and slid them under the doors of state officials. He also followed a tour group on to the state Senate floor and left fliers on the chairs of some senators—a violation of a legislative rule that requires materials to be approved by the respective offices. As he left, several security guards ran through the hall, clutching his fliers as if they were left by a terrorist.
"Peace, the greatest threat," Figorski mused as he strolled away. "Who would have thought?"
Watch Andy Figorski perform stand-up comedy: