Page 3 of 3
THE WEREWOLF OF SALT LAKE CITY
Figorski signed up for open-mic night at Wiseguys in Trolley Square on the first Wednesday in August 2009. During the weekly event, aspiring comedians have three minutes to make their peers laugh.
Figorski came on at 10 p.m., two hours into the program. He did an improvised skit about how peace activists struggle to raise money. It included a mimed blowjob by an activist to earn a few dollars. But when he did prepared material about his search for work as a veteran, his voice and confidence faltered.
Wiseguys' Rodney Norman, who hosts Trolley Square´s open mic, says political humor is "a hard row to hoe. Audiences tune you out." Especially, he adds, in a town like Salt Lake City, where liberals and conservatives are typically entrenched in their positions, leaving little, if any, middle ground.
Undaunted, Figorski returned a week later. The first time might have been a train wreck, he thought, but the second time he'd work out his jitters. He launched into a curious take on sexual repression in Utah by exploring his reaction to an American Apparel poster in a changing room. The image of a woman teasingly pulling down her underwear, he told the audience, made him want to rape, then, werewolf-like, tear the woman in half. In an almost surreal shift, he then impersonated Utah Republican Sen. Orrin Hatch.
Wiseguy's Norman found the juxtaposition of rape and Figorski's progressive politics "weird." Like many beginner comics, Figorski gave "more musings and observations than actual jokes," he says. Comedy, he adds, is like magic, it's about the art of misdirection. But if Figorski stuck with it, Norman says, he could do well. "He looks like someone who'd be your buddy, someone you'd go out with for a beer."
On August 26, Figorski tried again. When it came his turn, he admitted he'd had a few drinks. Jokingly, he described himself as a "rage-aholic mongoloid." Why then, he ranted, did his doctors treat his brain injuries with speed? "This is group therapy," he concluded, before leaving the stage.
The comic who followed Figorski noted it was the first time he'd seen "someone turn 'roid-rage into stand-up comedy."
Figorski took a different tack on Sept. 2, imitating the voice of a vaudeville announcer to comment on current events. "It was a vast improvement," Norman says. "He just did jokes."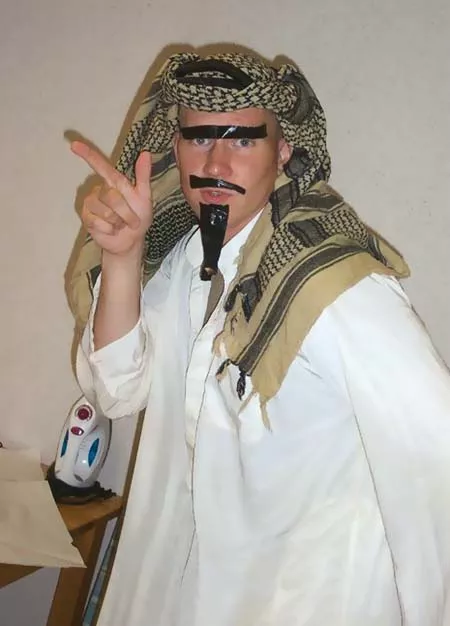 GIVE PEACE A CHANCE
Activist Larry Chadwick likens Figorski to an intensely burning light. Indeed, at times, it seems as if Figorski is flailing in different directions, consumed by a ferocious need to end the war, yet unable to find a path to do so. When he needs what he calls "internal fuel," he takes homemade cheese and bologna sandwiches to the homeless, veterans or not.
One Monday evening, he found a veteran named Jimmy standing on the corner of 300 West and 1300 South, holding a cardboard sign asking for help. Jimmy took a few sandwiches. The VA gives him $300 a month, he says, but it's not enough to live on. Jimmy adds he's quit drugs, before tearing hungrily into one of the sandwiches. "You're doing it, man," Figorski encourages him. He deals with people like Jimmy every day at the VA. "It's not that they get lost in the cracks. It's that they don't want to be found."
That evening, he recognized a VA patient nodding off in a wheelchair around the corner from The Road Home.
"You've got to be fucking kidding me," Figorski said under his breath. He gave sandwiches to the toothless, middle-age man whose dog tags hang outside his dirty shirt.
"10-4," the veteran said in gratitude, tucking the sandwiches down the sides of his wheelchair.
Such veterans, Figorski says, drive him to take his message to politicians, in particular Hatch. Figorski called Hatch´s office three times to provide the senator a veteran´s perspective on what is failing with the Iraq War, and its human cost. But Hatch never called him back, so Figorski decided to go to his office in the Utah State Capitol building.
The problem is that Hatch does not have an office in the state Capitol. Still, Figorski went with fliers listing the numbers of the American soldiers who have died in Iraq and Afghanistan, and slid them under the doors of state officials. He also followed a tour group on to the state Senate floor and left fliers on the chairs of some senators—a violation of a legislative rule that requires materials to be approved by the respective offices. As he left, several security guards ran through the hall, clutching his fliers as if they were left by a terrorist.
"Peace, the greatest threat," Figorski mused as he strolled away. "Who would have thought?"
Watch Andy Figorski perform stand-up comedy: