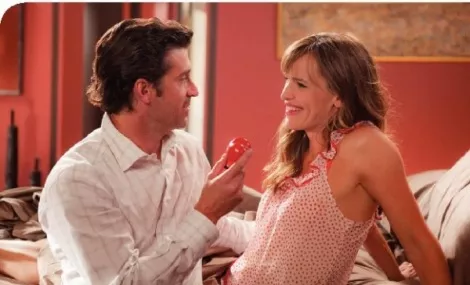 Just in time for its namesake holiday,
Valentine's Day
arrives to remind us of cinema's long history of successful omnibus romantic films that includes … um, includes … er, anyone?
I'm not suggesting that it's impossible to use the portmanteau narrative format to collect a bunch of love stories successfully; I'm simply saying that it has never been done. Love Actually in 2003 managed a few amusing and/or touching moments in its otherwise large bucket of treacle; Playing by Heart (1998) couldn't even achieve that level of sporadic tolerability. Going back to TV's goofy Love, American Style and The Love Boat, the romantic anthology format grates because of its inherent limitations. Give me 12 minutes of screen time, and I'll give you two people whose will-they-or-won't-they fate I won't have enough time to start caring about.
Ironically enough, Valentine's Day director Garry Marshall once said that Love, American Style was "where failed sitcom pilots went to die." And in Katherine Fugate's screenplay—which follows a handful of Los Angeles residents over the course of a single Valentine's Day—we get several such sitcom scenarios. How about the one with a retired couple (Hector Elizondo and Shirley MacLaine) caring for their precocious fifth-grade grandson (Bryce Robinson)? Or the transplant from the Midwest (Topher Grace), whose new girlfriend (Anne Hathaway) secretly moonlights as a fetish phone-sex operator? Or the neurotic publicist (Jessica Biel), whose relationship with chocolate and her treadmill has lasted longer than any boyfriend?
These subplots are all superficial to various degrees, but the extent of that superficiality is accentuated by the sheer tonnage of characters and their accompanying entanglements. So, even if you were interested in, say, what happens after florist Reed (Ashton Kutcher) proposes to his girlfriend (Jessica Alba), or whether Reed's best gal-pal Julia (Jennifer Garner) will discover that her new boyfriend (Patrick Dempsey) is actually married, or what the deal is between the businessman (Bradley Cooper) and on-leave soldier (Julia Roberts) who meet on a plane, there isn't nearly enough time spent on their stories for us to get to know them. Depending on how you parse the shifting narrative, Valentine's Day covers approximately 20 main characters and 10 significant romantic angles over the course of its 120 minutes. Do the math, and figure out what each subplot can possibly deliver besides a cutesy intro, perfunctory conflict, and happily-ever-after.
It's even more aggravating when those already minuscule stories are divided into microscopic chunks. Sure, it's a challenge integrating the aforementioned 20 characters and 10 subplots, but Marshall and editor Bruce Green don't even appear to be trying to give any of them an individual integrity. So, you'll get 20 to 30 seconds of two characters involved in an important, meaningful conversation … followed by a quick and irrelevant cutaway to a completely different story for another 20 to 30 seconds … followed by a return to the first two characters still in the middle of the exact same important, meaningful conversation. The only approach with even the slightest chance of providing any given subplot with some heft—sticking with it for, say, longer than a minute at a time—is abandoned, apparently out of concern that we might for get about the other 18 characters if we don't return to them in rapid succession.
Still, even if Valentine's Day were going to be shallow, the least it could have done is provide some laughs—and there are a handful, some of which are even intentional. But the comedy panders in the same way the romance does. It's a movie that treats the audience as though it's a wacky surprise when somebody expecting his or her paramour strips naked in a room and is embarrassed when somebody completely different arrives. If you're the sort of viewer who would be shocked and delighted by such a turn of events—and based on reactions at the screening I attended, there are plenty of them—then boy oh boy, this is the movie for you.
Indeed, the makers of Valentine's Day are so convinced there are thousands of those viewers out there that they've already begun planning a sequel, following a bunch of romantically-challenged people around on New Year's Eve. That streak for unsuccessful omnibus romantic comedy films appears in no danger of ending any time soon.

VALENTINE'S DAY

Ashton Kutcher Jennifer Garner Julia Roberts
Rated PG-13