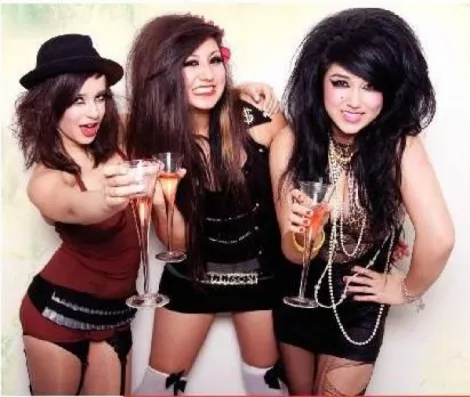 Since founding the
Warped Tour
in 1995, Kevin Lyman has been fielding criticisms aimed at every angle of the statejumping rock festival: Why has Warped become so big? Why is this subcultural-leaning event funded by corporations like AT&T and Kia? How could you let this band join the tour, or that one go? Why isn't there more punk? Why does Warped suck now? And so forth.
Lyman, 48, answers it all without the gaudy veneer of PR speak. He speaks pointedly and swiftly, but his responses are fair-minded and he doesn't dodge questions. He's also willing to address money, which is refreshing ("If we had no sponsors, kids would have had to pay $50 to come to that show"). No matter how the project evolves each summer, Lyman can provide some fatherly rationality.

Fifteen minutes after our conversation, I received a call from a friend who relayed news of allegations leveled at Millionaires (above right)—a tarted-up electronic pop trio who sing about cash, sex, and booze with the vocal delivery of playground taunts—that they had been caught lip-syncing (by one of the other bands, no less). The allegations provide ammo to Warped's detractors, as Millionaires have since remained on the circuit. As much of a fixture Lyman's goodwill provides, the hydra-headed tour increasingly shifts away from its original, no-frills form.

Originally started as the punk answer to expansive indie/alt-rock exposition Lollapalooza, Perry Farrell's tour soared, burned out, and was reborn while Warped has thrived all along.

"They [Lollapalooza organizers] were having a harder time trying to find those acts that could live up to the size of show that they were trying to do," Lyman says. "They got to this point where their audience was aging with the tour and all of a sudden, people don't want to go to festivals. Warped Tour is constantly feeding itself with young kids coming for the first time."

As the listening palette of said kids has changed over the decade-plus, Warped has kept up. (It could also be argued that Warped plays an influential role in shaping these tastes.) In dimly demarcated terms, the festival's spotlight has shifted from skate-punk and ska to pop-punk and altrock to emo to screamo to 2009's electronica/ screamo/crunk mutation. The sum contains some combination of all the aforementioned styles (plus hip-hop, hardcore, and country). Over the nine hours that Warped will run at the Fairpark this year, 60-something bands will perform.
For most young and new attendees, Warped is a spectacular scape of constant music, merch, madness and minors. If you like even a handful of the bands, it's a thrilling place to be: As the sets are so short (30 to 40 minutes this year), it's easy to catch a highlight reel of someone you might recognize just a single song from; the live equivalent to a sprawling compilation in which the showgoer can pick among hundreds of tracks. This approach also benefits performers whose reputations aren't yet cemented. "Back in '95, there were so many people trying to get that little bit of club money. This puts you in front of 13,000 people," says Lyman. "Right now, you see Dance Gavin Dance, arguably one of the smaller bands, but they got to play for almost a thousand people today. I don't know how many people would pay to see them in a club [if they came to a new market]. It's hard to develop artists and meet people. Warped gives you that opportunity."

On the flipside, the older guard—Bad Religion, Flogging Molly, NOFX, Bouncing Souls—caters to seasoned and punk-thirsty audiences but subliminally keeps the critics (many of them old Warped attendees) around. Cynics use these long-established names to cling to a glimmer of nostalgia and hope that if they bitch loud and long enough—the Tour keeps lip-syncers on, for God's sake!—that the focus will magically shrink in a return to the old days of small line-ups and feistier sounds.

But, it won't go back. Warped Tour has changed and will constantly be changing. For the detractors who can't let the past go, Lyman's response is blunt and succinct: "Don't come."

WARPED TOUR
Utah State Fairpark
155 N. 1000 West
Saturday, Aug. 8
11 a.m.
SmithsTix.com