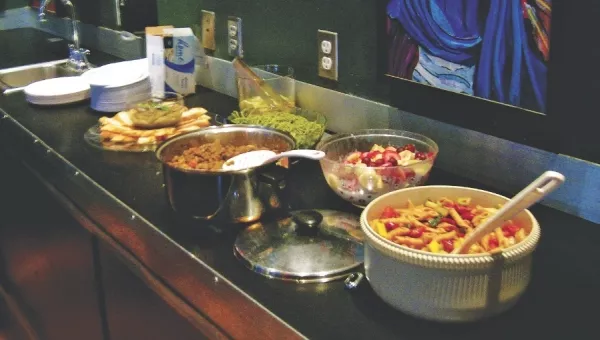 Cupcakes made with avocado instead of butter? Hemp handbags on every chair? It must be a vegan party.
Vegan Drinks is a monthly event where vegans and nonvegans alike can come and eat vegan food and enjoy specialty vegan drinks. Vegan Drinks events are now held in 41 cities around the world. Originally held at the now-defunct W Lounge, SLC Vegan Drinks is now held at Metro Bar on the first Friday of each month.
On Jan. 4, SLC Vegan Drinks will celebrate its four-year anniversary. In celebration, this month's Vegan Drinks will feature live performances from local artists and samples from vegan-friendly and vegan-owned businesses.
SLC Vegan Drinks is a friendly social and networking opportunity for people interested in a meet & greet with their vegan peers. Although the event is fairly small and most folks already know each other, people are friendly and will talk to a new face. When I last attended, a dog was even allowed to come inside, much to the delight of all the animal lovers in the room. The event also functions as an opportunity for learning more about veganism for those who are curious.
One of the best things about SLC Vegan Drinks is that it's also a potluck. Last time I attended, there were homemade cookies, bread and an excellent garbanzo-bean & jalapeño dip. The bar that hosts the event also creates specialty drinks for the evening. December's vegan drinks included a vegan "White Russian" made with coconut milk instead of cream, and a vegan "Bloody Mary" made without the clam or oyster juice.
A portion of proceeds from the specialty vegan drinks purchased at the party will benefit animals from the Ching Farm Rescue & Sanctuary, which is a no-kill farm that advocates for farm animals through rescue, education and adoption services.
SLC VEGAN DRINKS FOURTH-ANNIVERSARY PARTY
Metro Bar
540 W. 200 South
Friday, Jan. 4, 7-10 p.m.
Free
SLCVeganDrinks.weebly.com