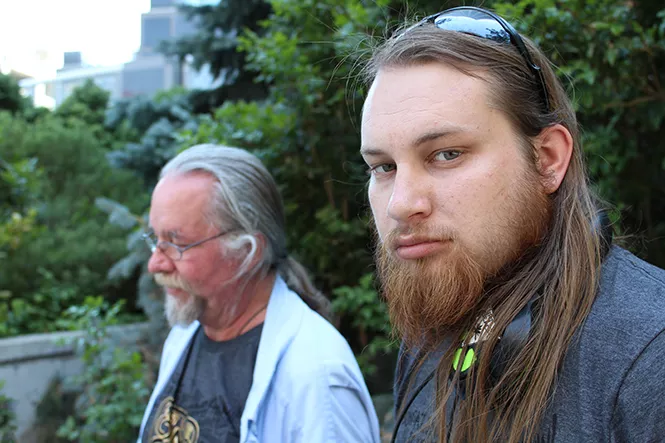 Enrique Limón
Kent Madsen, left, and husband Alec Higley found themselves in housing limbo while federal funds designated for veterans were frozen.
Kent Madsen and his husband, Alec Higley, were all set to have a home for the first time in two months. They'd found a place in South Salt Lake for $834 a month, utilities included—a price within the range local social services agency The Road Home could pay through the federal funding it receives for the Supportive Services for Veteran Families (SSVF) program. All Madsen and Higley had to do was wait for an inspection to ensure the place was up to snuff, sign the lease and pay $2,500 in fees for two months' rent and a deposit, an amount Madsen couldn't cover himself because his pension from Veterans Affairs wouldn't come through until the following week. Even if it came sooner, it wouldn't be enough to cover the full amount.
The past few months have been tough for the couple. They'd been sleeping on couches, relying on the goodwill of friends and family. They had to leave their previous home in West Valley City in June because they couldn't afford the rent after another couple they were sharing the place with moved out. Later that month, Madsen—a Vietnam-era veteran who got out of boot camp after the war ended—suffered a mini stroke, an affliction he suspects happened because of stress, being homeless and trying aimlessly to find a new place to live.
"I feel like I'm failing because I'm not taking care of my family—my husband and our baby girl, the little kitten," Madsen says, mentioning his cat, a therapy animal named Spawn. "I'm from a generation where you take care of your family."
Just before his scheduled move to South Salt Lake last week, Madsen says The Road Home told him the SSVF funds had been put on hold. Frustrated, pissed off and a little scared, Madsen and Higley tried to adjust to the fact they wouldn't be able to move into their new place. They'd remain homeless, it seemed, and the stress would continue indefinitely.
"Dammit, I served this country," Madsen says. "I was willing to die for my country, like all these other veterans."
According to a fact sheet from the Department of Veterans Affairs, the SSVF program provides services for very low-income veteran families, promoting housing stability by issuing grants to local nonprofits and consumer cooperatives that help eligible people with case management, housing counseling, child care and transportation services. Agencies that receive the federal grants also might provide "time-limited payments to third parties" like landlords and utility companies.
Two organizations in Utah received SSVF money from the feds for the 2018 fiscal year—The Road Home, which serves veterans in Salt Lake County, and the Homeless Veterans Fellowship, for vets in the state's 28 other counties.
Because Madsen and Higley were trying to secure a home in South Salt Lake, they sought SSVF funding through The Road Home, which received more than $1 million in SSVF money this fiscal year. Matt Minkevitch, executive director at The Road Home, confirmed to City Weekly via email that the organization issued a temporary hold on the funds.
"We are working through some contract items and reconciling the funding left in the grant. We paused for a day or two to make sure we gave good oversight and direction to our team on how to proceed for the remainder of this grant cycle," Minkevitch wrote. "We are now moving forward as planned and expected. Once we determined that we had enough cash to support the current requests, we immediately reached out to the vets that were on a temporary hold and informed them that we had assistance available for them."
In his email, Minkevitch added that 90 percent of the money given to The Road Home's SSVF program is designated for the rapid re-housing of homeless veterans and their families, and 10 percent is allocated for homelessness prevention. In its 2018 fiscal year, The Road Home helped a total of 303 people—42 of whom were children—through its SSVF program, Minkevitch says.
Beyond Minkevitch's email, The Road Home did not respond to City Weekly's repeated requests for further comment.
Jeff Kane, executive director of the Ogden-based Homeless Veterans Fellowship, says it isn't unusual for an SSVF grantee to place a short-term hold on their programs' funding, due to the financial realities. "Nobody has unlimited funding," Kane says. "I wish it were easier; I wish we just had unlimited supplies."
The feds gave the Homeless Veterans Fellowship about $330,000 for the 2018 fiscal year, about a third of the money awarded to The Road Home. Kane says the Homeless Veterans Fellowship has to make difficult decisions when spending its SSVF money. "At some point you have to say this isn't a good investment right now," he says, meaning they have to gauge whether the vets will be able to use the short-term money to transition out of homelessness, but then be able to pay for their own housing. "If you know you're going to take the training wheels off, and you know they don't have a back wheel on the bike, they're gonna crash."
Tough choices aside, Kane says the SSVF program helps a lot of vets afford homes that would otherwise be financially unreachable due to the steep deposit fees landlords often impose because of bad credit history.
Under the impression the Trump Administration had put a hold on SSVF money, Madsen reached out to a handful of local and federal elected officials during his family's few days in limbo, while also trying to figure out where he, his husband and their cat would sleep. Madsen says he doesn't frequent shelters because he's worried the medication he takes for anxiety, depression, PTSD and his heart problems will be stolen. "Things disappear down there," he says.
Shortly after this interview, Madsen found out the funding was no longer frozen. He says The Road Home told him the hold was coming from the feds, not at the local level. If they had just told him it was a short-term freeze, Madsen says, it would saved him a lot of grief. "With my health issues, stress can be really damaging to me."
Confusion aside, Madsen and Higley are looking forward to having a stable living environment for the first time in months. "All I know is we got our place," Madsen says. "That's all that matters to me."