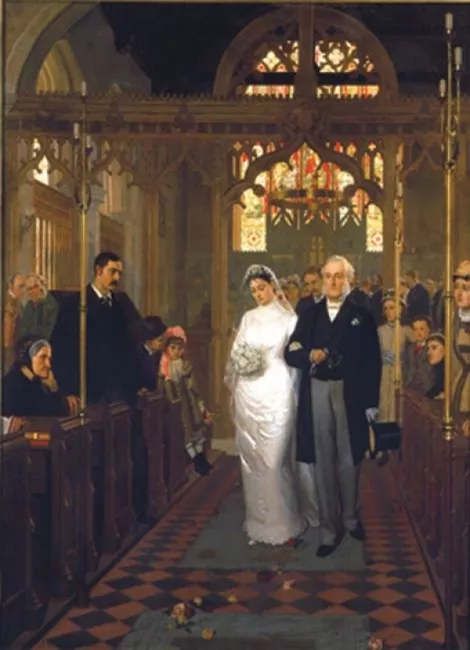 The John H. Shaeffer collection of 19thcentury Victorian and European Art, currently showcased at the Springville Museum of Art, features 37 paintings of different genres collectively and loosely designated "Victorian." The exhibition includes various types of art that are a product of that era: social realism, neo-gothic, romantic, pre-Raphaelite, genre and history paintings. But the core of the work signifies much more than aesthetics alone and is indicative of the radical industrial, social and ideological shifts occurring at the time. Viewers of this collection can experience a pastiche of the aesthetic styles and subjects from this period and reflect on its turbulent historical realities.
On display is work by Edward Burne-Jones who—like other artists featured—in a rapidly changing world, looked to the past with a sense of nostalgia and romance. Artists like Edmund Blair Leighton ("'Till Death Do Us Part" is pictured, top) painted realism, focusing on the social issues that effected contemporaneous English life. And, with an eye to the ideological, the exhibit shows works by artists like George Frederick Watts who painted religious and allegorical scenes.
The collection is a substantial and important art historical body, highlighting strong examples from the aesthetic and ideological currents characteristic of Victorian art. A visit to the show may be aesthetically and historically intriguing—and it may also be compelling to the viewer that this work is still relevant today.

Victorian and European Art Highlights @ Springville Museum of Art, 126 E. 400 South, Springville, 801-489-2727, through Feb. 28. Sma.Nebo.edu