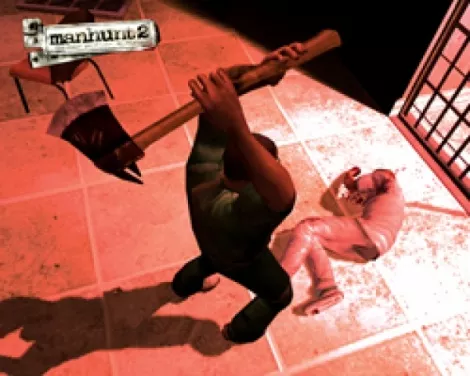 My protest against censorship goes back a long way—to a shopping mall in Steubenville, Ohio, not far from where I grew up. I was newly 18 and so glad I could buy the music and movies that I wanted to.
Enter a fresh-faced lad of about 15 or so who pulled me aside and quietly whispered, "Will you buy this for me?" I look down at his sweaty hand to see an NWA cassette tape wrapped in a $10 bill. "Absolutely," I said as I marched to the register, plunked down the money and promptly turned to the youth to hand him his purchase. "Outside," he whispered, as if I had just bought crack from a nightclub bouncer.
Now I find myself in the role of that kid—except I can't slip anyone a $10 bill to solve my problem.
One of the most anticipated videogames of the year—Rockstar Games' Manhunt 2—has been banned from nearly all of civilization because of its apparently extreme violence and brutality. This is not "censorship" in the same way the music industry was hit back in the 1980s. It's worse.
There are no laws banning graphic, adult content from games. The pressure not to release or sell certain games is just that: pressure. And the pressure from groups and individuals who believe content should meet certain "community standards" has grown exponentially in the game industry for the past several years. Sometimes, we dictate morality through laws, and, sometimes, it's just through good, old-fashioned thumb twisting.
For example, conservative Christian activist/attorney Jack Thompson has sued Rockstar to try and halt several of its games in the past, including Manhunt 2. Congress has held several hearings in recent years on game violence; one was even held about two years ago on the game Bully, and the title hadn't even been released or played by anyone. Correct me if I'm wrong, but in this country, we only conduct pre-emptive strikes on Middle Eastern oil-producing nations.
As of this writing, Manhunt 2 has been banned in several countries—including England and Ireland—and given a de facto ban here at home. The ESRB, which rates video games, went beyond its normal M rating (no one under 17 can purchase) and slapped it with the rarely used AO (Adults Only) rating. That, in turn, forces Sony and Nintendo to enforce its policies that no game with an AO rating be released on their platforms.
Where does that leave us, fellow adult gamer? Stuck smack in the middle of Steubenville, Ohio—that's where. Rockstar pushed off the release date from July 10 until at least October while it figures out what to do. They can modify it and hope to get an M rating, or they can release copies in Jakarta and Turkmenistan and hope that it somehow filters out to the masses.
Even if a kinder, less edgy version of the game is released, a precedent has been set. We no longer have to worry about unbridled censorship "one day" hitting the video game industry, because it's here. The first two causalities of this war have already been suffered: cases of unreleased video games sitting in a warehouse, and your right as the citizen of a free country to play them.
InBrief
NCAA Football 08
There's not much to say about a game that seems to get more entertaining every year, despite the fact that game play doesn't appear to differ much from the marked improvement of the 06 version. Look for fun changes in the "dynasty" mode, such as the ability to invite recruits to the school during the current season for visits and legal inducements—like choice of jersey number and amount of playing time—to entice them to come and play. Look for "booster mode" next season when some fat-cat alum promises players cars, cash and hookers. (EA Sports, PS2, Xbox, Xbox 360, PS3 Rated E, $39.95-$59.99)
cw