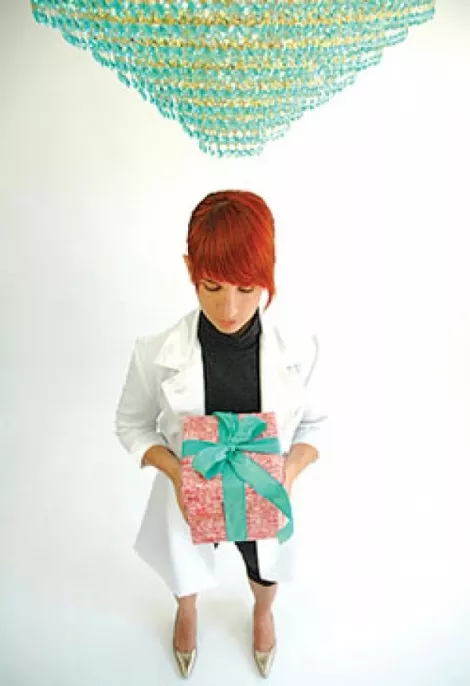 With some of the exhibits and performances in the area recently [see "Sound Ideas," Aug. 23,
City Weekly
], local art seems to be undergoing some uncanny transformations. If you didn't know better, you might think you were viewing the brainstorms of mad scientists rather than pipe dreams of stereotypically sensitive, soul-baring artistes. Amy Caron's
Waves of Mu
exhibit moves in that direction even further yet, in its own way, is a work of dramatic self-expression.
Caron—a world-class athlete who relocated to Utah from Vermont in 1993 to add the U.S. Freestyle Ski Team to her repertoire of ice skating, gymnastics and ballet—several years ago became interested in mirror neurons. Mirror what-ons? Neurons are cells in the brain that conduct electrical impulses—but mirror neurons, only discovered in the last two decades, fire both when an animal acts and when it observes that same behavior in others.
The implications on the social sciences are such that neurologist Vilayanur S. "Rama" Ramachandran predicted that the recently discovered system of neurons "will do for psychology what DNA did for biology." The work is expected to have an impact on everything from creativity and social intelligence to maladies like autism and Asperger syndrome.
Caron's interest in mirror neurons developed when she met the associate producer for Performance Space 122 in New York, and he told her about a project commissioning artists to work with professionals outside of the field of art. "Since I was interested in neurology, I got busy dreaming up a proposal for P.S. 122," she recalls. "I began to research Ramachandran because I had seen him on a BBC documentary, and I thought he seemed like a cool cat."
Her studies took her to the University of California-San Diego twice to confer with Ramachandran and researcher Lindsay Oberman, and to Italy to meet with codiscoverer Vittorio Gallese. After a year of study, she says, "I'm not done cramming info into my head yet," but the fruits can already be seen in her art, on which all three consulted.
Named after the electromagnetic oscillations—mu waves—that reflect mirror neuron activity in the brain,
Waves of Mu
is a mix of visual and performance art designed to stimulate public interest in modern neuroscience by providing an experiential understanding of the mirror-neuron system. Perhaps fittingly, the piece is evolving like scientists say human intelligence does. Many of the performance and film portions will be workshopped in private showings during the month [also at the Sept. 21 gallery stroll from 6-9 p.m.], and the work is set to premiere at P.S. 122 next February. "I'm not done creating it yet," she explains. "The exhibition on the 21st is a work in progress.
"I'm not going to give away all the details just yet," she adds. "Some performers function as parts of brain anatomy in the 'brain room,' while others help illustrate social situations. The films are used to conjure up various emotions. The audience plays a role in the work as well."
All art stimulates neurons by its very nature, but Caron's work tries to lay the mental process bare for examination, like the slow-motion videos of Bill Viola. She calls her work "nontraditional in every way," but it also represents a growing wave of art works that grapple with the realm of science.
Why present such heady information in this medium? "Art is the perfect conduit for bridging the gap between the science lab and the general public," she maintains. Everyone has a brain; what could be more personal? "I don't think I have to dumb down the information, either. I am just presenting it in a way that is more engaging than a scientific paper."
In addition to intellectual curiosity, it's also been an artistic passion for her: "Brain talk is a constant in my life. Ask my friends—they're all sick to death of it!" she laughs. "Basically I'm obsessed, but I'm an artist, so it kind of goes with the territory."
AMY CARON: WAVES OF MU @ The Women's Art Center, 345 Pierpont Ave. Sept. 21-Oct. 15. 577-8367, WomensArtCenter.org
cw