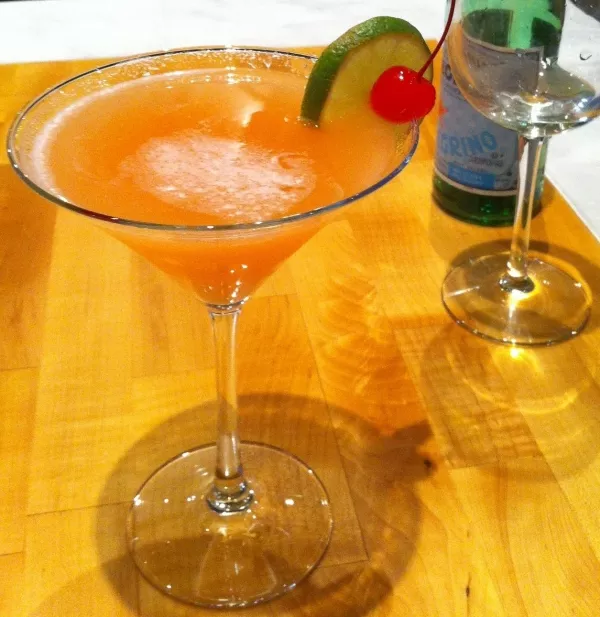 One of the essential components of a quality dining experience—for me, at least—is a well-rounded beverage selection and wine list. That doesn't mean that every restaurant need have a NYC-phonebook-size list, nor a wine cellar the square footage of an Ikea store. Many of my favorite restaurants have small but well-chosen and eclectic wine lists to accompany their beer and cocktail menus. Such is the case with Vivace (308 W. Broadway, 801-328-3466, DineVivace.com), which is a model of what an interesting, well-rounded beverage selection looks like.
For starters, Vivace offers an interesting array of sodas, if you're not looking for something alcoholic. There are imported sodas from San Pellegrino, along with Snake River Sarsaparilla from Jackson Hole Soda, sparkling fruit juices from Izze (ginger, peach, blueberry and birch), and low-cal Dry sodas in lavender and cucumber flavors.
From the beer side of the cooler, you'll find local breweries like Epic, Squatters and Wasatch represented, as well as Moose Drool Nut Brown Ale from California, Italy's Moretti and Peroni beers, Stiegl Lager from Austria and Belgian Stella Artois.
A decent selection of beverages doesn't mean much if you don't have servers who are knowledgeable about them. But, I have to say I was impressed during my Vivace visits by the depth of drink knowledge our servers exhibited. In particular, a fellow named Nick (who served us on two visits) is a server/bartender who really knows his stuff, from cocktails and cordials to beer and wine. For an after-dinner cocktail one night, we asked Nick to "surprise us," and he concocted an out-of-this-world custom cocktail that involved Limoncello and Häagen-Dazs in a sugar-rimmed martini glass. OMG, that was incredible!
Other tempting cocktails include Giardino Friuli, which is made of fresh cardamom muddled with gin and lemon juice, topped with sparkling Prosecco and a splash of rose water. I love basil, but never had it in a cocktail before. At Vivace, there is the Caprese martini: basil-infused vodka with a splash of balsamic simple syrup and garnished with a cherry tomato—a unique, Italian spin on the martini, for sure.
The wine list at Vivace consists solely of Italian wines. And, to give credit where credit is due, I see the influence of a very talented and knowledgeable wine broker on the list: Marco Stevanoni, the Utah-based U.S. brand manager for Testamatta di Bibi Graetz. During lunch with a pal, we enjoyed Bibi Graetz Casamatta Rosso IGT with a couple of pizzas and grilled chicken paillards. It's a very versatile red wine, made from 100 percent Sangiovese—silky and elegant. An equally gorgeous white wine on the list is Ceretto Biange Langhe Arneis.
For years, I have wrestled with the conundrum of what to drink with spaghetti Carbonara. It's a challenge because there are meaty and fatty flavors from bacon, guanciale or pancetta, along with the creamy, rich texture and flavors of egg, all mixed in with some saltiness from Parmigiano-Reggiano. Well, I finally found the perfect match! The spaghetti Carbonara at Vivace is, quite simply, the best I've ever eaten. But it was made even better with a glass of Lambrusco frizzante (fizzy) alongside. The slight sweetness and fizz of the Lambrusco helped cut through the fat of the Carbonara sauce beautifully. Who knew?
Post-meal beverage options include dessert wines like Maculan Torcolato (which is rich and balanced like Sauternes) and Marenco Pineto Brachetto d'Acqui. You could also opt for one of the Grappa choices, like the complex and fruity Nardini Bianca. Or, just have Nick whip you up something unique and delicious from the bar.