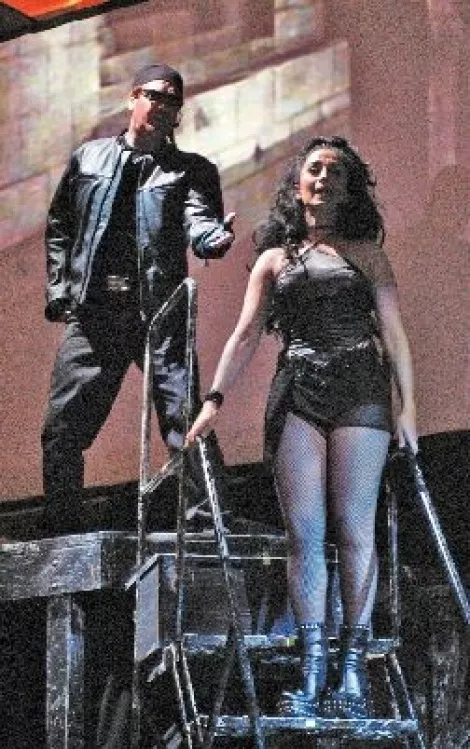 As far as blank canvases go, silent films are up there among the best. Filled with iconic blackand-white images, classic silent films such as Metropolis and The Hunchback of Notre Dame leave so much room for creative play and interpretation that composer, songwriter and producer Kevin Saunders Hayes couldn't help but mess with the respected yet long-dead form.
Out of such creative inspiration was born the award-winning theatrical phenomenon known as Vox Lumiere—"rock concert meets silent film." Each production by this five-time Grammy-nominated company creates an oddly captivating space where vintage silent film, the atmosphere of a rock concert and the production values of Broadway theater coalesce into a spectacle that would seem like a perfect fit alongside the likes of Cirque du Soleil, Stomp! or Blue Man Group.
This time around, after the screaming success of the Hunchback, Hayes has turned his eye toward re-imagining the 1925 Lon Chaney Sr. classic The Phantom of the Opera. Surely nearly everybody by now, thanks to what Andrew Lloyd Weber did with the story, is familiar with the tale about the masked composer living in the bowels of the Paris Opera House. This production, however, uses those haunting silent images from the film—especially Chaney's still-riveting unmasking scene—in a way that, when combined with the raw power of a live rock opera, delves far deeper into the literary depths of the fable than just lusty romance with a disfigured twist.
Vox Lumiere: Phantom of the Opera @ Kingsbury Hall, 1395 E. Presidents Circle, University of Utah, 801-581-7100, Oct. 8, 7:30 p.m., $34.50. KingTix.com