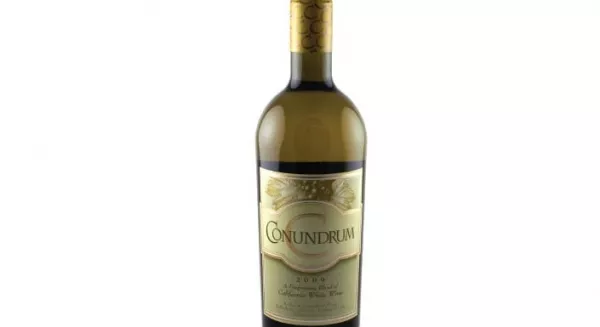 For five generations, since the 1800s, the Wagner wine family has lived in Napa Valley, although Caymus Vineyards—the wines the Wagners are best known for—wouldn't be established until 1972. Caymus was founded by Charlie and Lorna Wagner and their son, Chuck, who is the current and longtime head winemaker and viticulturist for Caymus.
Caymus' reputation is built on two Cabernets: Napa Valley and Special Select. Recently, I was able to huddle with some folks from Caymus Vineyards and taste these, along with some other Wagner wines, at the Goldener Hirsch in Deer Valley, all paired with Executive Chef Michael Showers' excellent cuisine.
In addition to Caymus, the Wagner Family of Wine portfolio includes Conundrum, Mer Soleil, Belle Glos and Meiomi. Some of these wines I've sampled before, and some I tasted for the first time at the Goldener Hirsch. All of them were excellent; the Wagner name is synonymous with quality in the world of wine.
For many years, Conundrum ($19.99) has been a go-to wine for me. I love it alone as an aperitif, paired with Asian dishes, and even as a dessert substitute. It's just sweet enough to make for a pleasant and light after-dinner sipper. Conundrum is a nontraditional white-wine blend made of Chardonnay, Sauvignon Blanc, Muscat Canelli, Semillon and Viognier. With that varietal mix, you can expect beautiful floral aromas teamed with flavors that are elegant and exotic. I simply love this wine, and the current 2010 vintage is one of the best in years.
It was interesting to taste 2009 Mer Soleil Gold ($27.99) and 2010 Mer Soleil Silver ($22.99) side by side, with Shower's wonderful dish of sweet Maine clams with black tajarin pasta and uni butter. Essentially, these two wines are the same: 100 percent Monterey County Chardonnay. However, Mer Soleil Gold is aged in oak, while Mer Soleil Silver is unoaked, aged in cement vats imported from France. (Just imagine the shipping costs for those vats!) Not surprisingly, Mer Soleil Gold is big and buttery, with tasty tropical flavors, having undergone malolactic fermentation in oak barrels. Mer Soleil Silver actually comes in a silver bottle that looks like cement—very unusual. Since it sees no oak, the Chardonnay fruit flavors really shine through in this wine, and there is noticeably more acidity and minerality. I really like both of these wines, and each has a proper place at your table.
The Wagners make gorgeous Pinot Noir, too. One of my favorites is the economically priced Meiomi ($19.99). It's an incredible Pinot for the price. For a little more coin, you can get into 2010 Belle Glos Clark & Telephone and 2010 Belle Glos Los Alturas (both $34.99). It was fun to taste these side by side, also. Grapes for Clark & Telephone come from the Santa Maria Valley and produce a spicy, fruit-forward Pinot, very bright with hints of allspice and cumin. The Los Alturas, which I really loved, is more voluptuous—a tongue-coating Pinot with tons of body and luscious blackberry flavors, along with hints of smoky bacon.
Since the 1973 vintage, Caymus has been known for its superb California Cabernet. Caymus Napa Cabernet 2009 ($69.99) was terrific with Showers' Mishima Farms Wagyu beef, but Caymus Special Selection 2009 ($109.99), as you'd expect, was even better. 2009 is a great vintage with highly extracted fruit that produced a dark, intense, slightly tart (at this point) Cab with some chocolate, pepper and smoke flavors. As a special treat, I was also able to taste the 2007 Special Selection vintage from a 3000mL bottle ($616.99). Thankfully, I've run out of space here, because my description was about to get very erotic!