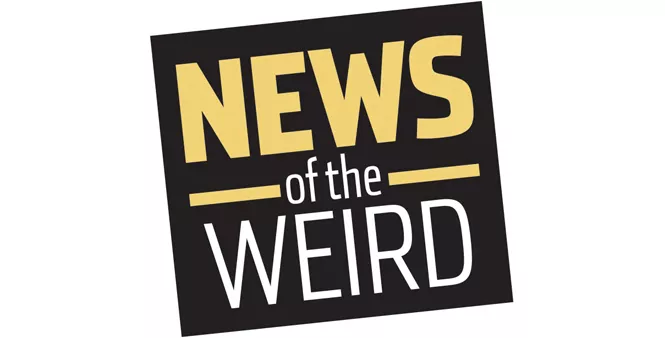 Wait, What?
In Dorking, England, Chris Hepworth and his partner, Tanisha Prince, both of London, dove across the finish line in one minute and 37 seconds, setting a course record and capturing the coveted U.K. Wife Carrying championship on April 8. Any adult couple can compete in the contest—married or not and regardless of gender—which consists of one team member carrying the other, most using the "Estonian carry," with the "wife" upside-down, her legs over her partner's shoulders and gripping him around the waist from behind. About 40 pairs competed over the quarter-mile course strewn with hay bales and mud, Reuters reported. Hepworth and Prince plan to move on to the world finals in Finland. "I think a Finnish guy wins it every year," Hepworth noted, "so it'll be good to go there and take them down."
What's in a Name?
In Ohio in 2004, 6-year-old Alex Malarkey spent two months in a coma after a car accident, awaking as a quadriplegic and telling his family he had visited heaven, seeing angels and meeting Jesus. Alex and his dad, Kevin Malarkey, co-wrote a best-selling book in 2010, "The Boy Who Came Back From Heaven," but in 2015, Alex admitted he had made up the story to get attention. "I did not die. I did not go to heaven," Alex told The Guardian. In a recent effort to set the record straight, Alex filed a complaint April 9 in DuPage County, Ill., against the book's publisher, Tyndale House, alleging that "any reasonable person would have realized that it was highly unlikely that the content of the book was true." The Washington Post reported that while Kevin Malarkey is not a party to the suit—which cites several Illinois statutes regarding the right to privacy, defamation and financial exploitation of a person with a disability, among others—it does allege that Alex's dad concocted and sold the story to Tyndale. The younger Malarkey did not receive any royalties from the sales of the book.
The Continuing Crisis
Richland Carrousel Park in Mansfield, Ohio, a family-oriented destination, just wanted to provide a seasonal attraction for kids who wanted to pose for a picture with the Easter Bunny. But Ladonna Hughett, 54, had other things in mind on March 24 when she plopped into the bunny's lap, grabbed him in inappropriate ways and made lewd comments, reported Fox 8 Cleveland. She then moved on to ride a horse on the carousel, also in ways witnesses described as lewd. "As soon as you think you hear all," said Mansfield Assistant Police Chief Keith Porch, "I've never heard of somebody performing those types of acts on the Easter Bunny." Hughett was arrested for public drunkenness and is no longer welcome at the amusement park.
The Hypnotic Power of Special Sauce
McDonald's drive-thrus are a chill place to be, if three recent events are any indication. On March 17, police officers called to a McDonald's restaurant in Okeechobee, Fla., found Derril James Geller of West Palm Beach had passed out in his car while waiting in line. Geller was arrested for driving on a suspended license (a crime for which he had been charged three previous times). But that's just the tip of the ice cream cone: The Okeechobee News reported that in January, an Okeechobee woman was charged with DUI after passing out at a different area McDonald's drive-thru, and in December, a Texas man also received a DUI for nodding off in the line at that same McDonald's.
Ewwwww!
Workers renovating the old Dayton's department store in downtown Minneapolis came across an unusual find in early April: the mummified remains of a monkey. The store apparently had a pet department in the 1960s, and The Minneapolis/St. Paul Business Journal reported that Steven Laboe, who worked in the building in the early 2000s, heard stories of a monkey escaping into an air conditioning duct, where it might have met its fate in the form of an exhaust fan. In fact, the mummy does show an injury to the abdomen. "We continue to find pieces of history in the Dayton's project as we redevelop the building," Cailin Rogers, a spokeswoman for the redevelopment team, told the Minneapolis Star-Tribune.
• At Bull City Burger and Brewery in Durham, N.C., April is Exotic Meat Month! This year, according to WTVD, the restaurant offered a tarantula challenge. Customers were invited to enter their name in a raffle, and if chosen could claim a $30 tarantula burger, which included a pasture-raised beef patty, gruyere cheese, spicy chili sauce—and an oven-roasted zebra tarantula. Those who finished the burger received a commemorative "tarantula challenge" T-shirt.
Do Not Eat
1. An unnamed Chinese man "accidentally" swallowed a plastic and metal lighter 20 years ago. 2. He neglected to seek medical attention until recently, when he began experiencing stomach pains and other symptoms we'd rather not detail here. 3. In early April, using a camera inserted in the man's body to locate the lighter, doctors at Dujiangyan Medical Center in Chengdu City, Sichuan Province, performed not one, but two surgeries to extract the item. The Global Times reported that the lighter had been severely corroded by gastric juices.
My Weird Obsession
You might have read that the company that makes Necco Wafers announced in March that it would have to shut down in May unless a buyer was found. Since then, crazed Necco fans have been stockpiling candy. "Necco Wafers are up 150 percent," candystore.com reported in a blog post. "A clear signal of panic-buying." Katie Samuels, 23, of Florida tried to strike a deal with candystore.com, a wholesaler. "I offered to trade my 2003 Honda Accord for all of their stock," Samuels told the Boston Globe. "I don't have much right now, so I was like, 'I've got this car, and I want all that candy,' so maybe they would consider it." Candystore didn't accept her offer, but Samuels did buy 48 rolls of candy using her credit card.
Oops
Officials in the city of Vordingborg, Denmark, planned the demolition of a 174-foot-tall silo months ahead of the event, but as onlookers cheered the explosion on April 6, the tower toppled in the wrong direction, landing on a waterfront library and music school. No injuries were reported, according to The Guardian, and the library interior, while covered with dust, sustained no serious damage.
Picky, Picky
In Manchester, England, 75-year-old Peter Vipham of Rawtenstall, Lancashire, was shocked on April 11 when he was approached in the city center by two women who identified themselves as law enforcement. The officers told Vipham, a retired shoemaker, that he had been filmed littering when a small crumb of the pork pie he had been eating fell to the ground, and he flicked another crumb off his coat. Vipham offered to pick up the crumbs, but told Metro News he was not given the opportunity to view the video footage, and he refused to pay the fine. "If I had dropped litter I would pay the (50 pound) fine, but I would never drop litter. I am against litter 100 percent. I hate it," Vipham declared. A Manchester city council spokesperson said the city would review the evidence and contact Vipham to discuss his case.
Send tips to weirdnewstips@amuniversal.com