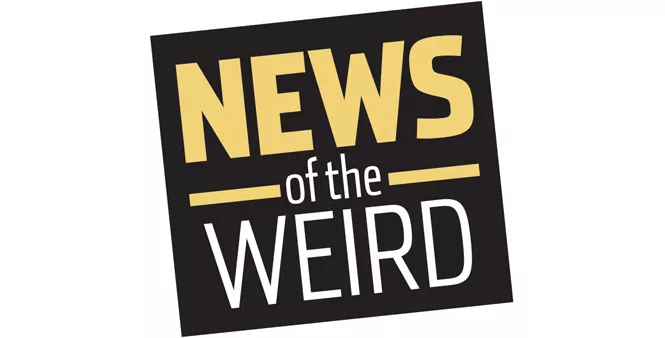 Want to Get Away?
Many citizens of the world are weary of the war and strife that seem to be consuming the news, and about 200,000 of them have already signed up to put it all in the rear-view mirror by becoming citizens of Asgardia. This coming-soon colony on the moon is led by Igor Ashurbeyli, a Russian engineer, computer scientist and businessman who was inaugurated as its leader on June 25 in Vienna. Asgardia's parliament plans to set up "space arks" with artificial gravity in the next 10 to 15 years, where its projected 150 million citizens can live permanently, Reuters reports, and Ashurbeyli hopes settlement on the moon will be complete within 25 years. Asgardia is named after Asgard, a "world in the sky" in Norse mythology. Its leaders hope to attract a population from among the "most creative" in humanity, perhaps using "IQ tests," according to Ashurbeyli. Best of all: For the time being, becoming a citizen online is free.
Ewwwwww!
Susan Allan of Kelowna, British Columbia, Canada, was driving with her son on May 9, enjoying the beautiful weather with the sunroof open, when they were suddenly hit with a cold material that smelled to them like feces mixed with chlorine. "Like a clean poop smell if that's possible," Allan told Vice. "My son threw up, and we had so much in our faces. Both of us, our faces were covered in poop." Apparently, poop is falling from the sky all over Canada; Transport Canada has received 18 such reports this year. But the government has not issued an explanation for the phenomenon. Allan thinks it is related to airplanes flying overhead and the Canadian government is covering it up. But Transport Canada pooh-poohed her theory and has declined to comment further.
Oh, Fudge
KCCI TV in Des Moines, Iowa, reported on June 27 the loss of a tractor-trailer load of chocolate when the truck caught fire near Dexter, Iowa. The trailer, full of chocolate from Hershey, Pa., was westbound when it experienced brake problems that caused it to ignite. The driver pulled off and was able to detach the trailer from the cab before it caught fire. No injuries were reported, except to the chocolate, which was a total loss.
Weird Science
Montgomery, Ala., resident Kayla Rahn, 30, had been trying for months to lose weight, but instead experienced dramatic weight gain and pain in her stomach. She became out of breath just taking a short walk. Finally, in May, Rahn's mother took her to the emergency room at Jackson Hospital, where doctors discovered a growth attached to her ovary and removed what turned out to be a 50-pound, benign cyst, reported WSFA 12 News. The cyst resembled a large watermelon in size. "This is one of the largest I have ever seen," Dr. Gregory Jones told reporters. "We are very excited things went well for her."
Litigious Society
In Norman's Bay, East Sussex, England, Nigel and Sheila Jacklin are studiously keeping their eyes down after being threatened with prosecution if they look at their neighbors' house—an adjoining property bought five years ago by Dr. Stephane Duckett and Norinne Betjemann. The Jacklins, 26-year residents of the beachfront community, had repeatedly complained to authorities about noisy builders, verbal abuse and light pollution as Duckett and Betjemann turned a former workshop into a weekend retreat. In June, The Sun reported that after police were called into the dispute, the Rother District Council sent the Jacklins a "community protection warning" that defines an "exclusion zone" around Duckett and Betjemann's home, forcing the Jacklins to take a roundabout route to the beach. Nigel Jacklin said: "We can't walk to and from the beach or through the village without fear of being prosecuted." The Jacklins plan to fight the order.
Weird Food
Minor league baseball teams come up with some wacky promotional ideas, and "Sugar Rush Night" at the Erie (Pennsylvania) SeaWolves game on June 23 didn't disappoint. WNEP TV noted that one highlight was the cotton candy hot dog: a wiener nestled in a cloud of cotton candy, then sprinkled with Nerds candies. Brave SeaWolves fans could top off the meal with a cotton candy ball: ice cream covered with sprinkles and enclosed in cotton candy. Maybe the sugar rush was too much for the players; they lost 5-3 to the Altoona (Pennsylvania) Curve.
Recurring Theme: Airport Nudity
Travelers aboard a Delta Air Lines flight that had just landed at Hartsfield-Jackson International Airport in Atlanta on June 26 were startled when a nearly naked man ran up to their plane and jumped onto a wing, then attempted to open an emergency exit. Jhyrin Jones, 19, had scaled a fence topped with razor wire to reach the runway; just minutes before, he had jumped on some parked cars at a nearby construction site and threatened to "kill y'all, I'm going to blow this place up, trust nobody, you better believe me," according to the Atlanta Journal-Constitution. A police report indicated Jones "appeared to be under the influence of narcotics." He was charged with criminal trespass and public indecency, among other things.
Perspective
An 82-year-old Japanese man who has lived as a naked "hermit" on a deserted island near Taiwan since 1989 has been forced to return to Japan. Masafumi Nagasaki made his way to Sotobanari Island 29 years ago and told Reuters in 2012 that he wished to die there. "Finding a place to die is an important thing to do," Nagasaki said, "and I've decided here is the place for me." Earlier reports indicated that he at one time had a wife and two children, and he ran a hostess club in Niigata, Japan. "In civilization people treated me like an idiot and made me feel like one. On this island I don't feel like that," he said. Nagasaki explained that at first he wore clothes on the island, but a typhoon destroyed his belongings. Alvaro Cerezo, who documents the stories of island castaways, told News.com/au that in April, authorities removed Nagasaki from the island and placed him in government housing in Ishigaki, Japan, because he was ill and weak. "They took him back to civilization and that's it," Cerezo said. "They won't allow him to return."
Bright Idea
"ARE YOU BLIND IT 25 MPH" is Ron Ward's in-your-face (and grammatically lacking) attempt to slow down drivers along his street in Grand Rapids, Mich. Ward has been making signs for years, neighbor Patrick Schmidt told FOX 17 in June. Ward claims, "By the time (drivers) hit this here driveway, they're doing at least 50-55 miles an hour." He just wants people to follow the Richmond Street speed limit. "Slow down, the whole neighborhood's got kids," he said. The City of Grand Rapids, however, has no specific plans for speed monitoring on the street.
Wrong Place, Wrong Time
Early on June 26, a man who had been sleeping on the South Miami Avenue bridge over the Miami River got a rude awakening as the drawbridge started to raise to allow a boat to pass underneath. Witness Khadijah Andrews had seen the man as she was walking to an early yoga class, she told WSVN TV, and she looked for him when the bridge began rising. Fortunately, he woke up after sliding down a ways and was able to hold on until the bridge was lowered. Andrews said the unnamed man walked away with no apparent injuries: "You think you're about to watch a man lose his life. It's just terrifying. I never want to see that again."
• In Devon, England, on June 30, a couple who had just exchanged vows at the Furrough Cross Church gathered their wedding party at Tessier Gardens next door to take pictures. But a sunbathing woman who was squarely in the frame of the wedding photos refused to move from her towel. So the party just posed around her. The groom's son approached the woman and asked her to move, but she "pretended to be asleep," he told Metro News. Later she did move but left her belongings in the same spot. "It was bloody rude and disrespectful," claimed Natalie Ming, a relative of the groom.
Send tips to weirdnewstips@amuniversal.com