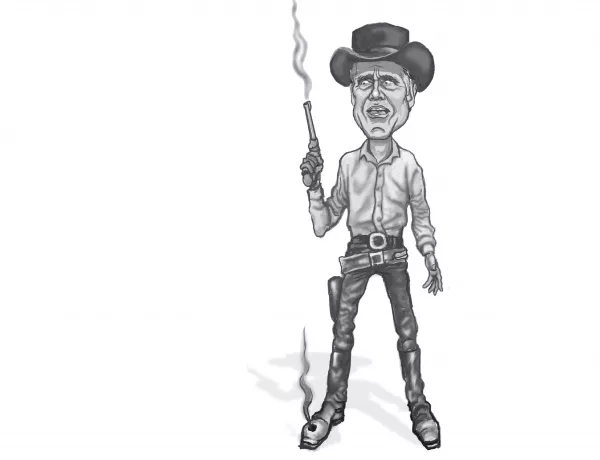 "Governor Romney has a tendency to shoot first and aim later." —President Obama, responding to Romney's deranged accusation that the president sympathized with mobs that attacked the Cairo embassy and killed the American ambassador in Benghazi.
As the French say, plus ça change, plus ça meme chose: The more things change, the more they remain the same. It was uncanny how the past repeats itself: President Obama's words to describe my old missionary companion were almost exactly the words used by our Parisian landlady to scold Elder Romney for his toilet habits.
"Elder Romney," she said, pursing her lips in the way French folks do when they are feeling superior to you, which they feel all the time, "Elder Romney, vous avez tendance a pisser premier et but plus tard." Even if you do not speak French as fluently as Mit(t) and I do, you get the general idea of what Madame LaCuisse was talking about, especially the "pisser" part, which, by the way, is pronounced "pissay" in French. (Even though he has a beautiful accent, Mit(t) is reluctant to speak French these days, saying it makes him sound like a fruit.)
Maybe it was because Mit(t) was always in a big hurry. I remember in the Mission Home before we left for France how Elder Romney would quick step into the shared lavatory and then quick step while simultaneously unzipping to the nearest urinal, where he would start "shooting" before he reached the shooting zone. You didn't want to be standing at the next urinal over.
Once we got to France, at least we could piss in private, even though it was a pissoir shared by several of us in the rooming house on La Rue du Grand Fromage, in the 18th arrondissement, not far from the Jardin du Luxembourg, where braless hippie jeunes filles at the Sorbonne would sip wine in the afternoon sun, which drove all of us elders crazy and made it hard to study our scriptures.
I guess somehow Madame LaCuisse spied on us as we performed our morning and nightly ablutions, because very soon she reprimanded Elder Romney for his bad aim vis a vis the cuvette de WC. I always tried to duck into the WC before my companion, especially if I was barefooted, so I wouldn't have to experience tiles sticky or damp.
I thought Madame LaCuisse was perhaps a little hard on my companion; in most things having to do with hygiene, he was a model of meticulousness. For instance, he was by far the best folder of laundry in the whole mission, and I would bet $10,000 that he was the best folder of laundry in the entire mission field at the time.
But we all have our little quirks or eccentricities, and Mit(t)'s happened to be "la tendance a pisser premier et but plus tard." He was always ruminating on ways to improve himself and/or his fellow missionaries, which sometimes, as you might imagine, made him a bit of a pain in the derriere. Every day, he would bounce out of bed at precisely 6 a.m. and practically bellow, "Every day in every way, I'm getting better and better" (in the original French, of course). So, I never figured out why he didn't take the time to improve his performance at the pissoir. It could have been that he had more important things on his mind, like memorizing (in French, no less) the entire chapter in 3 Nephi in the Book of Mormon where Jesus comes to America, which always threw our French investigators for a loop.
Speaking of French, I wish my old missionary companion Mit(t) would speak more French out there on the stump. I was glad to hear one of Mit(t)'s minions refer to his skill with the French tongue and his serving a mission as evidence of his experience in foreign relations. Up to now, Mit(t) has demonstrated a high degree of doofusness in the foreign-relations department, as shown when he quick stepped to the cameras last week and, with a deranged look in his eye, accused President Obama of sympathizing with the mob that killed the American ambassador.
Next time I see Mit(t), I'm going to suggest that whenever he has the urge to say something really stupid, not just about foreign affairs but anything else, he say it in French. Everything always sounds better in French, especially the dirty French limericks Mit(t) and I like to recite when we get together.
D.P. Sorensen writes a satire column for City Weekly.