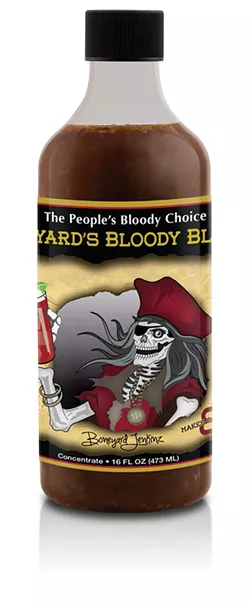 Boneyard's Bloody Blend is carried at Ogden's Own Distillery and Boozetique.
With the sunny days of summer still months away, those looking for a little heat should check out Boneyard's Bloody Blend, a Bloody Mary mix made right here in Utah. Company president Brian Kellen created the concentrate so that you simply mix with tomato juice, add vodka and have a killer cocktail.
"For the last decade, I have been using my secret recipe to create the freshest, best-tasting Bloody Marys around," Kellen says. After much encouragement from family and friends, Kellen decided take his mix on the market and founded Boneyard's Bloody Blend in 2013. "The industry is chock full of literally thousands of pre-mix products, but to my surprise, there are only a couple companies that offer a concentrated Bloody Mary that you simply mix with tomato juice."
So far, Boneyard's Bloody Blend has received rave reviews from the bars that carry it. "Since we switched to Boneyard's as our only Bloody Mary mix, our sales have more than doubled," says Tony Crowson, owner of Cooper's Bar and Restaurant in Fish Haven, Idaho. "Everyone seems to love it."
Local bar owner Neal Middleton agrees: "Boneyard's is what we use in our Premium Bloody Mary at The Royal" (4760 S. 900 East, Salt Lake City, 801-590-9940, TheRoyalSLC.com).
And Boneyard's isn't just for those who like a little vodka with their breakfast. What makes Boneyard's special is that it also makes an awesome marinade for all cuts of meat and adds zest to virtually any side dish. From eggs to salad dressing to soup, the possibilities are endless. Now in their third year of business, Kellen and his Boneyard Bloody team are planning to publish a recipe book.
Boneyard's comes in two flavors—Original, for those who like flavor but a mild spice level, and Spicy Blend. "Our Spicy Blend is just that—spicy, but not so hot that you can only drink one," Kellen says. Boneyard's plans to introduce a "Blazin' Hot" flavor in the coming months to satisfy the most extreme spicy food addicts.
The blend features three mascots—Boneyard Jenkinz representing Brian Kellen, Boneyard Betty representing his girlfriend and business partner, and Boneyard Pug, the couple's pug—all in skeletal form.
Boneyard's has a variety of sizes, including a 2-ounce travel-size bottle perfect for taking on a plane, a 16-ounce retail size and a 64-ounce jug for restaurants and bars, which makes approximately 150 individual Bloody Marys.
"Please stay tuned if you are a Red Beer drinker," Kellen says. "We are in the testing stages and hope to launch Boneyard's Bloody Brew in mid-to-late spring of this year." Boneyard's Bloody Brew will be a smooth lager infused with Boneyard's Bloody Blend, creating an enjoyable beer for all times of the day.