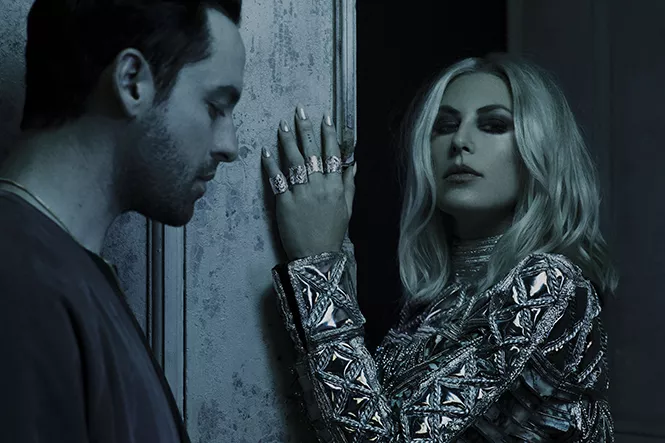 Chuff Media
Phantogram is among the Bonanza Campout headliners
The Wasatch Front is awash in summer music festivals. At amphitheaters, on rooftops, outside, inside, downtown, uptown, old-school, new-school, quiet, loud—you name it, and there's programming reflecting it. But east of the mountain pass, on the Wasatch Back, the three-day Bonanza Campout has built a different kind of experience: a self-contained festival inside the River's Edge at Deer Park resort, with camping along the Provo River and a host of electronic-minded artists appearing all day and night on two stages.
Headliners in 2018 include synth-pop savant Halsey, platinum-selling hip-hop star Wiz Khalifa and electronic producer Zhu. In the second tier of artists, Local Natives and Moon Taxi deliver catchy mid-aughts indie rock; Rüfüs Du Sol, Snakehips and Hayden James add international EDM flavor; Oh Wonder, Børns and Max dish out infectious alt-pop; Hippie Sabotage will have you dancing the day away in a blur of bright lights and pounding beats; and Phantogram, Blackbear, Quinn XCII and MadeinTYO represent several different permutations of modern hip-hop.
Even the third tier of artists contains burgeoning stars sure to turn Utah audiences on to what's next in modern music. Provo's The Aces has rabid local fans cheering their every pop-rock move. Ekali is fresh off another head-spinning turn at Coachella. Kasbo is riding high all the way from Sweden, Ella Vos started her career as one of 10 Artists to Watch by Rolling Stone and Sasha Sloan has written hits for radio stars Charli XCX and Camila Cabello. London Richards and Lostboycrow put a young face on classic R&B and soul, while Yung Gravy and L8Bloomer prove that hip-hop can thrive in unexpected places (Minnesota and Idaho, respectively). The Spencer Lee Band, Colin Magalong and Cale & the Gravity Well show that modern pop-rock can still be a young man's game. Think bass music is a thing of the past? Think again thanks to Colorado's SoDown.
All of this is to say that Bonanza Campout fills a particular niche in the crowded summer music festival by being very of-the-moment. Its exponential growth reflects its focus on young artists and young fans: Bonanza started in 2016 with 3,000 attendees and grew to 12,000 last year. Operations Manager Joey Traum, who also serves as a partner in Live Nite Events, expects this year's turnout to top 15,000 when things kick off at 3 p.m. on Friday, June 22.
"It's nice, though," Traum says. "We're getting to the point where our festival sells out annually. But we are a boutique festival that caps out at 7,500 people daily, so you can still catch every artist performance and not be overwhelmed by massive crowds as you walk from stage to stage."
Traum marvels at Bonanza Campout's growth both on the public side and behind the scenes. They have four new full-time employees and three new part-time employees, along with more than 150 volunteers who donate their time and effort to make things run smoothly. Traum and Courtney Mortensen, volunteer program director for Bonanza Campout and marketing manager for Rio Management, estimate that planning for Bonanza and its sister festival, Reggae Rise Up, takes up eight to 10 months before things really kick into high gear about six weeks from the start of the event.
"Bonanza is a whole different beast than any other event I've been involved with," Mortensen says. "People stay up extremely late, then wake up early whether they like it or not with the sun coming over the mountain. It's a non-stop weekend: a lot of staff, a lot of hours and a lot of sunscreen. But by the time Sunday rolls around, everyone is so tight-knit—there's a community that builds within the festival that one-day events miss out on."
Traum and Mortensen describe the planning and execution of Bonanza Campout as a high-stress gig—but both say they wouldn't have it any other way. "We have a unique opportunity to bring joy and unforgettable moments to people who maybe have a 9-to-5 job or are going through a hard time personally," Traum says.
Mortensen says it all hits her on Sunday night, when she takes a step back and looks at the big picture: thousands of music fans reveling in a moment she and fellow staff members worked for months to pull off. "It's an incredible feeling," she says. "That's the moment we work for: creating a space for people to escape, make memories and maybe feel something special."
Beyond this year's stacked lineup, several Bonanza Campout alumni will return to Utah later this year for shows on even bigger stages: Jai Wolf, Big Wild and Cold War Kids at Ogden Twilight, Bob Moses at Metro Music Hall in September, Cherub at Soundwell in November. Traum and Mortensen both chalk that up to Utah's collegial music scene, which might have an overflowing array of festival choices but is united under one banner of community and forward momentum. "Looking back at the Utah music scene 10 years ago, the landscape of events has dramatically changed," Traum says. "We have more venues, more diverse offerings and bigger crowds. It's really something special to say Bonanza has been a part of it."