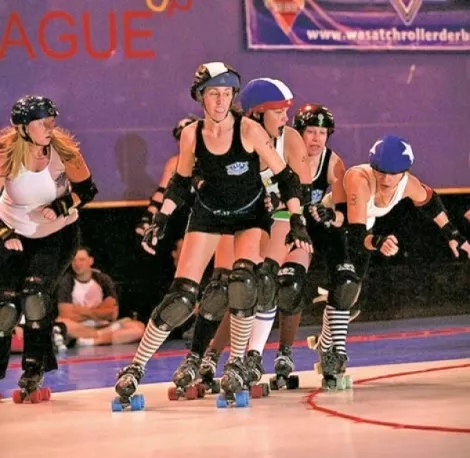 In just a few years, women's flat-track roller derby has grown from one league to four in Utah—the "fad" isn't going away soon or quietly.
The newest league, Wasatch Roller Derby, sprang from a split with original local rollers the Salt City Derby Girls last year and focuses almost exclusively on charity expo bouts. Their first event of 2010, the Helping Hands Charity Bout, has been set up to donate 40 percent of net proceeds to the Utah Parent Center, which helps parents of children with disabilities. Adding more bang for the ticket buck ($10 in advance, $12 at the door, kiddies under 5 free), infamous Salt Lake City hip-hop group Rotten Musicians will be making a rare appearance as halftime entertainment. The remainder of the WRD 2010 season runs through October at various locales, including the Taylorsville Recreation Center, Hollywood Connection in West Valley City and Trailside Park in Park City. A full schedule can be found at WasatchRollerDerby.com.
As for the rest of the local roller-derby leagues: The Salt City Derby Girls kick off their 2010 season on Saturday, April 24, at the Salt Palace; their full season of double-header bouts will run through October. Ogden's Junction City Roller Dolls begin theirs earlier—Saturday, March 13 at Layton's Davis Conference Center; the JCRD season will continue into November. The O-Town Derby Dames, Ogden's other league, begin 2010 two weeks later, March 27, at the Marshall White Center.
It's a loose, player-operated sport, folks—no millionaire crybabies with rubber balls here.

Wasatch Roller Derby Helping Hands Charity Benefit @ The Salt Palace, 100 S. West Temple, Feb. 6, 7 p.m., WasatchRollerDerby.com