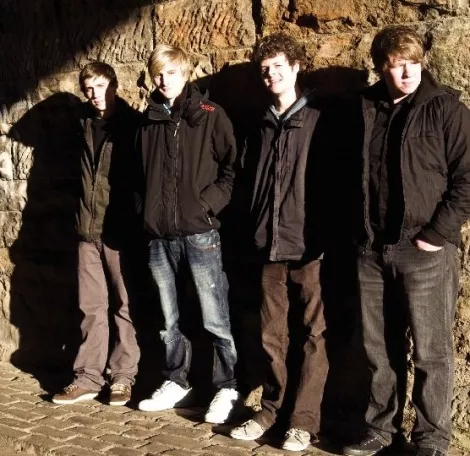 Ah, the promise of discovering new music. New, of course, is relative. For most young bands generating international buzz, their seemingly fast-earned success is the culmination of years of hard work, practice and gigs that attract a small circle of close friends. So it goes with We Were Promised Jetpacks, a Scotland-based indie group currently making the rounds as "next big thing." The quartet with one of the best names ever earned their stripes playing together for the better part of a decade before catching on beyond their tiny berg.
While the world was sleeping on their sound, We Were Promised Jetpacks in turn shut out external influences. "We really don't listen to much music. There's so much music going on that it doesn't make sense to compare. We get comparisons to The Cure, but it doesn't help listeners much," guitarist Michael Palmer bemoans. As far as the "Scottish rock" tag, he observes, "Every band has a little bit of where they're from. It's definitely not conscious—something that people read into the music."
Well, playing a South By Southwest "Scottish" showcase probably had something to do with the tag, not to mention the fact that Jetpacks landed on their label's radar via Frightened Rabbit's MySpace "friends" list. Palmer says that band's work is some of the only material that makes it into his stereo.
"They're great," he notes, "very good people. But touring can be quite shit at times. You're learning that you're not rock stars with a capital R. It costs to tour. It costs to do anything. As soon as money comes in, it has to be spent."
But the band's and label's investment in Jetpacks' talent is starting to pay off, at a very early stage. Their debut LP, These Four Walls (Fat Cat Records), has garnered more attention than the band expected since its July release. The record also caught the public off-guard—a positive quality, Palmer figures: "Anyone who is excited to write about it is going to be positively enthusiastic."
These Four Walls evokes enthusiasm through the urgency of its dance-tinged rhythms, reminiscent of '80s rock when the lines were blurred between post-punk alt-rock and dance-oriented music, giving birth to bands like The Cure, Echo & the Bunnymen and New Order. Jetpacks' song titles are self-descriptive, like "It's Thunder and It's Lightning" and "Short Bursts," seemingly breaking the fourth wall to reach out to the listeners and shake the cobwebs from their ears.
It might seem like every Scottish band since Belle & Sebastian has avoided the sensitive sweater set, instead delivering intense anthems like "Roll Up Your Sleeves," which testifies to the Jetpacks' origins north of Britain in a cluster of working-class towns. The mini-drama scenarios evoked by these songs are also reminiscent of another songwriter from the period and beyond, Steven Morrissey. "A Half Built House" and "This Is My House, This Is My Home" emphasize the important of the place where you live, whether that means homeland or simply the street where you live.
They aren't the first to essay these themes. But something about the combination of the songwriting, their playing and Thompson's vocal delivery makes you believe they came upon their music fresh, like a new means of musical transport—maybe not the musical equivalent of jetpacks, but an express route to a gut reaction, a chord that touches a deep vein.
A new EP, The Last Place You'll Look, with reworking a couple of "old" songs (again, it's all relative) will be available at Jetpacks live shows. The band played Salt Lake City last September, after an initial introduction to Stateside listeners at SXSW, but this is their first headlining tour. Getting this far outside their four walls seems like something they are uncommonly talented at taking in stride—for their age they are surprisingly conscious, as Palmer noted, that at least so far, their rock stardom is written in lowercase.
The quartet is already working on new numbers for a new disc, and this is one band it's hard to imagine in a sophomore slump. "Songwriting can be very challenging, but when a song comes together you feel great; like it's the best song in the world," Palmer quips. "Then a couple weeks later you realize it's not." But at the moment you're listening to it, it feels like nothing could be more vital.

WE WERE PROMISED JETPACKS
Kilby Court
741 S. 330 West
Friday, March 5
7 p.m.
All-ages