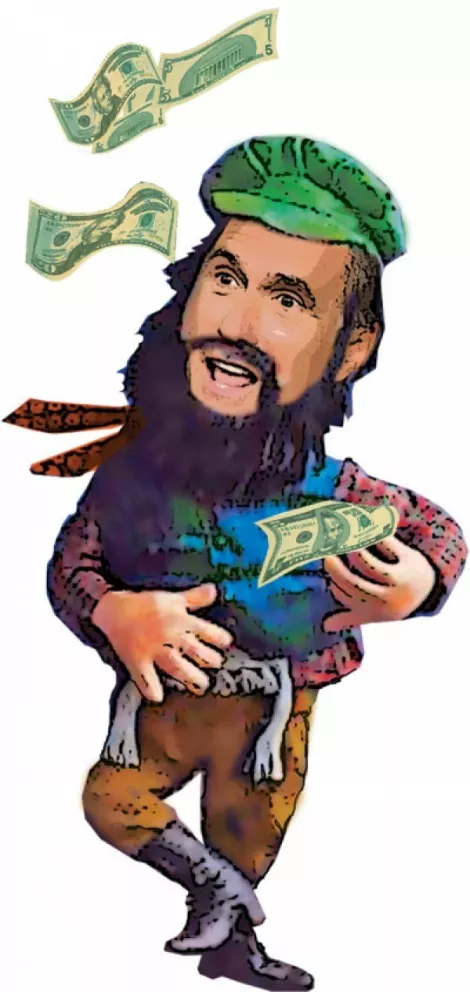 What Mit Romney lacks in ability, he more than makes up for in enthusiasm during his show-stopping song, "I'm Glad to Be a Rich Man," from the hit musical now touring the country, Doggy on the Roof. After telling his fellow villagers that he's "not concerned for the very poor," who, after all, are able to beg for scraps in the street, Mit comes center stage and launches into the number that brings the audience to its feet:
Yes I am a rich man, daidle deedle daidle
Daidle daidle deedle daidle dum,
All day long I biddy-biddy-bum,
Yes! I am a wealthy man!
The veteran Broadway impresario, Herb "Speedy" Rosenbaum, was the first to spot the potential for a rousing musical based on the gaffe-prone Mit Romney's life story. "Listen, I'm not alone in thinking that Mit comes off as a real schmuck, what with his claims to be unemployed and worrying about pink slips and liking to fire people and smirking and sticking out his hand and making a $10,000 bet to that handsome doofus from Texas. But as soon as I heard Mit sing "America the Beautiful," I knew I could make some lemonade from this clueless Mormon lemon with a great head of hair.
"If there's one thing I've learned in my 50 years in show biz, it's that a schmuck in real life can be a lovable schlub onstage, especially if he's a dreamboat like Mit. I'd like him to grow a mustache and he'd be a dead ringer for Bob Goulet. And that perfect family! The missus is the spitting image of Shirley Jones! Those strapping sons never stop smiling!"
Speedy lowered his voice and looked around as if someone might be eavesdropping.
"But you know who the real star of the show is? It's Seamus, the doggy on the roof. In previews, we had complaints from the SPCA about cruelty to Seamus by strapping him to the car for the scene when the entire Romney clan takes a 12-hour road trip across Canada. "Even when we turned down the wind machine from offstage to blow Seamus' ears back—they're supposed to be going about 75 mph—we got these complaints, even though we had three body doubles for Seamus so the same dog wouldn't get sick every night. Finally, we just got a midget to dress up in an Irish setter suit, and he's probably better because he can howl like he's being tortured right on cue."
Speedy said that the original Seamus was a pretty good singer, for a dog. "He could actually carry a tune better than Mit, though the lyrics weren't always easy to understand. But the midget in the dog suit really belts out the lyrics, and when he sings his solo there's not a dry eye in the house."
The CD for Doggy on the Roof will be available soon, but Speedy gave us permission to quote a few lines. In the second act, after a terrified Seamus had been riding in the wind for six hours, the smiling Romney sons notice a brownish liquid dripping from the top of the car onto the back window. At the next pit stop, an embarrassed Seamus sings, to the tune of "Up on the Roof": "My master tied me on to the roof, and said 'Good boy, Seamus, I'll see ya/ But I got scared and ended up having a bad case of diarrhea."
Then, demonstrating the managerial aplomb for which he's justly famous, Mit grabs a hose to rectify the situation, singing, "I'm gonna wash that poop right off of his butt/ And get back on the road."
In the final act, after many adventures and bloopers and prickly encounters with the media, Mit engages in a theological debate with a villainous Christian clergyman, who cites Matthew 19:24, some nonsense about it being easier for a camel to go through the eye of a needle than for a rich man to enter the Kingdom of God. Always quick on his feet, Mit silences the Christian spoilsport by pointing out that the biblical verse wasn't translated correctly.
"It's the poor man, my friend, who can't enter heaven." Mit then brings down the curtain by singing, "The Lord who made the lion and the lamb/ Decreed I should be what I am/ It is simply the vast eternal plan/ To make me a wealthy man."
D.P. Sorensen writes a satire column for City Weekly.