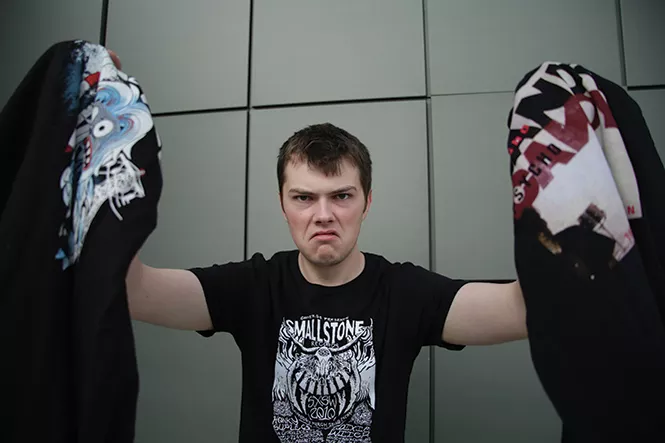 Music fans often feel compelled, even obligated, to buy shirts when they experience live shows.
A T-shirt is a way to support a favorite artist, while also telling the world that you love the Beatles, Bad Brains or the Biebs. There's also the fashion choice involved, since concert tees are one of the ultimate manifestations of "casual wear." More than anything, though, grabbing a shirt at a show is a way to hold on to a physical memory of a fleeting artistic moment: the concert itself. Sure, you can record songs on your phone or find online bootlegs of shows you've attended, but those recordings are never as good as standing there, in the moment, hearing Willie Nelson pick through "Whiskey River," Katy Perry croon "Firework" or Motorhead whip up a pit with "Ace of Spades."
The band T-shirt is also wearable art. They depict classic iconography whether it's a controversial image like that of Lynyrd Skynyrd's Confederate flag, or Iron Maiden's mascot, "Eddie." Metallica's early shirts made an artist named Pushead a household name—at least in thrash-loving households—thanks to his creepy, distinct drawings. Raymond Pettibon's distinct anti-authoritarian imagery on shirts for old punk bands on SST Records—like Black Flag and the Minutemen—made them seem a part of a cohesive philosophical movement despite their musical differences.
That's why fans will shell out big bucks for shirts. The average price is around $25, but some bands charge more. When Rush played the Maverik Center in July, their T-shirts cost as much as $50. Def Leppard fans paid $45 when the band played the Usana Amphitheater in September. At the Ghost show at The Depot last week, shirts ranged from $35-$45.
I have about 30 concert tees myself—some of them part of my regular wardrobe rotation, while others are tucked away in a box, too tattered to wear but too precious (to me) to throw away. I buy them mostly to support indie bands who could use the money, and I don't worry about the design or color. I have some of the ugliest, brightest tees in captivity thanks to buying Mike Watt shirts for the past 25 years. My most sentimental is also the one I'm least likely to ever wear: my Grateful Dead tie-dye from a 1991 Las Vegas show that I keep—not because I'm a Deadhead, but because it was one of my favorite teenage weekends with some of my best friends.
The Replacements T-shirt I wore while traveling recently inspired no fewer than three different interactions over the course of the day with strangers who love the '80s-era Minnesota punkers, too. Truth be told, there are few compliments I appreciate more than having a random person point and say, "Nice shirt, love that band." And there are few compliments I offer up more often to other music lovers.
Choosing which musicians we're willing to put on our chests says a lot about us. They help determine how others see us, and affect our interpersonal interactions. Send the same person to the mall rocking a Slipknot jersey, a Nicki Minaj tee or a Brad Paisley shirt, and they'll find themselves in conversations with vastly different types of people. T-shirts are tribal signifiers that allow indie rockers, metalheads, cowboys, pop fans and the like to spot their own kind from a distance, and feel at home in strange places. And if you're a fan of all sorts of music—as many of us are—the daily decision to thrown on, say, Led Zeppelin versus Lady Gaga versus Ludacris is a significant one.
Don't take it lightly.
An earlier version of this feature appeared in the Oct. 22 edition of the Spokane Inlander.