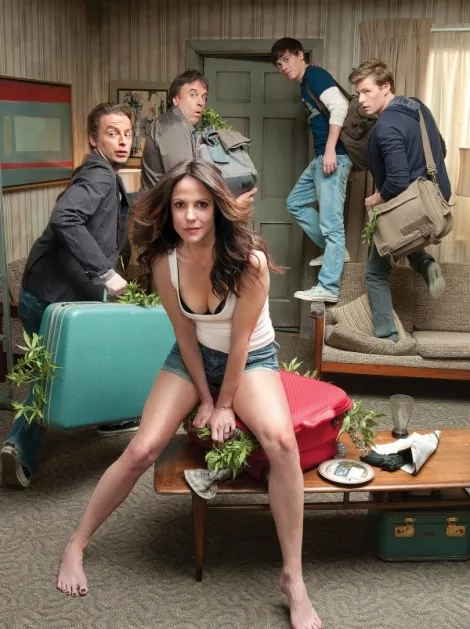 Weeds
Monday, Aug. 16 (Showtime)

Season Premiere:
For you whiners who still have Season 3 in the Netflix queue and insist that the rest of us respect your decision to live in 2007:
Spoiler Alert!
When last we left
Weeds
, Nancy's (Mary-Louise Parker) sons were being threatened by the woman pulling the strings on her Mexican drug lord/gubernatorial candidate baby-daddy—until Shane (Alexander Gould) "pegged out" on her skull with a croquet mallet and dropped her dead into the pool. Thus, the setup for Season 6: Road-trippin' with the Botwin family. With increasingly frazzled Nancy, exponentially creepy Shane, relatively responsible other son Silas (Hunter Parrish) and still-adrift stepbrother Andy (Justin Kirk) now on the lam, this ain't the same pot-dealin'-MILF-in-the-suburbs
Weeds
of Season 1—or even last year. Still,
Weeds
pulls some serious funny out of these dire, dysfunctional situations: Cramming her family, belongings and housekeeper into a car, preparing to run for the border, Nancy deadpans "We're gonna need a bigger boat." Who knows? Maybe she'll even sell some marijuana this season.

The Big C
Monday, Aug. 16 (Showtime)
Series Debut: Up until now, the most "normal" woman headlining a current Showtime series has been Secret Diary of a Call Girl's Belle—and she's, as the title suggests, a whore. Enter Cathy (Laura Linney), a tightly wound Minneapolis schoolteacher who's suddenly diagnosed with cancer (stage IV melanoma, to be exact). Rather than telling her estranged husband (Oliver Platt), rotten son (Gabriel Basso), extreme environmentalist brother (John Benjamin Hickey) or her students (including Precious' Gabourey Sidibe), Cathy begins acting out in small ways that suggest she's actually living for the first time on 40 years—including installing a pool in her tiny yard and pouring red wine all over the couch she hates (but then flipping the cushions over—baby steps). The Big C could mark the beginning of the end of the Showtime antihero; Linney is so perfect and heart-achingly authentic in the role, you may begin to wonder what you ever saw in serial killers and drug dealers.

Netflix


Blockbuster


Redbox
Hardcore Pawn
Monday, Aug. 16 (TruTV)
Series Debut: The Only TV Column That Matters™ isn't just pissing on Hard Core Pawn because it comes from those title-thieving bastards at TruTV—partially, yes, but not entirely. Hardcore Pawn is essential the History Channel's Pawn Stars, relocated from Las Vegas to Detroit and minus the morbidly obese employees. Also, the items brought in for pawn tend to be more conventional than "historic" (ever notice that everything that comes into Pawn Stars is from the Civil War or the Mosaic Era?); Hardcore Pawn is more about hard-luck stories than faux academia. Consequently, the most entertaining part of the show might be owner Les Gold's geezer mullet.
Melissa & Joey
Tuesday, Aug. 17 (ABC Family)
Series Debut: Melissa Joan Hart (Sabrina the Teenage Witch) and Joey Lawrence (Blossom), together at last! She's a former political-family wild child who has to care for her sister's kids after she's sent to prison, he's the new live-in "manny" hired to help her! Throw in the most obnoxious, canned laugh track since Hot in Cleveland, and you've got … reason to question skinny, bald Lawrence's health. Does he have The Big C?

Big Lake
Tuesday, Aug. 17 (Comedy Central)
Series Debut: Upright Citizen's Brigade's Chris Gethard and Saturday Night Live's Chris Parnell and Horatio Sanz star in this comedy about an optimistic loser (Gethard) who has to move back in with his parents in Big Lake, Penn., after losing his banking job—the cast and the setup are already Comedy Gold. I haven't even mentioned the second-episode amusement park called "Lee Harvey Osworld."