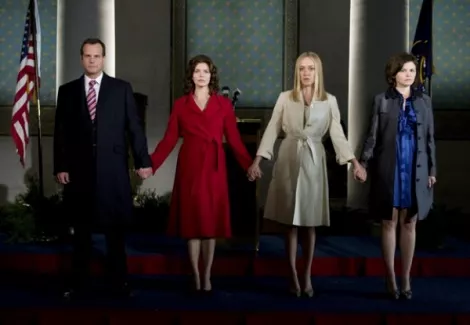 This past Sunday night, like every Sunday night for the past couple of months, I watched HBO's Big Love. Thus, I missed the hour of the Academy Awards that was going head-to-head with my all-time favorite show about polygamists. (My other favorite polygamist show was Leave It To Beaver—back in the '50s, only Utahns knew what polygamy was, so Mr. Cleaver never let on to a sleepy nation that the Haskell kid was really his.) Thanks to me still being curious about polygamy and unable to resist Bill's second wife, Nicki, somewhere in that lost hour, I missed a really cool City Weekly moment.

A few weeks ago, my good friend Katherine Topaz sent me a Facebook message from Portland, Ore. Kat did a stint here at City Weekly—then, Private Eye Weekly—as art director in the early 1990s. Since that time, she's become one of the finest and best-known art directors in our industry, thanks in no small part to the one or two drinks we would down at Port O' Call where, behind a screen of tobacco smoke, we both sort of launched our future paths. Kat's Facebook message was a link to the animated short movie called Logorama. She asked if I were aware they'd used our logo in it.
It was the first I'd heard of Logorama. It was a nominee in the Best Animated Short Film category, and the film itself is comprised of the most recognizable corporate logos in the world serving as backdrops or in cameo roles. Look—there's Microsoft. AOL. Oscar Mayer. IBM. Xbox. Icons like Ronald McDonald, Mr. Pringles, the Jolly Green Giant and the Michelin Man have the speaking—and swearing— roles. Then, right at the 11:04 mark of the movie, as Ronald McDonald (depicted in the role of an evil clown, of course) emerges from a Los Angeles earthquake chasm, wreaking havoc all over LaLa Land, the City Weekly logo takes the form of a wall just behind him.
It's glimpsed again at 11:08 when a speeding car in pursuit of Ronald rushes by.

No one here knows why or how the directors chose our logo, especially since it's an older one that we retired in 2009 and since the movie is French-made. And more inexplicably, since the movie is clearly based in Los Angeles, why does Salt Lake City Weekly appear plain as day (assuming you have freeze-frame, that is) in the same fashion as iconic names like Pizza Hut, Paramount, Avis and Eveready. No matter—we're in the movies.

We were so pleased, to say the least, to be a part of the film that we posted a link to Logorama on our Website and shared it with our Facebook followers. Besides serving as affirmation that our influence is above that of the Los Angeles Times, the L.A. Weekly and every other paper in Southern California (all missing from Logorama, it seems), we basically got a real kick out of it and just forgot about it— until Sunday night, when it won the Oscar for Best Animated Film, that is. Thanks to Big Love, I missed the acceptance speech by Logorama producer Nicolas Schmerkin, which set off a bevy of messages to me. (At least five, anyway, and I briefly wondered if Meryl Streep's hubby doesn't feel both proud and ready to slit his wrists annually on Oscar night.)

I'd already missed the speech, so I stayed tuned to Big Love. Later that night, I watched Schmerkin's acceptance speech online and it was a complete joy, just like his film. He said there were "3,000 nonofficial sponsors" of Logorama, and he assured that "no logos were harmed in the making of the project."

Hey, not only were we not harmed, we'd like him to do it again. I've since learned that Logorama played at Sundance, so maybe that's how we came to be a part of a winning movie, but for now it's still a mystery. Hell, any old newspaper rack can serve as a backdrop in any old movie, as we have here and there, but to share the silver screen with Bob's Big Boy? We're thrilled.

And so is Bill Henrickson. In Big Love's season finale, he was elected to the Utah State Senate (partially helped by exposing his opponent as a Catholic) upon which he promptly announced that he is a polygamist. Each of his three wives, with varying degrees of willingness and self-interest, joined him at the Capitol for the big announcement—which he should have saved until he was sworn in, I think. Or maybe he just wanted to make a point and never really intended to serve.

Either way, the world now knows that Bill is a polygamist and that mainstream Utahns had better make room for him and his kind. I'm thankful that Big Love made it OK to use the phrase "mainstream Utahns." I didn't know until now there were any except the ones employed at City Weekly (and Coffee Garden). If you missed the final episode of Big Love, just know that if you thought your life was out of the mainstream, you're Jesus compared to Bill Henrickson.

Judging by how the 2010 Legislature went—with the complete neutering of the Democratic Party and an insistence that Utah lead the way in a national revolution for states' rights (education and roads can wait), Bill just might find plenty of Republican allies in the Utah Senate, even though he was born in a warped socialist-polygamist compound. After all, those Republicans don't care much for your needs; they only care about their personal crusades. Bill will be right at home, wasting our time and money with the rest of them. And he might not be the only polygamist on the Hill, anyway.