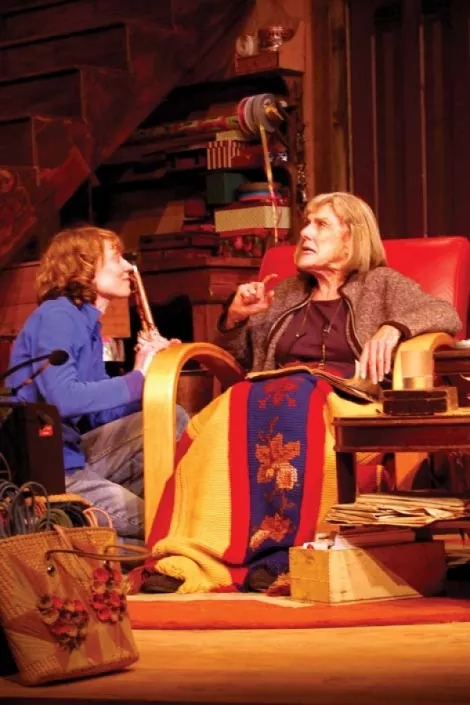 Playwright Lisa Kron, known best for one-woman plays, dissects the dicey, sometimes passé, memoir genre and reassembles it with gusto in
Well—
but not necessarily with a clear method, plan and pattern.
The theater "exploration"—as it's called during the play—is unique: dialogue breaking the fourth wall, flashback scenes interacting with present-moment scenes, present-moment scenes interacting with the audience, actors getting out of "character" to play themselves, and so on.
Unfolding as a piece of theater in progress, the playwright herself (Cheryl Gaysunas Williams), as a character named Lisa, interacts in real time with her hypochondriacal mother, Ann (Anne Cullimore Decker), as they remember scenes from the past as they're played out stage right. We see Ann working toward racially integrating a Lansing, Mich., neighborhood, and 19-year-old Lisa—once "sick" like her mother—receiving treatment and getting well. As these pivotal moments unfold, Lisa's judgments and fear of acceptance become clear, while the actors are won over by Ann's charisma and quirkiness. When the play doesn't go as planned, Lisa is forced to confront her mother with decades-repressed feelings.
The two lead actresses prove to have a dynamic chemistry as mother and daughter, although each alone pulls off challenging roles without missing subtle details in facial expression, cadence of speech or an exasperated sigh. As a whole, beneath this Tony Award-nominated production's avant-garde showmanship lie poignant questions posed about familial dynamics, the will to live, forgiveness and, of course, being "well." Pygmalion Theatre Company pulls it off without a hitch.
WELL
Pygmalion Theatre Company
Rose Wagner Center
138 W. Broadway 801-355-2787
Through March 12
$20
PygmalionProductions.org, ArtTix.org