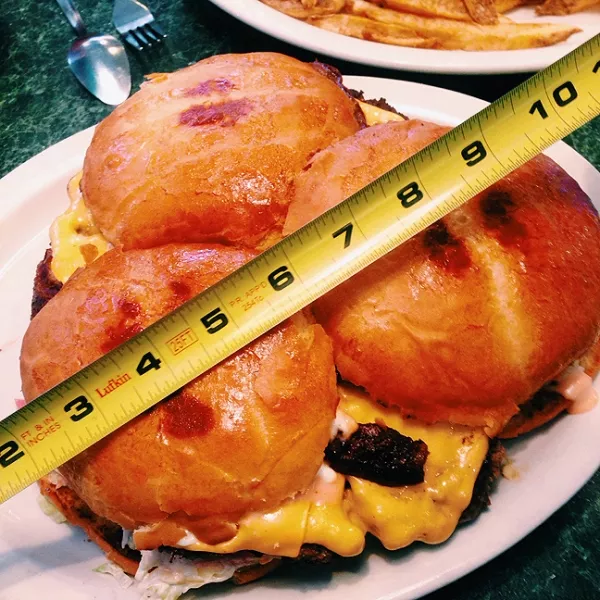 When you walk into a restaurant knowing that you'll face a burger with a 10-inch diameter, you walk in with purpose. One must be strong and have fortitude to eat the "family size" burger at Virg's Family Restaurant in West Valley City. And it's not the only knee-buckling, stomach-humbling patty on the west side.

Virg's tops 2 pounds of beef with bacon, American cheese, lettuce, tomato and about a pound of mayo, and serves the burger with two pounds of fries. Virg's had run out of its normal 10-inch bun, so they smashed three buns together, making this delicious meal look like a mélange-a-meat. With a friend to help, greasy hands and wishful thinking, I carved only a dent in this epic burger.

However, we fared better at Copper Creek Pub & Grub, home of the Chubby. The Chubby is more manageable, but still as enjoyably gluttonous. The spicy guac Chubby is served between two grilled pepper-jack cheese sandwiches (yes, sandwiches) and topped with guacamole, grilled mushrooms, onions, mayo and jalapeños. The grilled cheeses served as a sponge for butter and flavor, and helped the patty run into my tummy.

Rounding out the gotta-try-it-once west-side burger lineup is, of course, the Fat Boy at Ab's Drive-In. The iconic drive-in opened in 1951, and the Fat Boy—two beef patties, cheese, tomatoes and relish—has been on the menu since the beginning. It's best served with a milkshake and a heavy dose of nostalgia—you know, for those good ol' times when you didn't have a burger belly.
VIRG'S FAMILY RESTAURANT
3252 W. 3500 South, West Valley City
5570 S. Redwood Road, Taylorsville
12458 S. Minuteman Drive, Draper

AB's DRIVE-IN
4591 S. 5600 West, West Valley City
801-968-2130
AbsDriveIn.com

COPPER CREEK PUB & GRUB
3451 S. 5600 West, West Valley City
801-417-0051
CopperCreekPub.com