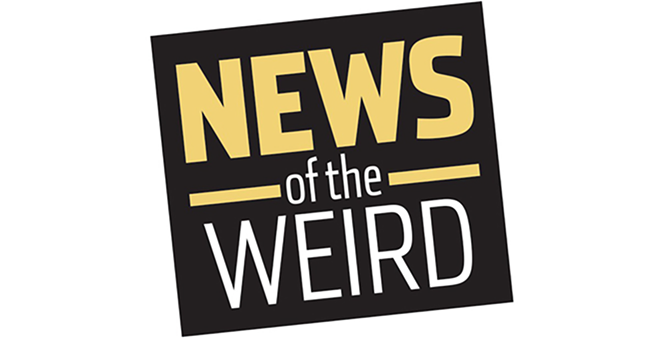 What a Difference an Apostrophe Makes
Genevieve Snow, 29, hired a Brooklyn company, Joanna's Cleaning Service, to spruce up her apartment on Aug. 27. It wasn't her first transaction with the company, and she let two women in before leaving for work that day. But when one of Snow's roommates woke up, she found one of the cleaning ladies sitting on the couch, eating. "You know when you're not supposed to be doing something, people jerk up really quickly? They did that," the roommate, Kristen Nepomuceno, 28, told the New York Post. Nepomuceno left for work, but when she returned around 5:30 p.m., the apartment was trashed, one of the ladies was gone, and the other was passed out on the kitchen floor next to a smashed spice rack. She quickly left and called police, who arrived to find the cleaning lady was sitting on the couch, eating ice cream. "She is ... hammered, beyond hammered," Nepomuceno said. New York police refused to file a report, so Snow gave the cleaning service a bad review on Yelp. That's when the owner of the company Snow had previously used, Joanna Cleaning Service, got in touch to say a former (fired) employee had started Joanna's Cleaning Service and had taken Snow for a ride. Now Snow can't get in touch with either Joanna and just wants to find out who's responsible for the damage so she can sue them.
Weird Science?
Officials in Midway, Ark., still don't know what caused flames to shoot out of a hole in the ground on Sept. 17. Volunteer fire chief Donald Tucker was summoned to private property at the edge of town where the flames were shooting up to 12 feet high, reported the Springfield News-Leader. Tucker inspected the site after the fire subsided and said the 2-foot-diameter hole was about 3 feet deep and made a 45-degree turn at the bottom. "I took a temperature reading of it and it showed 780 degrees inside the hole," he added, but he couldn't identify the source of the flames. There are no gas lines nearby, and there was no smell of gas before or during the fire. He also ruled out a meteor strike or flaming space junk. Geologists from the Arkansas Geological Survey inspected the hole and concluded it had been dug by an animal, but they took soil samples for testing. County judge Mickey Pendergrass said Satan had also been ruled out.
Awesome!
Kotaku.com reported on Oct. 3 that gamer Xopher credits the arcade game "Dance Dance Revolution" with restoring his health. Xopher grew up in Arkansas and loved playing DDR at arcades. But when his cardiologist told him he'd have to trim down from his 325 pounds or risk needing a heart transplant, Xopher got serious about the game. He found an "excellently priced" DDR machine on eBay and restored it, starting with just three games a night. Between 2014 and 2018 he got to under 200 pounds: "I've gone from a blood pressure of 140/80 to 112/65. ... I was healthy for the first time in my life." He also said he's now playing DDR competitively.
Family Values
On the day Ester Price, 95, of Pamplin, Va., was admitted to the hospital with an unexplained illness, her son-in-law, Jack David Price, 56, kindly brought her a coffee—"not an ordinary event," according to an investigator. Doctors found signs of meth in her system, reported The News & Advance. Jack Price's stepdaughter told the Appomattox County Sheriff's Office she suspected he was trying to kill his mother-in-law, and a neighbor said Price had once told him he should "put some meth in her drink," then claimed to be only kidding. On Oct. 4, Price was sentenced to six years in prison after pleading guilty to two felonies.
Funsuckers
If you're more than 12 years old in certain parts of Virginia, you'd better hustle up your own fun for Halloween night. In several communities surrounding Chesapeake and Newport News, KUTV reported, city codes make it a misdemeanor for anyone over 12 to wear a costume and troll the neighborhood for candy. Penalties include fines ($25 to $100) and up to six months in jail. Even lawful trick-or-treaters must be done by 8 p.m., and in Newport News, parents accompanying children may not wear masks.
Inexplicable
Staci Tinney of Charleston, W.Va., was expecting a bank statement when she picked up her mail on Oct. 8, but instead she found just one item in her mailbox: a laminated picture of a llama wearing sunglasses. Tinney's surveillance video showed "a woman was hanging out of the passenger's side of (a black pickup) truck ... removing things from my mailbox, and looked like she was putting something inside my mailbox," Tinney said. WCHS reported other neighbors also were missing mail and packages that day. Tinney told reporters the mail thieves claimed to be "handing out wedding invitations," but she was dubious: "We don't know anybody who knows a llama personally." Charleston police are investigating.
People With Too Much Time on Their Hands
Producers and sellers of senbei, a type of rice cracker, joined together in Soka, Japan, on Oct. 3 to break the Guinness World Record for ... wait for it ... creating the largest rice cracker mosaic. About 200 people constructed a rendering of Leonardo da Vinci's "Mona Lisa" using seven different colors of rice cracker. The mosaic, according to United Press International, measured 1,250 square feet and required more than 23,000 crackers.
Recurring Themes
Frontier Airlines removed a passenger before takeoff from a flight from Orlando, Fla., to Cleveland on Oct. 9 because of her non-allowed "emotional support animal," a squirrel. Passengers were alerted to a "situation" and told they needed to exit the airplane, according to 24-year-old flyer Brandon Nixon of Ashland, Ohio. "You expect the worst when they say something like that," Nixon told the Associated Press. When he asked a flight attendant for more information, "All she said was 'a squirrel.'" Police were called when the woman and her squirrel refused to deplane, and she was escorted through the terminal, pumping her fist in the air as she held the squirrel on her lap.
Least Competent Criminal
A Springfield, Mo., man took to Facebook in July to proudly demonstrate how to remove an ankle monitor. Dustin W. Burns, 33, had pleaded guilty earlier this year to violating a restraining order and was placed on probation. Authorities believe it is Burns using a butter knife and a screwdriver in the video, saying, "This is how you take an ankle bracelet off without breaking the circuit," according to the Springfield News-Leader. The narrator advises against damaging the electronic equipment so as to avoid thousands of dollars in fines. Subsequent Facebook posts reference trips to Utah, Idaho and Oregon, and a video shows a man resembling Burns walking through a large marijuana farm with the caption "Dream come true." He has been in the Greene County jail since Aug. 28 and was charged in early October with tampering with electronic monitoring equipment, a felony.
Police Report
Police officers in Richardson Forest Preserve, near Cincinnati, thought they had come across a body in a plastic trash bag dumped in the woods on Oct. 4. Instead, they found "Mandi," a life-size female sex doll, according to Metro News. Residents from the area have erected a shrine in the doll's memory, leaving flowers and candles along with messages, such as, "Mandi, you were taken too soon. We will remember you fondly. RIP." The doll is thought to be an expensive, high-end model, which makes the mystery of its disposal even more perplexing.
Send tips to weirdnewstips@amuniversal.com